Top 5 reasons to BUY or NOT to buy the Dell Vostro 7500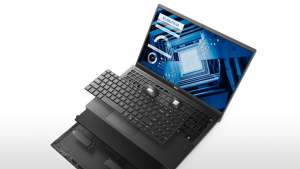 The Dell Vostro 7500 on paper looks like a great laptop. You get a powerful CPU in a portable chassis and a discrete GPU that can handle heavy workloads and gaming on the side. What's not to like?
Nowadays powerful hardware is becoming smaller and more affordable, so the barrier of entry for gaming or business devices is getting lower and lower. With two Coffee Lake CPUs to pick from and either the GTX 1650 or 1650 Ti, you can get a versatile device that you can use for entertainment as well as work.
Today we are presenting you with LaptopMedia's top 5 picks about the Dell Vostro 7500.
Dell Vostro 7500: Full Specs / In-depth Review
4 reasons to BUY the Dell Vostro 7500
1. Design and build quality
In terms of design, you get a sleek aluminum unibody, which resisted our efforts, when it came to flexing. The metal chassis gives us the infamous cool-to-the-touch feeling that makes the laptop feel premium. The laptop is also pretty slim and lightweight, especially when considering the hardware inside. It weighs 1.90 kg, with a profile of around 17.5-18.9mm.
The lid opens easily with one hand and shows very little flex when you try to twist it. The lid also has an additional feature, lifting the base, to give the fans more room to breathe. The lifted base also provides a more comfortable typing angle, improving the ergonomics of the device.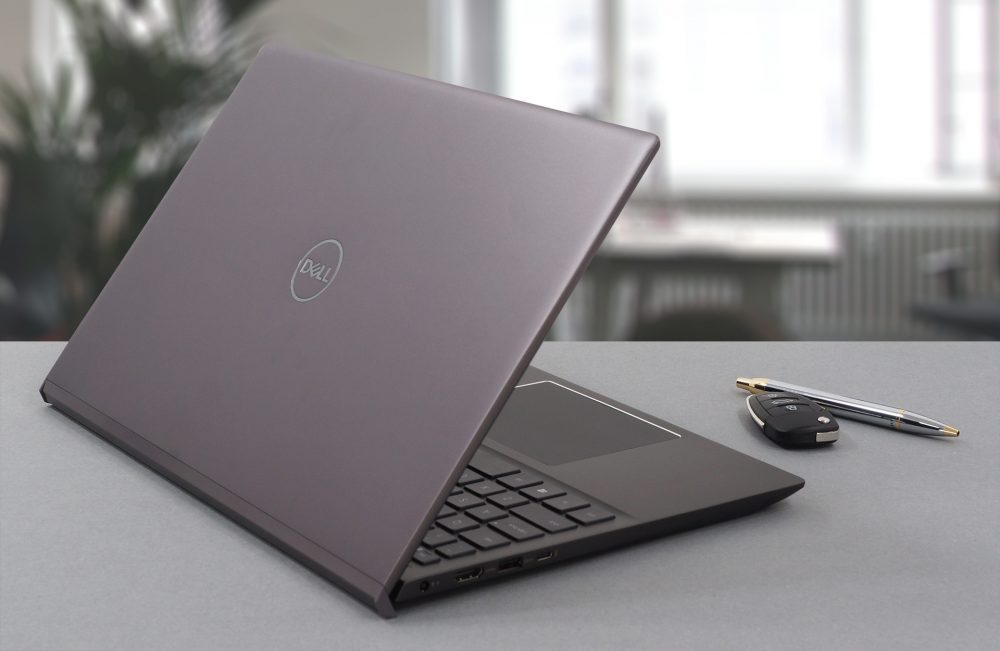 Moving on to the base, you get a single top centered ventilation grill, followed by a keyboard with a full NumPad, a two-stage backlight, decent key travel, and clicky feedback. Sadly, we saw some deck flex around the keyboard and touchpad. As for the touchpad itself, it has a pretty large surface area, a clicky mechanism, and a high DPI. Unfortunately, the response time is a bit slow, so the overall user experience gets hindered.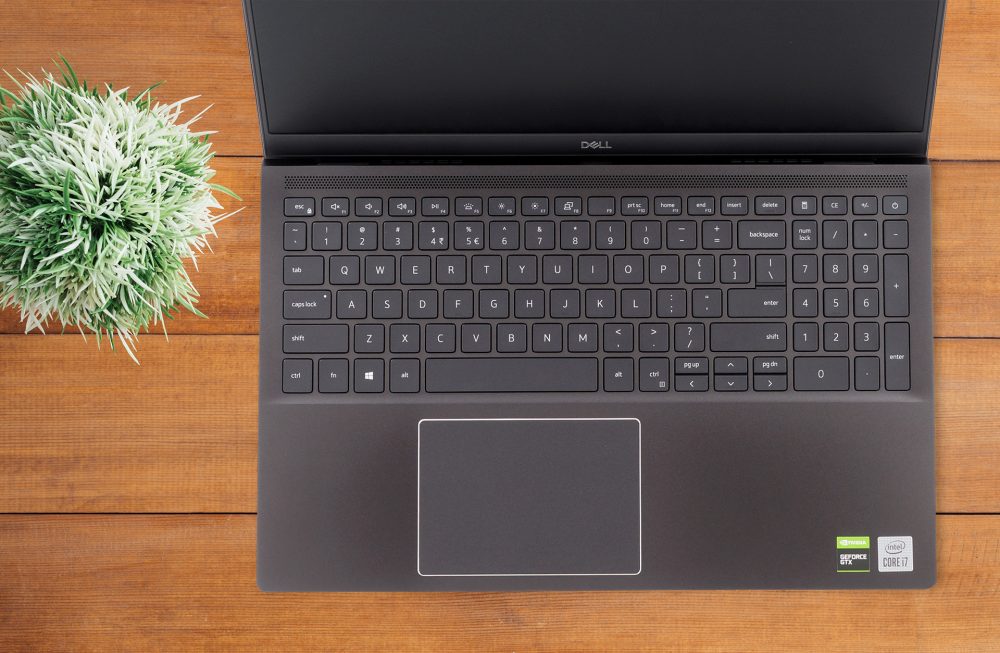 2. Upgradeability
The laptop offers quite a bit of upgradeability, with both the RAM and storage being expandable. However, it's not all rainbows and sunshine as half the RAM is soldered onto the motherboard. There is a single SODIMM RAM slot and two M.2 PCIe x4 drives, one of which is full-sized, while the second fits smaller drives.

Here we will leave our detailed teardown video, which can help you find the SODIMM and M.2 slots.
3. Display
The laptop comes with a 15.6-inch Full HD IPS display with comfortable viewing angles, a maximum brightness of 365 nits in the center of the display, with 337 nits as an average for the entire area of the panel. This calculates a maximum deviation of 12%. The contrast ratio is decent, sitting at 1050:1.
In terms of color reproduction, the display covers 96% of the sRGB color gamut, providing you with punchy and vibrant images.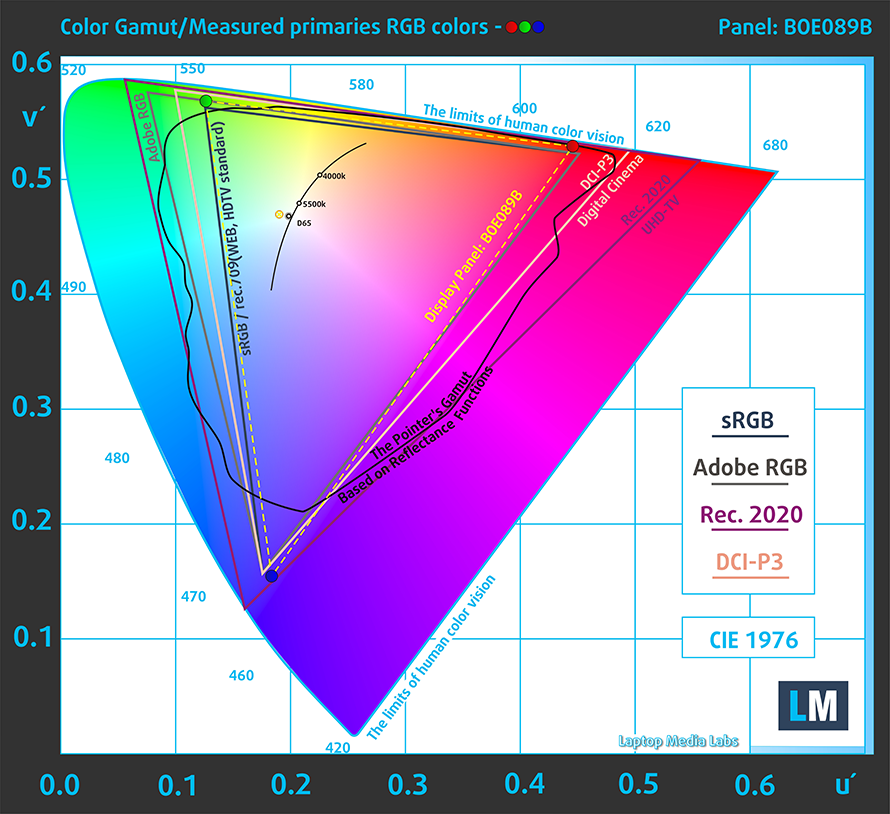 The color accuracy isn't bad either, especially when we applied our Design and gaming profile. With it, we managed to get a dE value of 1.6, which is close to the standard. Here, you can see our color accuracy test results with both the factory settings (left) and our Design and gaming profile applied (right).
Buy our profiles
Since our profiles are tailored for each display model, this article and its respective profile package are meant for Dell Vostro 15 7500 configurations with 15.6″ FHD IPS BOE 7VKTY-NV156N67 (BOE089B).
*Should you have problems with downloading the purchased file, try using a different browser to open the link you'll receive via e-mail. If the download target is a .php file instead of an archive, change the file extension to .zip or contact us at [email protected]
Read more about the profiles HERE.
In addition to receiving efficient and health-friendly profiles, by buying LaptopMedia's products you also support the development of our labs, where we test devices in order to produce the most objective reviews possible.
4. I/O
The I/O, while not being large in volume, has pretty much everything that you'll need. It is split between the left and right sides, with the left getting housing the power plug, an HDMI connector, a USB Type-A 3.2 (Gen. 1) port, and a Thunderbolt 3 connector. Then, on the right, you can see the audio jack, a USB Type-A 3.2 (Gen. 1) port, and a MicroSD card slot.
1 reason NOT to buy the Dell Vostro 7500
1. Cooling
Lastly, the cooling is pretty underwhelming, as the laptop reaches unwarrantedly high temperatures, despite the clock speed not increasing that much. The cooling setup consists of two large heat pipes which are shared between the CPU and GPU, which are connected to two heat spreaders on the left and right sides.

Max CPU load
| Intel Core i7-10750H (45W TDP) | 0:02 – 0:10 sec | 0:15 – 0:30 sec | 10:00 – 15:00 min |
| --- | --- | --- | --- |
| Dell Vostro 15 7500 | 3.74 GHz (B+44%) @ 92°C | 3.34 GHz (B+28%) @ 92°C | 2.92 GHz (B+12%) @ 92°C |
The CPU passes and maintains a temperature of above 90°C throughout the entire test, while the clock speed hovered a bit below 3.00GHz after 15 minutes of testing.

Max GPU load
| NVIDIA GeForce GTX 1650 Ti | GPU frequency/ Core temp (after 2 min) | GPU frequency/ Core temp (after 30 min) | GPU frequency/ Core temp (Turbo mode) |
| --- | --- | --- | --- |
| Dell Vostro 15 7500 | 1175 MHz @ 79°C | 1220 MHz @ 82°C | – |
The same could be said about the GPU, which hovers around 80°C while maintaining a frequency of around 1200MHz, way lower than it should be, especially when comparing it to other laptops with the same GPU.

Comfort during full load
Things were pretty heated on the outside as well, with a maximum outside temperature of 50.2°C.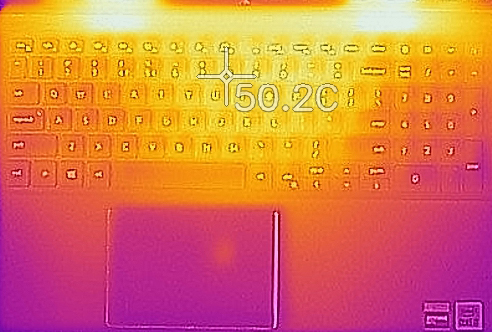 All Dell Vostro 7500 configurations: