Top 5 reasons to BUY or NOT to buy the Dell Latitude 13 5320 (2-in-1)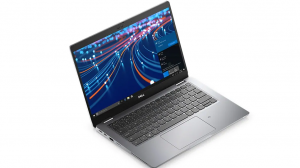 Business convertibles, on paper, seem like a great bargain. However, in reality, they haven't done as well as people thought they would. The premise of a versatile laptop was great, but when it came to action, there were very few instances where their versatility was useful. Dell has thought of a way to make their convertibles an option to their already successful Latitude lineup.
For example, they offer the 2-in-1 device side by side with their standard Latitude 13 5320. When it comes to the hardware inside, there isn't a spec of difference between the two. Both devices have Tiger Lake CPUs which can go as high as the Core i7-1185G7.
Today we are presenting you with LaptopMedia's top 5 picks about the Dell Latitude 13 5320 (2-in-1).
Dell Latitude 13 5320 (2-in-1): Full Specs / In-depth Review
3 reasons to BUY the Dell Latitude 13 5320 (2-in-1)
1. Display
Probably the main selling point of this device is the display. Being a convertible, it has touchscreen capabilities, which also means that if you get your hands on a Stylus pen, you can draw effortlessly on it. Dell doesn't include one in the box, which would have been neat, considering the price of the device. Instead, you have to buy one from them, which adds an extra cost to the overall price tag.
Now, going back to the display, it has a diagonal of 14 inches and sports a Full HD resolution. The panel is IPS and it provides comfortable viewing angles, a maximum brightness of 338 nits, with a maximum deviation of 6%, and a contrast ratio that is very good, sitting at 1780:1. The display covers 94% of the sRGB color gamut, which will make the aforementioned drawing actually a viable path.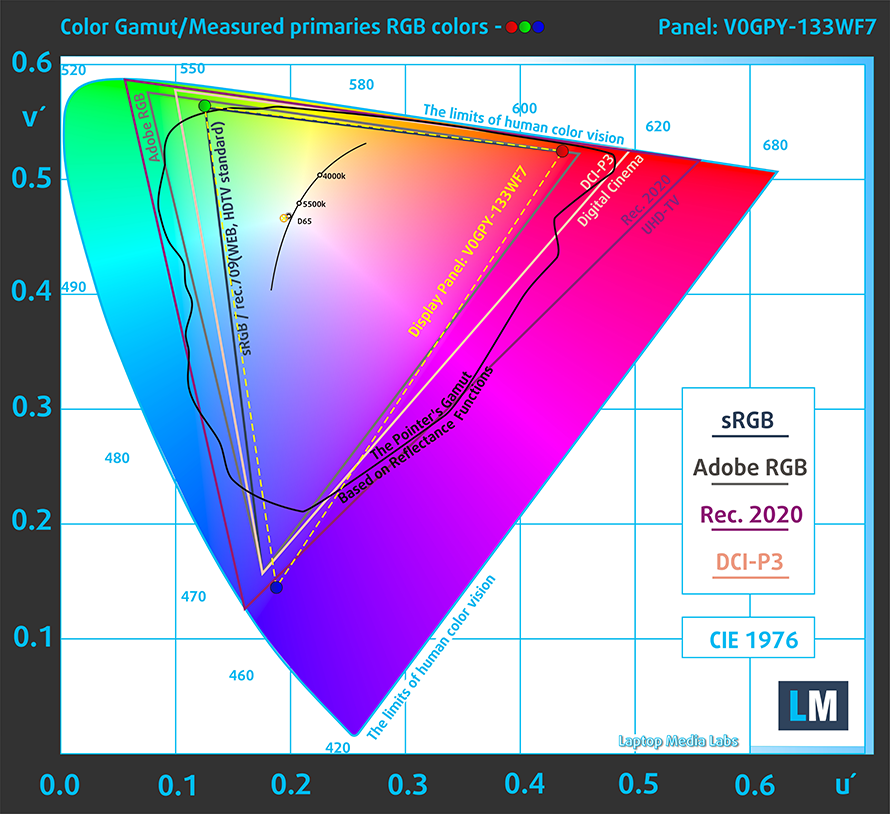 The color accuracy out of the box isn't that great, but if you choose to use our Design and Gaming profile, you would get much better results. In our test, which uses the 24 most commonly used colors, the panel reached a dE value of 1.8 when our profile was applied. Here are the results with the factory settings (left) and with our Design and gaming profile applied (right).
Buy our profiles
Since our profiles are tailored for each individual display model, this article and its respective profile package are meant for Dell Latitude 13 5320 (2-in-1) configurations with 13.3″ LG V0GPY-133WF7 (LGD05DC) (FHD, 1920 × 1080) IPS panel.
*Should you have problems with downloading the purchased file, try using a different browser to open the link you'll receive via e-mail. If the download target is a .php file instead of an archive, change the file extension to .zip or contact us at [email protected].
Read more about the profiles HERE.
In addition to receiving efficient and health-friendly profiles, by buying LaptopMedia's products you also support the development of our labs, where we test devices in order to produce the most objective reviews possible.
2. Battery life
With a beefy battery unit with a size of 63Wh, the laptop lasts for 13 hours and 10 minutes of Web browsing, and 12 hours and 20 minutes of video editing. As always, we perform our tests with the Windows Better performance setting turned on, screen brightness adjusted to 120 nits, and all other programs turned off except for the one we are testing the notebook with. Here you can see the results of the test, along with scores from other competing laptops, one of which is the non-convertible Latitude 13 5320.
In order to simulate real-life conditions, we used our own script for automatic web browsing through over 70 websites.
For every test like this, we use the same video in HD.
3. I/O and features
When it comes to the I/O, this device is no slouch. You get two Thunderbolt 4 connectors (both of which can be used for charging), one USB Type-A 3.2 (Gen.1) port, a Micro SD card reader, all of which are put on the left side. As for the right, there is an HDMI connector, a security slot, one more USB Type-A 3.2 (Gen.1) port, the mandatory 3.5 mm audio jack, and an optional SIM card slot.
The keyboard on the device is also a very good one, as it has decent key travel that is paired with clicky feedback and a great backlight. The touchpad isn't something to write off too, as it has snappy and accurate tracking. The embedded fingerprint reader inside the power button is also very neat.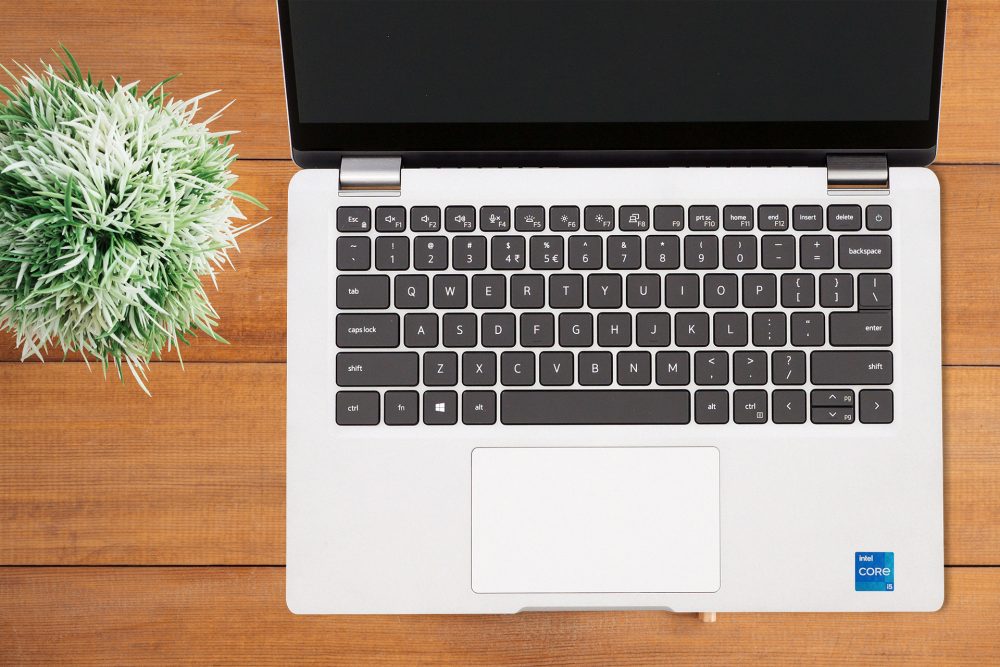 2 reasons NOT to buy the Dell Latitude 13 5320 (2-in-1)
1. Design and Build quality
While the laptop is considered a premium one. Its build quality wouldn't suggest that. With a price that is north of $1000, you wouldn't expect to get a base that is more flexible than a yoga practitioner. The build materials might have a play in this, as the laptop uses mainly bioplastics, which are made from a paper-making byproduct. However, we have seen other devices with a plastic build, that fare much well, and we should blame the materials for it. When it comes to weight and height, the device weighs in at 1.32kg and is 17mm tall, which is decent.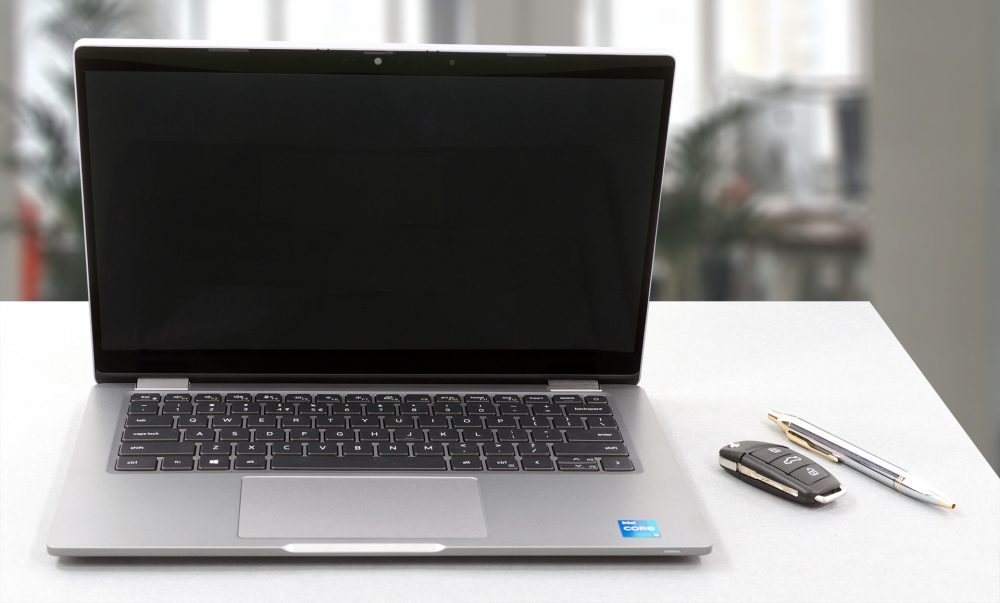 2. Upgradeability
Upgradeability is another weak point of the device, as all of the RAM is soldered onto the motherboard. Fortunately, there are several configurations, which go up to 32GB of RAM, which works in dual-channel. For the storage, there is an M.2 PCIe x4 slot, with installation instructions on the cover.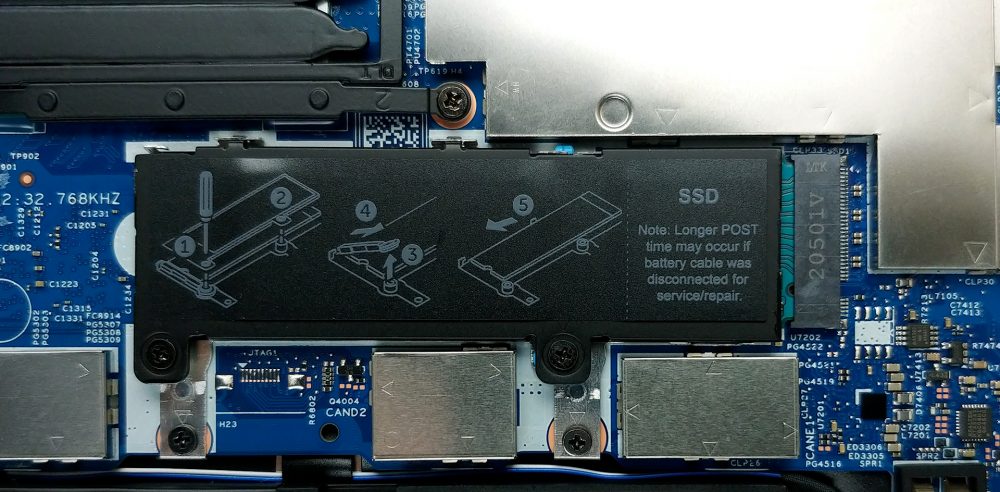 All Dell Latitude 13 5320 (2-in-1) configurations: