Top 5 reasons to BUY or NOT to buy the Dell G15 5515 Ryzen Edition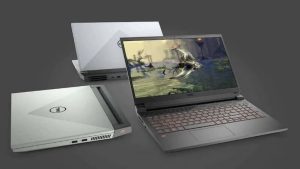 While Dell does have the Alienware brand to satisfy consumers' gaming needs, they like to keep the brand as a flagship and high-end one. That is why they have their separate G-series, which offer more affordable devices to the market.
This means that they can take certain stuff from their Alienware laptops and bring it down to a less expensive device, which in the end is great news for the budget gamers. The G15 5515 from last year had one major issue with its cooling, which seems to be fixed now, making the laptop a very hot commodity in the budget gaming laptop section.
Today we are presenting you with Laptopmedia's top 5 picks about the Dell G15 5515 Ryzen Edition.
Dell G15 5515 Ryzen Edition: Full Specs / In-depth Review
3 reasons to BUY the Dell G15 5515 Ryzen Edition
1. Upgradeability
The laptop brings superb upgradeability, with two SODIMM RAM slots, which can handle up to 64GB of DDR4 memory in dual-channel, and two M.2 PCIe x4 slots.

Here is our detailed teardown video, which shows exactly how to access both the RAM and SSD slots.
2. Battery life
With a battery size of 56Wh, we didn't expect wonders, but the laptop still delivered decent battery life. It lasted for 8 hours and 20 minutes of Web browsing, and 8 hours and 3 minutes of video playback, which should last you for a whole day of normal use. Now, we conduct the battery tests with Windows Better performance setting turned on, screen brightness adjusted to 120 nits, and all other programs turned off except for the one we are testing the notebook with.

3. Cooling
Dell really stepped up with the cooling on this device, as they should. The last laptop offered decent clock speeds at the expense of very poor temperatures. The new laptop uses a new cooling solution, which consists of four heat pipes. Two of them cool both the CPU and GPU, while there is one separate for each of them.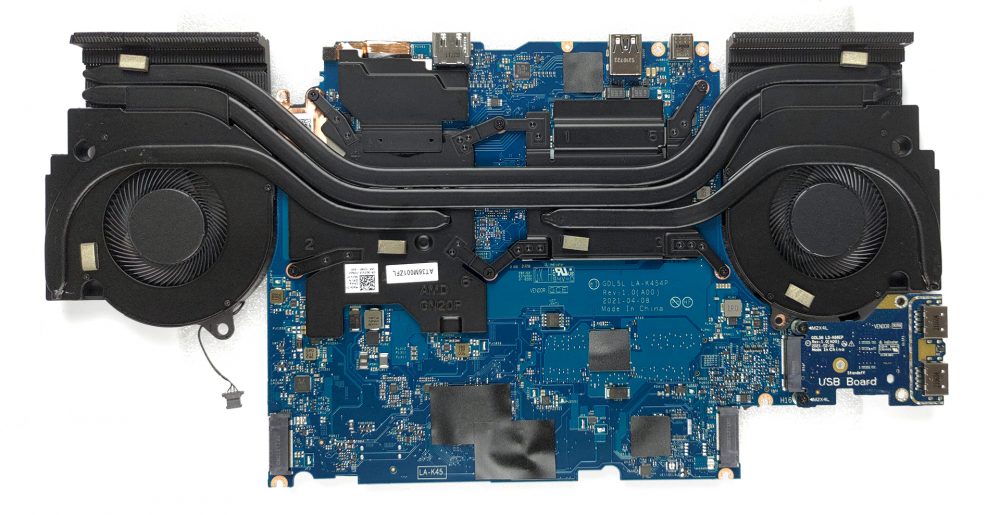 Max CPU load
| AMD Ryzen 7 5800H (45W TDP) | 0:02 – 0:10 sec | 0:15 – 0:30 sec | 10:00 – 15:00 min |
| --- | --- | --- | --- |
| Dell G15 5515 | 3.29 GHz (B+3%) @ 74°C | 3.14 GHz @ 74°C | 3.21 GHz (B+0%) @ 82°C |
The Ryzen 7 5800H keeps its clock speed near the base speed, while the temperature maxed out at 82°C.

Real-life gaming
| NVIDIA GeForce RTX 3050 Ti (75W) | GPU frequency/ Core temp (after 2 min) | GPU frequency/ Core temp (after 30 min) | GPU frequency/ Core temp (Max fan) |
| --- | --- | --- | --- |
| Dell G15 5515 | 1857 MHz @ 76°C @ 80W | 1850 MHz @ 77°C @ 80W | – |
| Acer Nitro 5 (AN515-57) | 1616 MHz @ 70°C @ 66W | 1607 MHz @ 72°C @ 65W | 1632 MHz @ 69°C @ 66W |
| MSI Katana GF76 | 1619 MHz @ 76°C @ 60W | 1594 MHz @ 82°C @ 60W | 1632 MHz @ 70°C @ 60W |
The Dell laptop reaches higher clock speeds and a higher TDP, while the temperatures were normal.

Gaming comfort
The outer temperature was shocking, as the body of the G15 seems to be really good at dissipating heat. The hotspot of the keyboard remained at 36.1°C.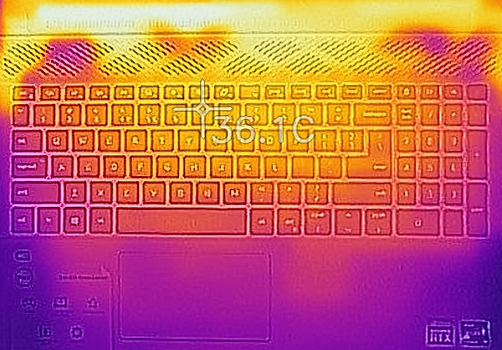 2 reasons NOT to buy the Dell G15 5515 Ryzen Edition
1. I/O
Somehow in 2021, we still see two USB Type-A 2.0 ports on the units with the RTX 3050 or RTX 3050 Ti. The units with the RTX 3060 get two USB 3.2 (Gen. 1). In addition to that, we see a USB Type-C 3.2 (Gen. 2) port, one more USB Type-A 3.2 (Gen. 1) port, an HDMI connector, an RJ-45 connector, and a 3.5 mm audio jack.
2. Input devices
The keyboard could use some improvement, as this unit might as well be from an Inspiron. The key travel and decent and the feedback is average. All in all, we wouldn't label it as comfortable for gaming, especially not in a world where you can get a Lenovo Legion 5. The touchpad does have decent accuracy and responsiveness, but its size is too small for a 15.6-inch device.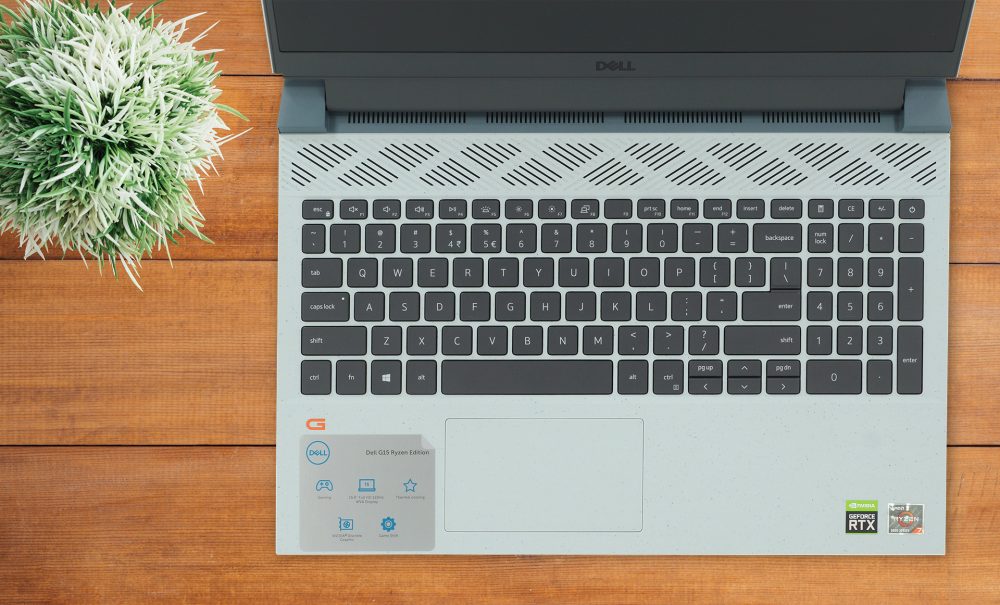 All Dell G15 5515 Ryzen Edition configurations: