Top 5 reasons to BUY or NOT to buy the ASUS Zenfone 8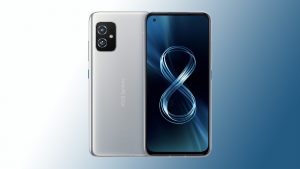 Today we have something different for you. While we mainly cover laptops, we also have a passion for other mobile tech as well. Smartphones have become an inseparable part of our lives, so why not start reviewing some as well. ASUS is one of the most recognizable names in the laptop field, and they are quickly gaining traction with their smartphones.
The Zenfone name has gone through a lot of change. We remember the beginning when ASUS released the first generation of Zenfones, with Intel Atom processors, which was a very bold choice. After two years of Intel chips, they swapped to Qualcomm and their Snapdragon family, which they still use to this day.
Now, we have the latest Zenfone, which brings the Snapdragon 888 that is paired with up to 256GB of memory and up to 16GB of RAM. It is a true flagship featuring a stunning camera setup and a high refresh rate display. In a world where smartphones have been getting bigger and bigger, it's great to see a compact smartphone, which doesn't make significant sacrifices.
Today we are presenting you with LaptopMedia's top 5 picks about the ASUS Zenfone 8.
ASUS Zenfone 8: In-depth Review
You can check the current price of ASUS Zenfone 8 here: Buy from Amazon.com (#CommissionsEarned)

4 reasons to BUY the ASUS Zenfone 8
1. Design and build quality
As this is a flagship smartphone, it comes with premium materials all around. Smartphone manufacturers have been getting increasingly experiential, trying to implement new and new materials, which is easier for a phone, since it's a closed package with essentially zero moving parts.
The Zenfone 8 uses a pretty standard glass sandwich build, with an aluminum frame in between. The display is covered by Gorilla Glass Victus, which is said to be twice as scratch-resistant as the Gorilla Glass 5. The back and the camera are covered by Gorilla Glass 3, with the back having a frosted finish, minimizing fingerprints and smudges.
The phone and display both have rounded corners, making the Zenfone 8 incredibly easy to handle. The camera bump on the back does mean that the phone will wobble and won't sit flat when you leave it on a table.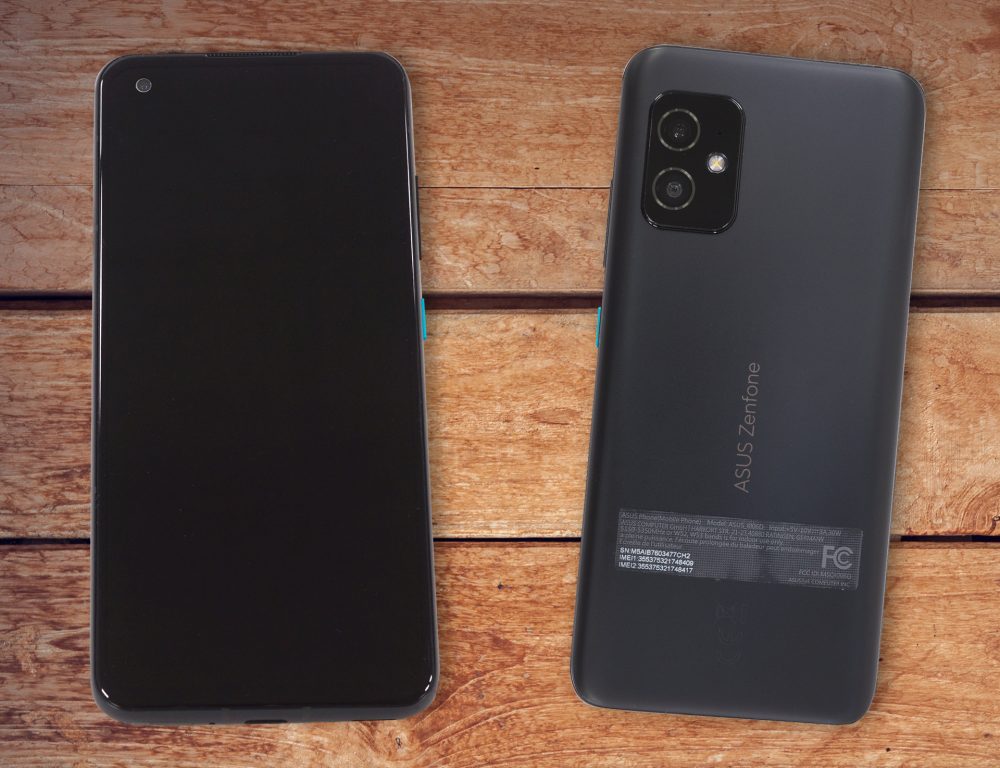 2. Display quality
The phone has a 5.9-inch touchscreen Super AMOLED display with a resolution of 2400×1800, which calculates a 20:9 aspect ratio. The smartphone market has seen its fair share of manufacturers playing with the aspect ratio, trying to find their sweet spot. The display has comfortable viewing angles, a maximum brightness of 440 nits, and an infinite contrast ratio. In terms of color coverage, the panel covered 100% of the sRGB color gamut and 96% of the DCI-P3 gamut, offering vibrant and attractive colors. On the other side, the screen uses PWM below 60 nits of brightness.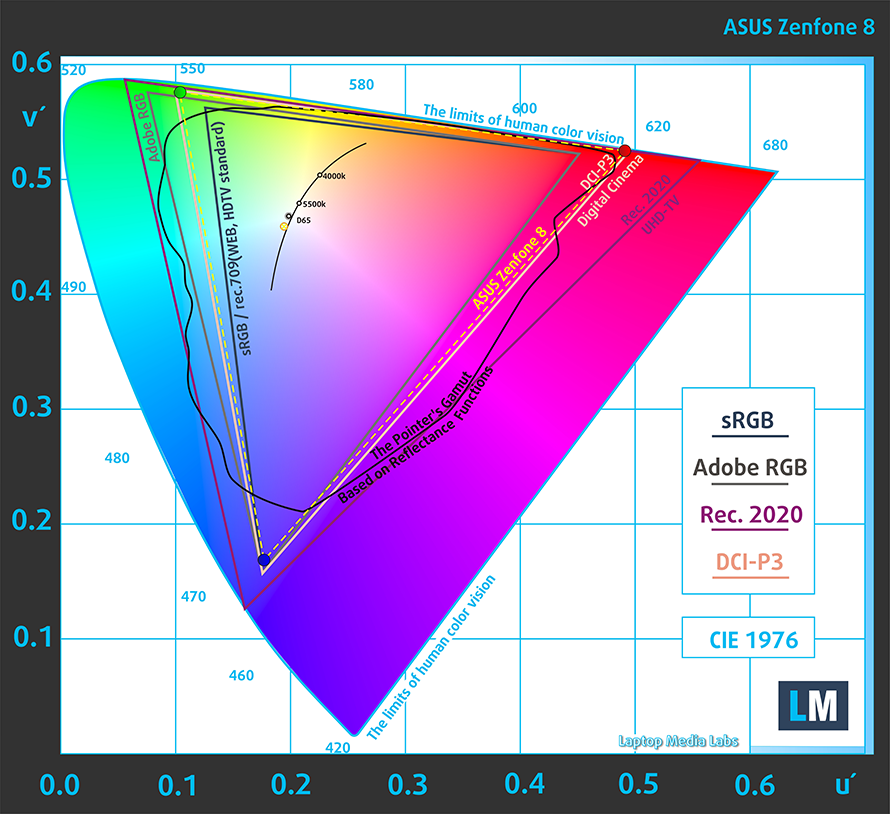 The color accuracy was decent but didn't match the sRGB standard, reaching a dE value of 3.4. Here are the results of our color accuracy test.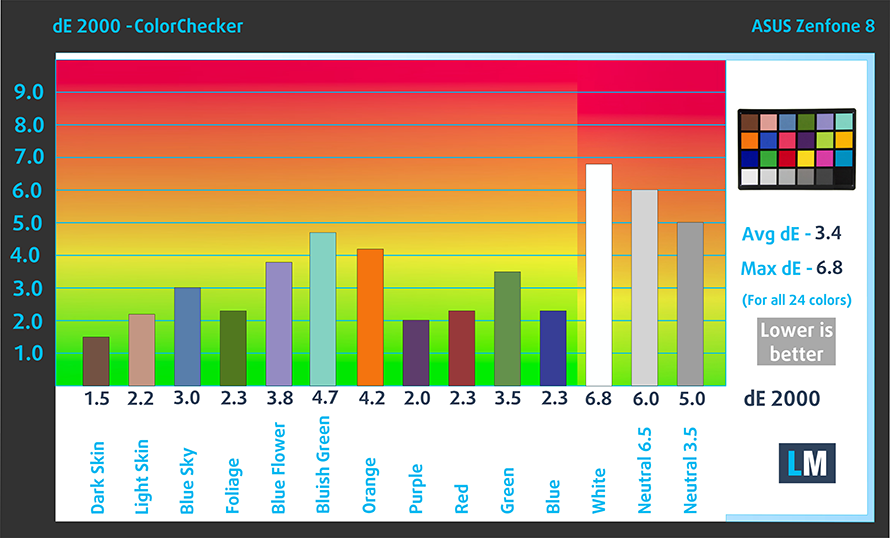 3. Camera
The camera setup is on a fantastic level, but it does use some marketing tricks to make itself better than it is. The main Sony IMX686 sensor has a resolution of 64MP, a sensor size of 1/1.7″, and a pixel size of 0.8μ. The sensor uses Quad Bayer technology, resulting in four pixels becoming a single pixel, so most of the time you get a very detailed 16MP image with a pixel size of 1.6μ. The sensor has a 4-axis OIS, which fixes any shaking that you might get during filming.
The secondary camera uses an ultrawide Sony IMX363 12MP sensor, with dual-pixel technology, a sensor size of 1/2.55″, and a pixel size of 1.41μ.
On the front, you get a 12MP Sony IMX633 shooter.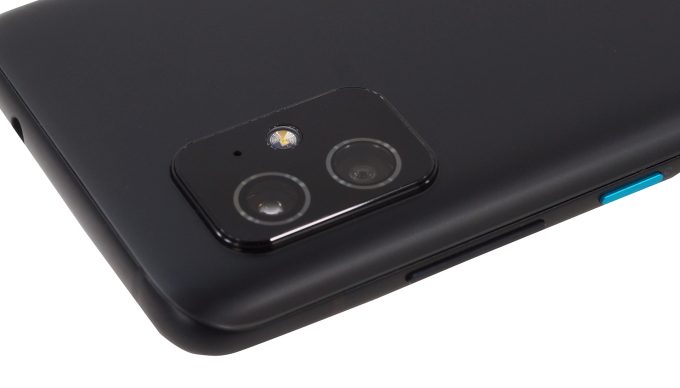 Starting with the rear camera, it can shoot images in 64MP mode as well as in 16MP mode and film video as high as 8K resolution at 24 FPS. The sweet spot is probably 4K at 60 FPS or 1080p at 60 or 240 FPS.
The camera was able to capture quality images, with the color representation being similar across the two cameras. The HDR is able to uncover darker areas of a photo, while not allowing the sky or other bright areas to get overexposed, which is very well done.
Here are some sample videos, in different framerates and conditions, which test both the OIS on board and the overall video quality. Shooting in 4K was fantastic, but the smartphone was quick to heat up and a prompt to pop up saying that we have to stop filming in order to prevent the phone from overheating.
The front-facing camera did wonders and showed up. It keeps a lot of the detail, but it's not without its falls. For example, the portrait mode does a great job, but it seems to dislike when you wear a hat.
4. Speakers
The Stereo speaker setup, which consists of one speaker on the top and one on the bottom, delivered quality audio with a deep and loud sound. Furthermore, the low, mid, and high tones are clear of deviations.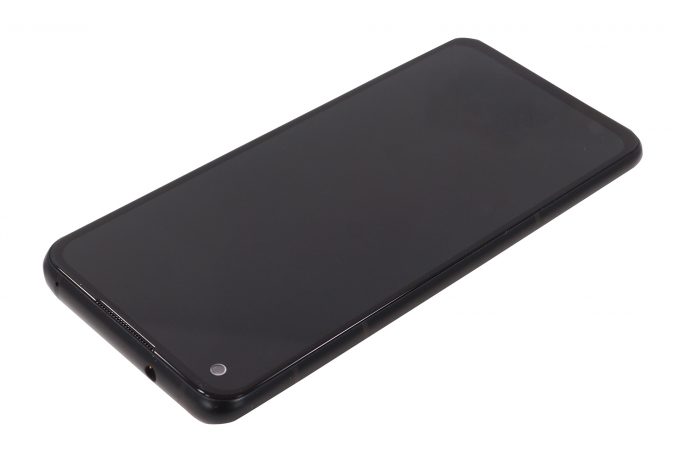 1 reason NOT to buy the ASUS Zenfone 8
1. Battery life
The battery has a size of 4000mAh, which is decent, and offers 30W fast charging. We tested the battery using 3DMark's Wild Life stress test, with the screen brightness set to 120 nits. The display was in Dynamic mode, which locks it in 60Hz, delivering three hours and 42 minutes. As for our real-world usage, it resulted in about 6 hours of screen-on time during pretty heavy use.
You can check the current price of ASUS Zenfone 8 here: Buy from Amazon.com (#CommissionsEarned)