Top 5 reasons to BUY or NOT to buy the ASUS ZenBook Duo 14 UX482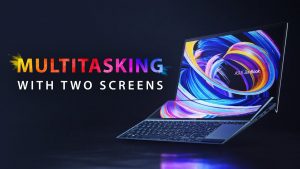 The ASUS ZenBook Duo 14 UX481 was already a stellar device when we reviewed it all the way back in 2019. As always it wasn't without its shortcomings, but no device is perfect. Now, in 2021, ASUS has a new device, the UX482, which is a direct successor. And boy, have ASUS done something special with it.
It takes the UX481, revamps most of it, including the secondary display, and tweaks the software to make it even better for professionals. As this is a portable laptop, it doesn't bring the new H-series Tiger Lake chips, relying on the G-series, which is really good in its own right, delivering outstanding performance, while sparing the battery life.
Today we are presenting you with LaptopMedia's top 5 picks about the ASUS ZenBook Duo 14 UX482.
ASUS ZenBook Duo 14 UX482: Full Specs / In-depth Review
4 reasons to BUY the ASUS ZenBook Duo 14 UX482
1. Design and build quality
The laptop is made entirely of metal, which looks very sophisticated. Also, the quality of construction is on point with virtually no flexing to be seen from both the lid and the base. It's also pretty portable, weighing only 1.57 kg (3.46 lbs) while being around 17 mm (0.67″) tall, slightly heavier, but slimmer than its predecessor. In terms of the design itself, the all-black color and circular pattern on the lid give it a bit of a punch. The ASUS branding is really minimal, only appearing on the back of the lid, off-centered to the right.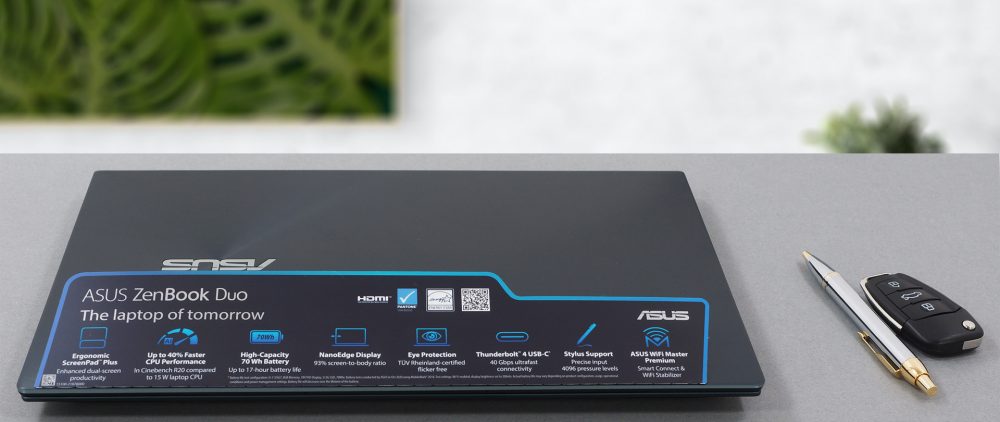 2. Display quality
As per the name, the laptop comes with two displays. The first one has a diagonal of 15.6 inches and uses a Full HD IPS panel, comfortable viewing angles, decent maximum brightness of 330 nits in the middle of the screen, and 324 nits as an average across the entire area of the screen, calculating a maximum deviation of 5%. It also comes with a really high contrast ratio of 1530:1. The secondary panel has a resolution of 1920 х 515 pixels and a diagonal of 12.6 inches. Both panels show no PWM usage across all brightness levels. Going back to the main screen, it shows a 97% coverage of the sRGB color gamut.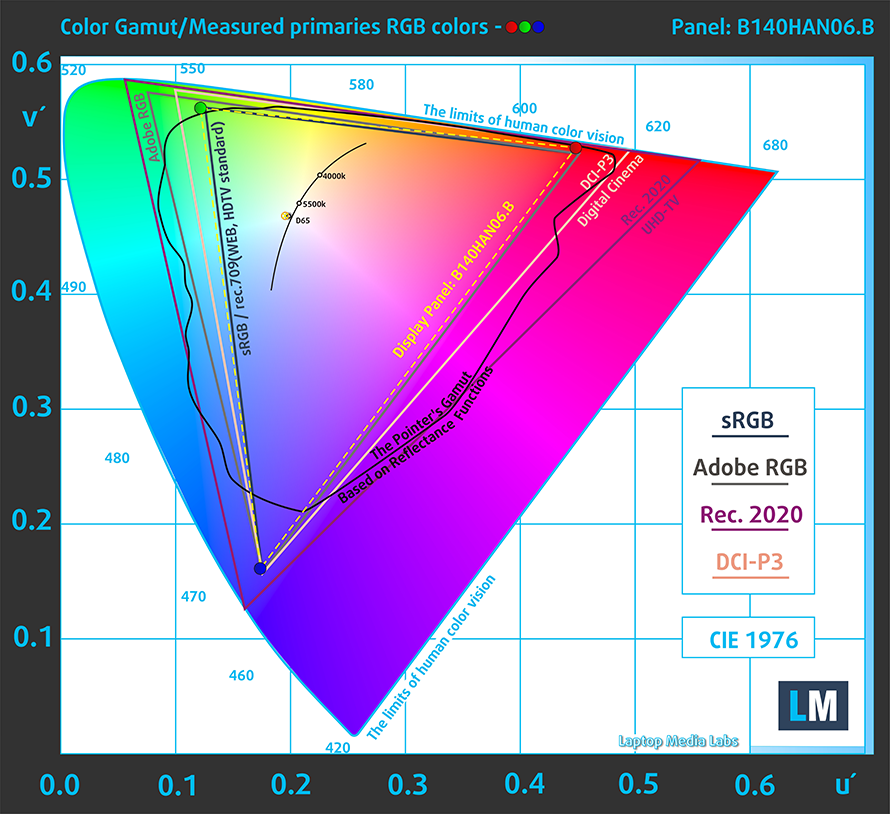 Color accuracy
We tested the main display both with the factory settings (left) and with our Design and gaming profile applied (right). While the color accuracy is good out of the box, with a dE value of 2.0, it becomes much better once we apply our profile, which brings the dE value down to 0.8, making it suitable for professional work.
Buy our profiles
Since our profiles are tailored for each display model, this article and its respective profile package are meant for ASUS ZenBook Duo 14 UX482 configurations with 14.0″ AUO B140HAN06.B (AUOA48F) (FHD, 1920 × 1080) IPS panel.
*Should you have problems with downloading the purchased file, try using a different browser to open the link you'll receive via e-mail. If the download target is a .php file instead of an archive, change the file extension to .zip or contact us at [email protected].
Read more about the profiles HERE.
In addition to receiving efficient and health-friendly profiles, by buying LaptopMedia's products you also support the development of our labs, where we test devices in order to produce the most objective reviews possible.
3. Battery life and I/O
The laptop's 70Wh battery unit lasted for 12 hours and 18 minutes of Web browsing, 12 hours and 7 minutes of video playback, and 2 hours and a half of gameplay. As always we perform our battery tests with the Windows Better performance setting turned on, screen brightness adjusted to 120 nits, and all other programs turned off except for the one we are testing the notebook with.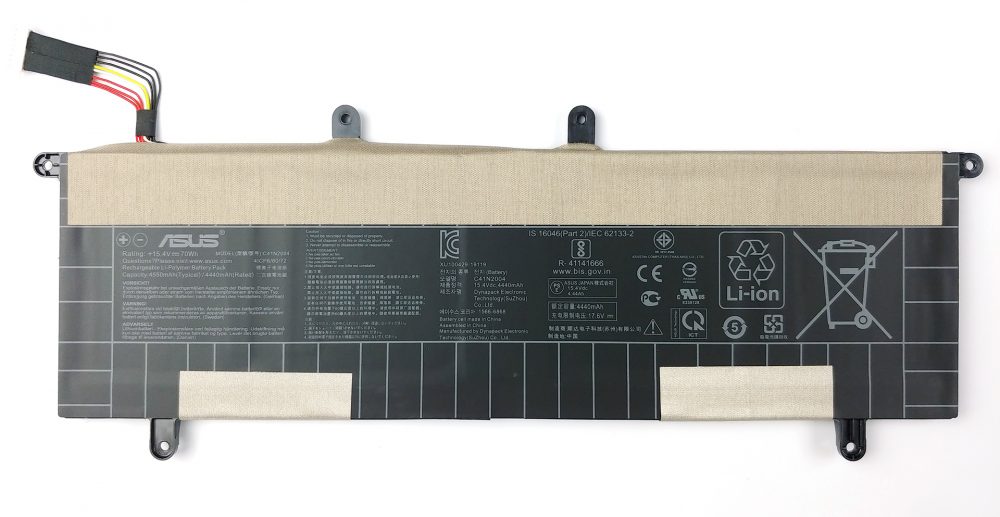 The I/O, while not being rich in quantity, is rich in quality, as you get an HDMI 1.4 connector, as well as two Thunderbolt 4 connectors (both of which can be used for charging) on the left. On the right, there is a USB Type-A 3.2 (Gen. 1) port, an audio jack, and a MicroSD card reader.
4. Features
First, we have to start with the unboxing experience. Inside the box, you get an ASUS Pen with 4096 levels of pressure, a stylish pouch that seems to be made out of leather, and a stand that lifts up the entire device.
The software of the device is also greatly improved, turning the secondary display into a Control panel of sorts, with saveable presets for your programs. For example, in Photoshop, you can put brushes menus or color selectors, for quicker and easier access. The display is an innovation in itself, as it rises once you open the device, opening an air vent, thus giving a laptop another place to breathe from. This gets rid of the vents of the bottom, which is a relief since most of the time said vents get blocked if you have your laptop sitting in your lap.

1 reason NOT to buy the ASUS ZenBook Duo 14 UX482
1. Upgradeability
With a device this good, you have to make some sacrifices, as a manufacturer. ASUS has decided to do so with the RAM, making all of it non-upgradeable. All of the up to 32GB of RAM are soldered onto the motherboard. Storage-wise there is a single M.2 PCIe x4 drive.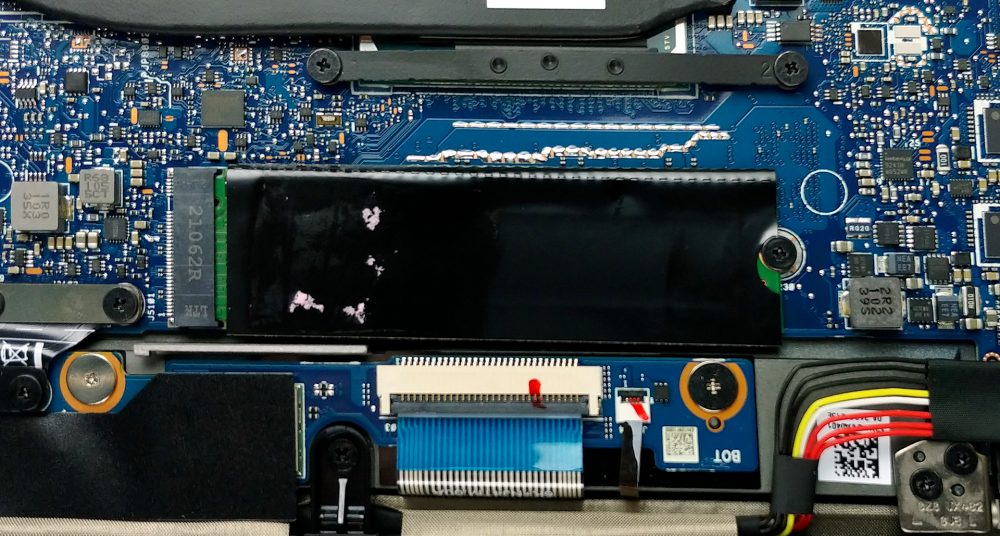 Here is our detailed teardown video, which shows how to access the M.2 slot along with the cooling for maintenance purposes.
All ASUS ZenBook Duo 14 UX482 configurations: