Top 5 reasons to BUY or NOT to buy the ASUS VivoBook 15 M513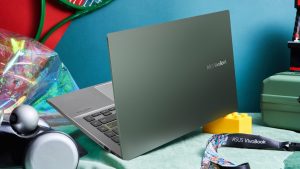 We really took a liking to ASUS' VivoBook brand. It's refreshing to see some colorful devices that will make the kids happy and get them into technology and computers. The brand is entirely focused on the younger audience and it does a great job at attracting them to this laptop, with bold designs and features that quickly grab the attention of consumers. Today we are talking about one of the newer VivoBook devices, the VivoBook 15 M513. It is fairly affordable while offering a surprisingly good amount of performance, with both Tiger Lake and the new 5000 U-series processors from AMD being available.
Today we are presenting you with LaptopMedia's Top 5 picks about the ASUS VivoBook 15 M513.
ASUS VivoBook 15 M513: Full Specs / In-depth Review
4 reasons to BUY the ASUS VivoBook 15 M513
1. Design and build quality
The laptop uses a similar design scheme to other budget and mid-range devices, with metal being used for the lid and plastic for everywhere else. While on paper, it would seem that the body would be prone to flexing, it wasn't anywhere as bad as you would expect. While there was some flexing, the whole structure remained fairly solid, except for a few pops. The design is one of the strong qualities of the laptop, being offered with a total of six colors, meaning that you are for sure going to find something that matches your style and personality. Weight and height-wise, the laptop stops the scales at 1.80 kg (3.97 lbs) and is just 18.6 mm (0.73″) tall.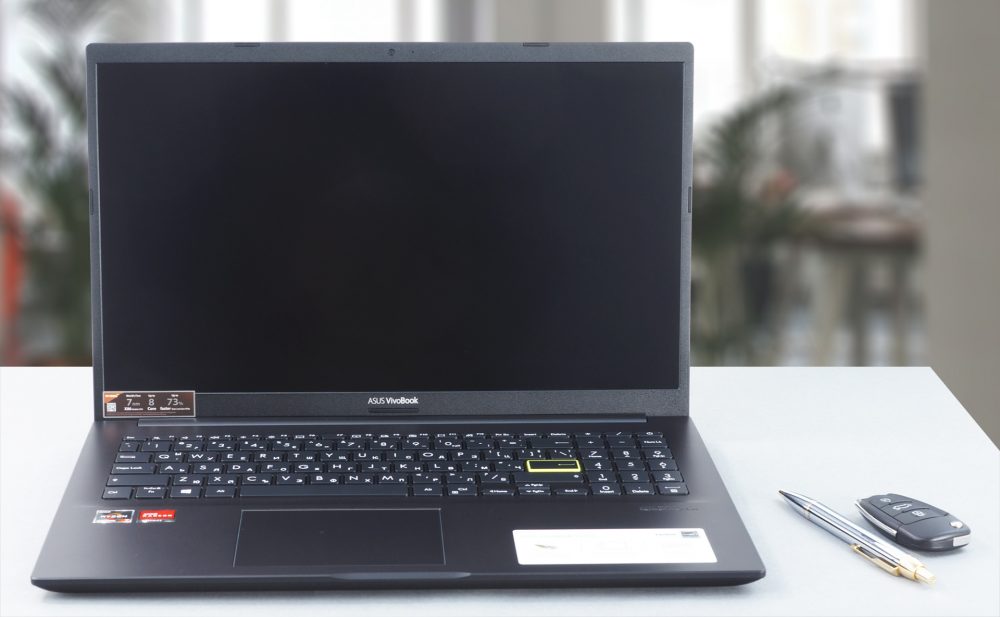 Open up the lid, which can't be done with a single hand, and you are greeted by decently-sized bezels, a backlit keyboard with an electric green-colored Enter-key, and a fairly small touchpad. The keyboard has average key travel, but its feedback is quite clicky. The trackpad is great too, offering a smooth surface for gliding and accurate tracking.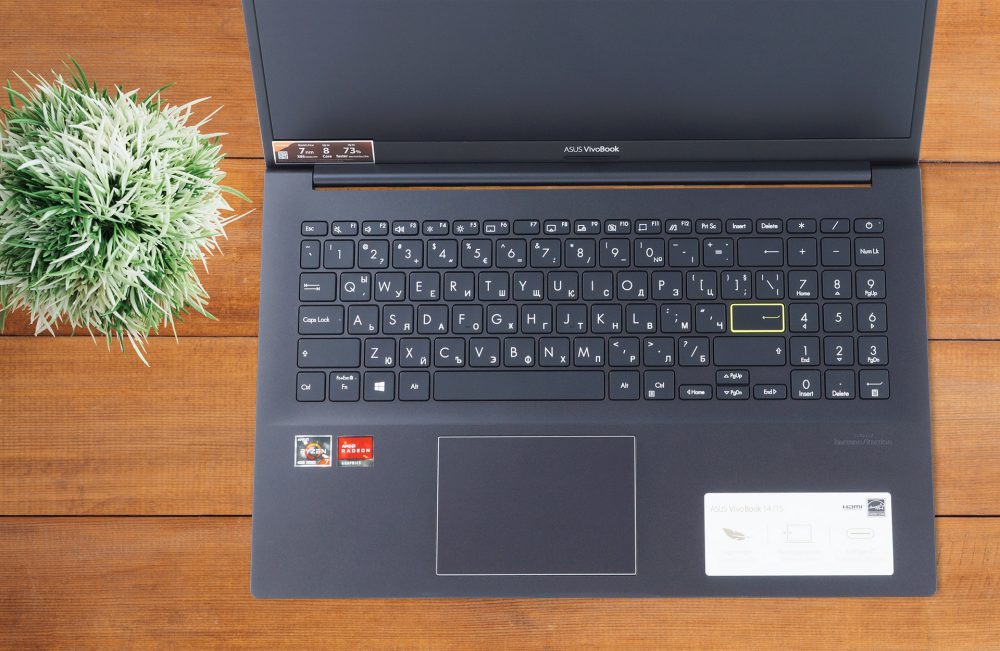 2. Upgradeability
The laptop is surprisingly upgradeable when you consider the audience that it is aimed at. Of course, you get half of the memory soldered onto the motherboard, but for the rest, you get one SODIMM RAM slot, which can fit up to 32GB of DDR4 memory. As for the storage, there is one M.2 PCIe x4 drive and one 2.5-inch SATA drive, which takes us back a few years, but it is still nice to have.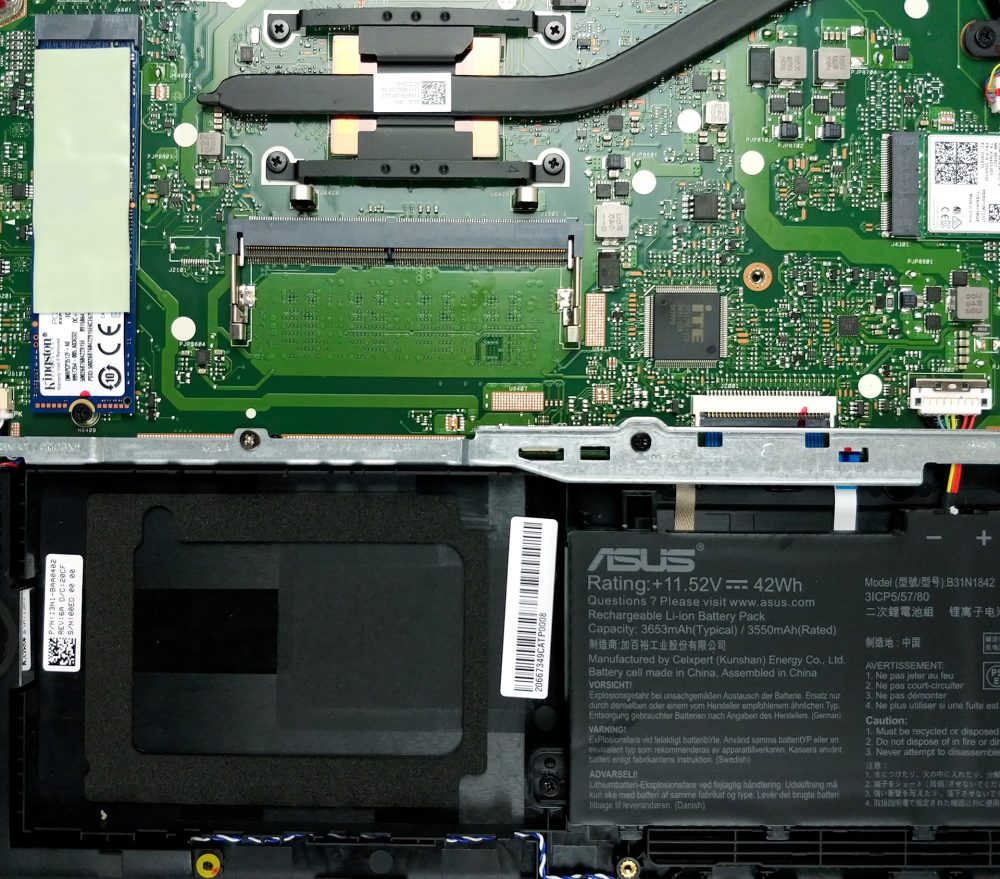 In case you want to upgrade the memory or storage of your notebook, but don't know how, feel free to take a look at our detailed teardown video, which should you a step-by-step method of safely accessing both the SODIMM, M.2, and SATA slots.
3. Display
The VivoBook 15 M513 features two options for a display, with the first one being a 15.6-inch Full HD TN panel, which we wouldn't recommend. The second panel has the same size and resolution but has an IPS matrix, which generally produces better colors. The panel has comfortable viewing angles and a maximum brightness of 336 nits, with a maximum deviation of 13%. The contrast ratio is also on the good side, sitting at 1360:1 and the panel remains flicker-free across every brightness level. The color coverage sits at 53% of the sRGB color gamut, which is on the low side, but this laptop isn't made for creative professionals, so it is not that big of a deal.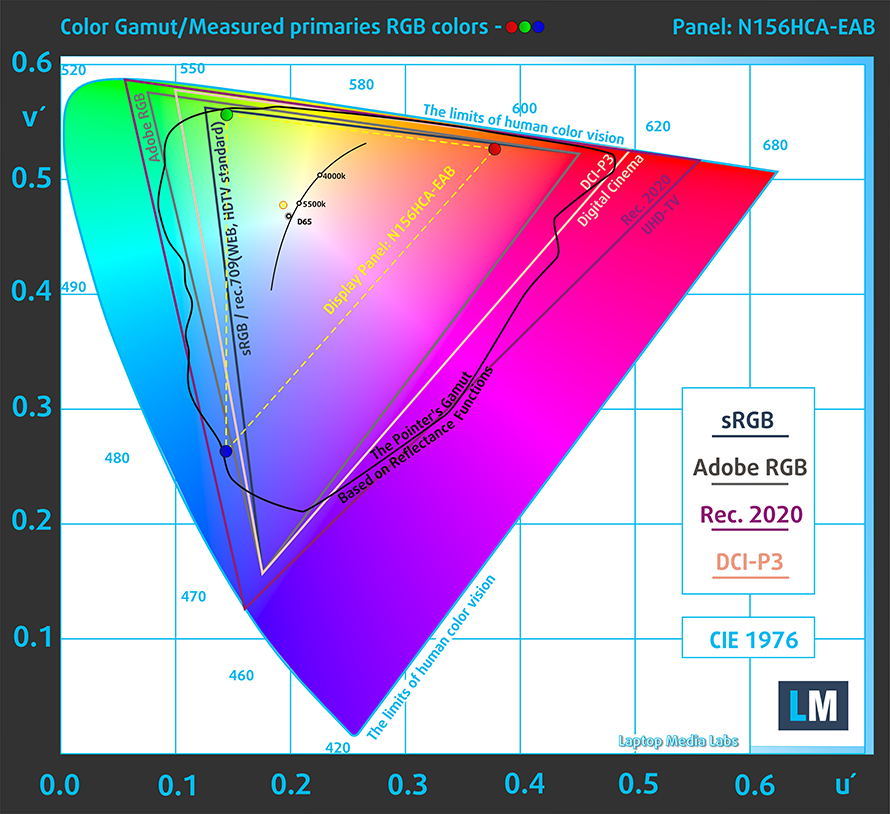 The color accuracy was decent, especially when we applied our Design and Gaming profile, but still didn't match the standard. It got us an average dE value of 3.5, which contrasted the 6.5 average dE value that we got with the factory settings. Here are the results of our color accuracy test both with the factory settings (left) and with our Design and Gaming profile applied (right).
Buy our profiles
Since our profiles are tailored for each individual display model, this article and its respective profile package are meant for ASUS VivoBook 15 M513 configurations with 15.6″ FHD IPS Innolux N156HCA-EAB.
*Should you have problems with downloading the purchased file, try using a different browser to open the link you'll receive via e-mail. If the download target is a .php file instead of an archive, change the file extension to .zip or contact us at [email protected]
Read more about the profiles HERE.
In addition to receiving efficient and health-friendly profiles, by buying LaptopMedia's products you also support the development of our labs, where we test devices in order to produce the most objective reviews possible.
4. Battery life
While the laptop comes with a fairly small 42Wh battery pack, it more than delivers, lasting through 13 hours and 45 minutes of web browsing and 7 hours and 30 minutes of video playback. The battery life seems to be a bit unbalanced, as with other notebooks with the same processor setup, we have seen closer times between web browsing and video playback tests.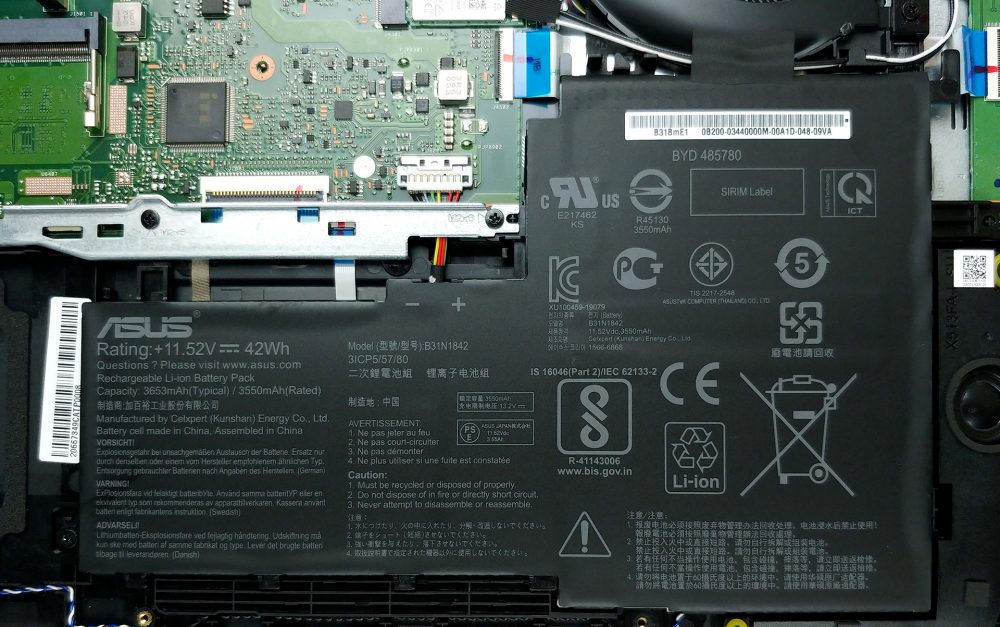 1 reason NOT to buy the ASUS VivoBook 15 M513
1. Ports
ASUS has found a way to make this laptop desirable, by sacrificing the features that their target audience won't care about. Now, the I/O, for many is a pretty important aspect, especially if you are a professional. On the other hand, if you mainly use the device for online education and watching movies, it wouldn't be a massive problem that you have two of the old and forgotten USB Type-A 2.0 ports. Intentionally or not, they are sitting alone on the left side, while the rest of the I/O is on the right and it consists of an HDMI connector, two more USB 3.2 (Gen.1) ports (one Type-A and one Type-C), a 3.5mm audio jack and a MicroSD card reader. That could be slightly uncomfortable if you're right-handed and using the laptop with a mouse.
All ASUS VivoBook 15 M513 configurations: