Top 5 reasons to BUY or NOT to buy the ASUS TUF Gaming F15 (FX506)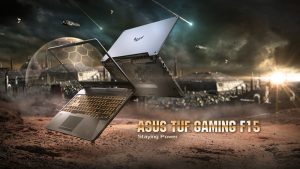 ASUS has really fleshed out its TUF brand. While previously people have seen it as a budget ROG counterpart, now the brand is its own thing, pumping out great devices on the regular. One of them is the TUF Gaming F15 (FX506). That laptop has come a long way since its predecessor, the FX504 first came out.
Since then they have only gone upward, by offering a broader range of hardware and device options. This device packs the well-known Intel Comet Lake H processors, which are still great when it comes to gaming and can handle a variety of different work as well, making for a versatile device.
Today we are presenting you with LaptopMedia's top 5 picks about the ASUS TUF Gaming F15 (FX506).
ASUS TUF Gaming F15 (FX506): Full Specs / In-depth Review
4 reasons to BUY the ASUS TUF Gaming F15 (FX506)
1. Design and Build quality
The laptop uses aluminum and plastic for its build, same as everyone else in this price range. The unboxing experience is also one of its strong suits. The laptop comes in a cardboard box with a handle, which is decorated with some honeycomb patterns and has some colorful stickers, which are quickly becoming the TUF Gaming brand identity. In the box, you can also find some SATA cables, screws, and mounting brackets, more on that later.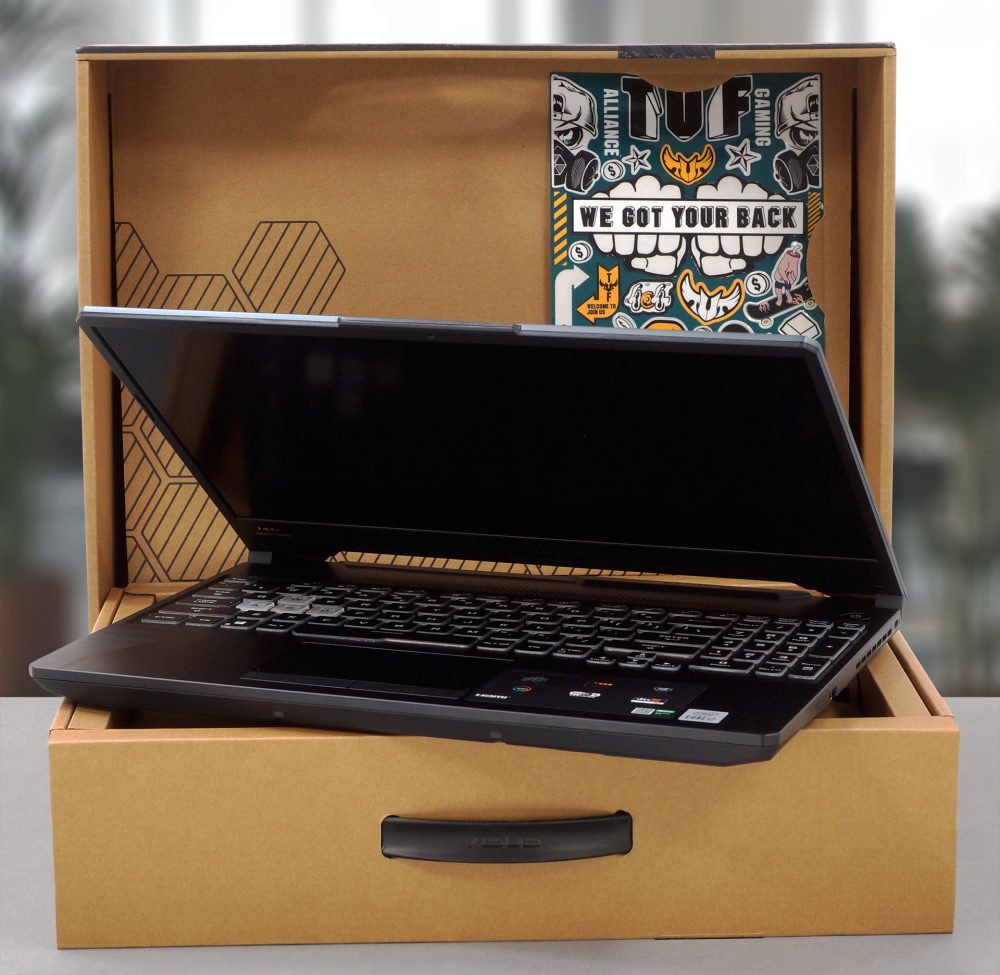 The design is pretty angular and aggressive, which we like as it gives it some uniqueness and makes it stand out. Structural integrity is also quite good here, as the honeycomb pattern isn't only on the box, but on the inside of the device as well, making for a rigid construction with hardly any creaks and bends. Weight and height-wise, the laptop has a profile of around 25mm and weighs in at 2.30 kg, which is quite standard for budget gaming notebooks.
The lid can be opened with a single hand but we would advise against doing it like that as the base lifts up as well, and then slams right back onto the table, so we would suggest you support the base with one hand. The bezels are thin enough for 2021 standards and in stark contrast to the ROG gaming laptops, this one actually has a Webcam on top. The keyboard's only caveat would be the small arrow keys, but other than that it has decent key travel and somewhat clicky feedback. The touchpad, on the other hand, is super accurate and was a treat to use. It comes with its own dedicated buttons, which have a grippy surface.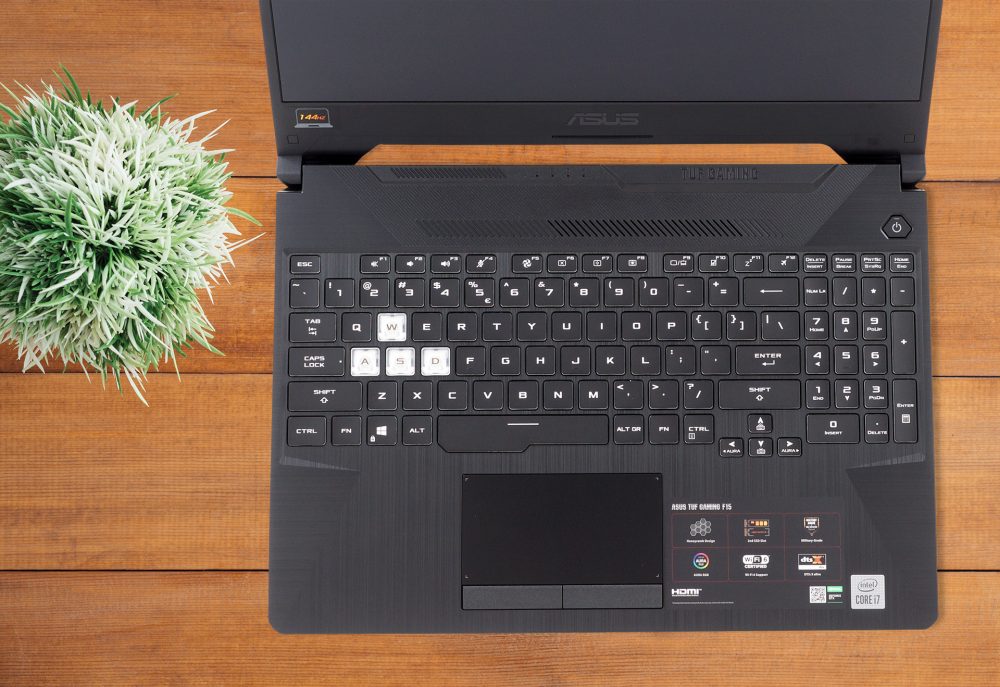 2. Upgradeability
The laptop offers superb upgradability, as both the RAM and the storage are available for expansion. This is done through two SODIMM slots and two M.2 PCIe x4 slots. The SODIMM slots work in dual-channel and can hold up to 64GB of RAM. There is also a 2.5-inch SATA drive bay. However, it is only available if you pick the smaller 48Wh battery unit instead of the larger 90Wh one, so you have to make a decision.
Here we will leave our detailed teardown video, in case it's your first time taking apart a laptop and you need a guiding hand. The video shows all the necessary steps that you need to take in order to safely access both the SODIMM and M.2 slots.
3. Display
The laptop offers two displays to choose from. Both of them share the Full HD resolution and IPS panel. The second one has a 144Hz refresh rate, while the first one isn't specified, so we would assume that it has the standard 60Hz refresh rate. Our review unit had the 144Hz panel and it had decent qualities such as comfortable viewing angles, a maximum brightness of 306 nits, with a maximum deviation of 14%, and a very high contrast ratio of 1480:1. The display covers 57% of the sRGB color gamut, which is on the low end, but we are talking about a budget gaming laptop, so it's excusable.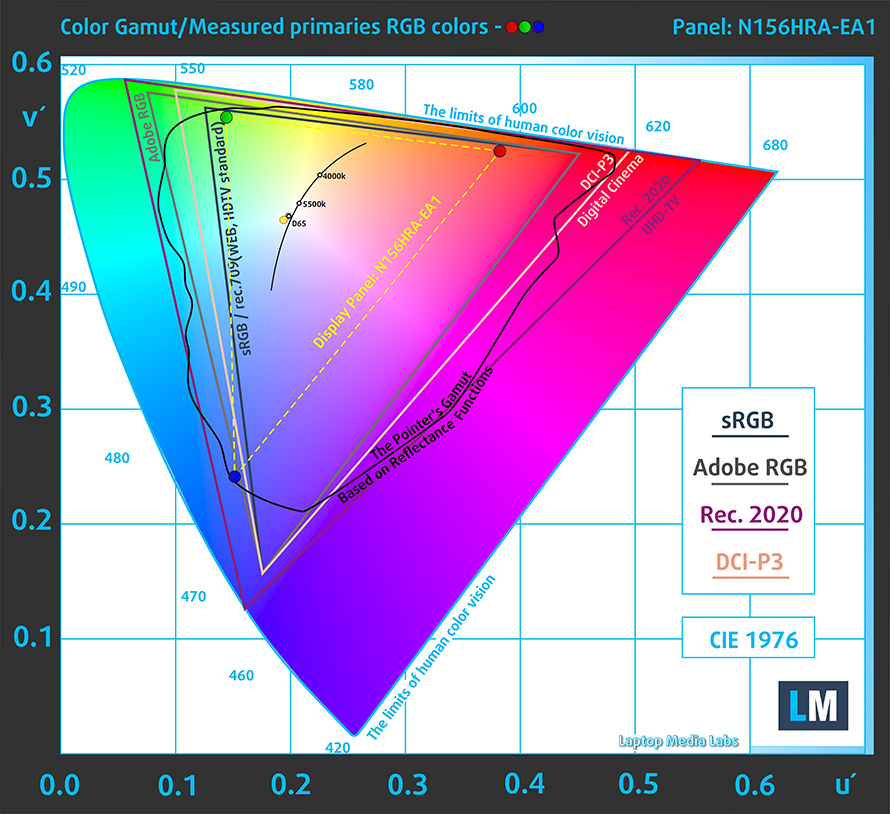 Color accuracy, respectively, is just as expected, given the low color coverage. Both with the factory settings (left) and with our Design and gaming profile applied (right) we got similar scores which aren't good.
We'll let that slip because of the complete absence of Pulse-Width Modulation which is much more important for a gaming laptop – your eyes won't hurt even after long gaming sessions.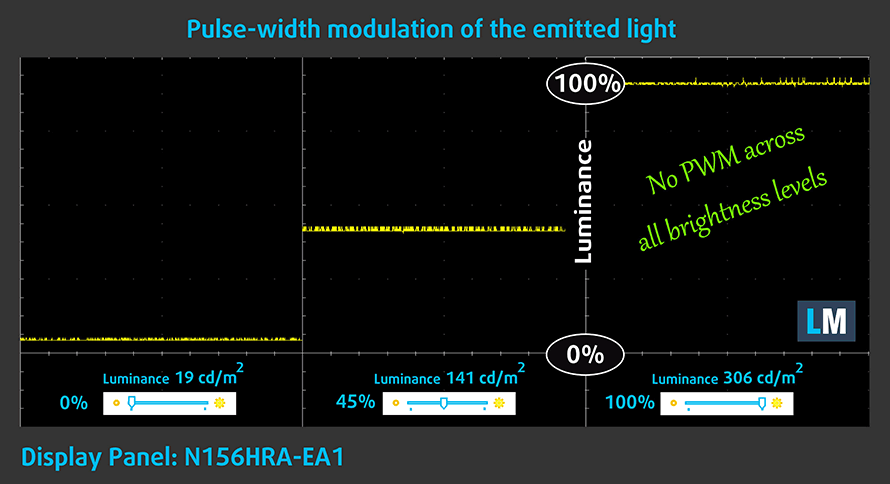 Buy our profiles
Since our profiles are tailored for each individual display model, this article and its respective profile package are meant for ASUS TUF F15 (FX506) configurations with 15.6″ FHD IPS Innolux N156HRA-EA1 (CMN1521).
*Should you have problems with downloading the purchased file, try using a different browser to open the link you'll receive via e-mail. If the download target is a .php file instead of an archive, change the file extension to .zip or contact us at [email protected]
Read more about the profiles HERE.
In addition to receiving efficient and health-friendly profiles, by buying LaptopMedia's products you also support the development of our labs, where we test devices in order to produce the most objective reviews possible.
4. Cooling
The cooling on the device is really well thought of. There are a total of three heat pipes, which would seem like too little, but they are quite beefy and made from copper. Two of them are shared between the CPU and GPU, and the third one is intended for the GPU only. There is also a metal bracket, which helps dissipate heat from the video memory modules. Interestingly, while there are three heat sinks, ASUS went against one of them cooling the VRMs.

The cooling does a fantastic job, with our stress tests showing that even after 15 minutes of heavy load, the Core i7-10870H remains at a very reasonable 73°C, running at 2.43GHz. The comfort was 50/50, as while the outside temperature sat at a measly 36.8°C, the fans were quite noisy, especially if you switch the Turbo mode on.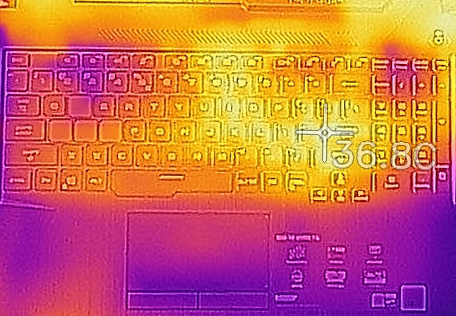 1 reason NOT to buy the ASUS TUF Gaming F15 (FX506)
1. I/O
The I/O is missing some key features, which would have really set this laptop apart from its competition. The lack of Thunderbolt support and MicroSD isn't a deal-breaker, it just would have been nice to have. With that said, you get a total of four USB ports (one Type-C 3.2 Gen.2, two Type-A 3.2 Gen.1, and one more Type A 2.0), an audio jack, HDMI, and RJ-45 connectors, as well as the power plug.
All ASUS TUF Gaming F15 (FX506) configurations: