[Video] Top 5 reasons to BUY or NOT to buy the ASUS ROG Zephyrus Duo 15 SE (GX551)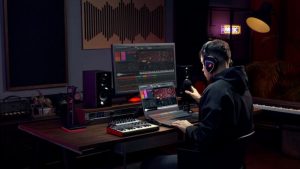 The ASUS ROG Zephyrus Duo 15 is one of the most intriguing devices to come out of ASUS this year. Although it is a refresh of last year's model, we are still wondering how ASUS came up with the idea and more importantly, how they have engineered the laptop to be so good.
On the surface, you get two displays that boost productivity and are simply just badass to look at and use. But the secondary display actually improves the overall usability and gaming performance of the machine. Without saying too much, this could be one of 2021's best sellers, if it wasn't for the small fortune that you have to pay to get one.
Today we are presenting you with LaptopMedia's top 5 picks about the ASUS ROG Zephyrus Duo 15 SE (GX551).
ASUS ROG Zephyrus Duo 15 SE (GX551): Full Specs / In-depth Review
4 reasons to BUY the ASUS ROG Zephyrus Duo 15 SE (GX551)
1. Design and build quality
With the ROG Zephyrus Duo 15 being a premium device (and charging you premium money), it's great that it comes with premium materials for its body since many flagship gaming laptops still use plastic as a main material, which is just inexcusable, considering their price. Here you get a base and a lid completely made out of magnesium/aluminum alloy, which provides the necessary structural integrity and rigidity. The design itself is very subdued, with even the body lines being very sensible. Branding-wise, you get an off-centered ROG logo on the lid, plus the already familiar diagonal dotted pattern.
The lid opens easily with a single hand and opening it lifts up the secondary display, orienting it to the user, and giving more access for air to enter the laptop, helping the cooling. Due to that, the GPU ran 12°C cooler than on the ROG Strix G17 G713.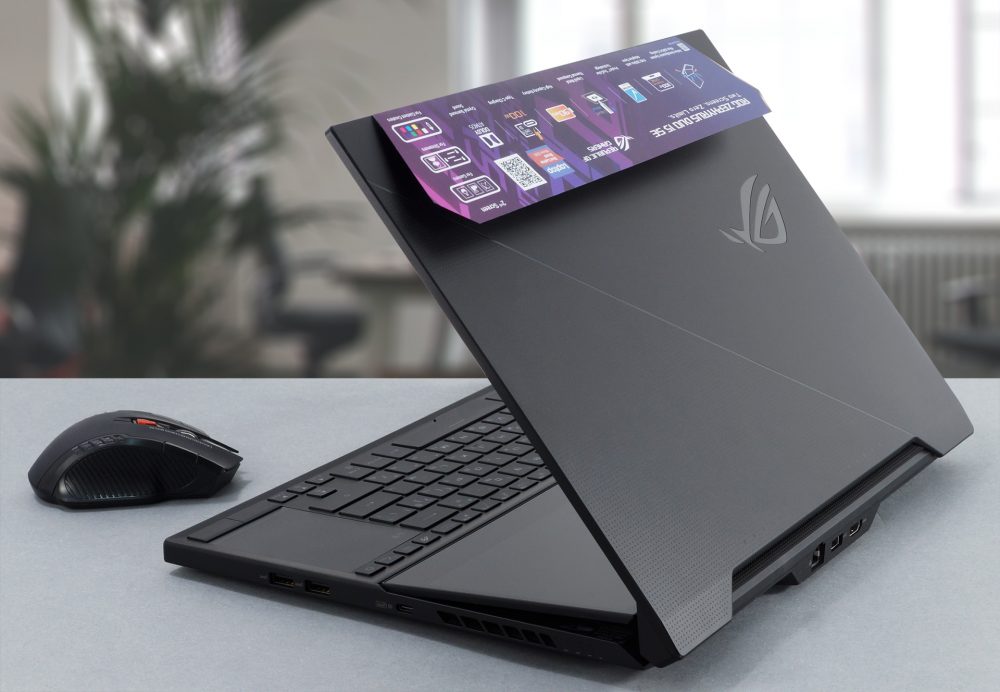 2. The Upgradeability
Despite having a different layout than most laptops, it still offers good upgradeability. Half of the RAM memory, however, is soldered onto the motherboard, and for the rest, you have a single SODIMM slot which ASUS says can support up to another 16GB of RAM, for a total of 32GB of memory running in dual-channel. For the Storage, you have access to two M.2 PCIe x4 drives that come with RAID 0 support.

If you want to delve in and upgrade the RAM or storage, but it's your first time and you don't know what to do, you can watch our teardown video, which shows you how to safely get access to both the SODIMM and M.2 slots.
3. The Display
The ASUS ROG Zephyrus Duo 15 comes with two IPS displays, the main of which is 15.6-inch. The secondary ScreenPad Plus has a diagonal of 14-inches. Going back to the main panel – we've tested the Full HD variant which has comfortable viewing angles, a great contrast ratio, and a refresh rate of 300Hz. Furthermore, it covers the sRGB color gamut almost completely (99.4%) and has a non-flickering backlight. This makes it ideal for prolonged use.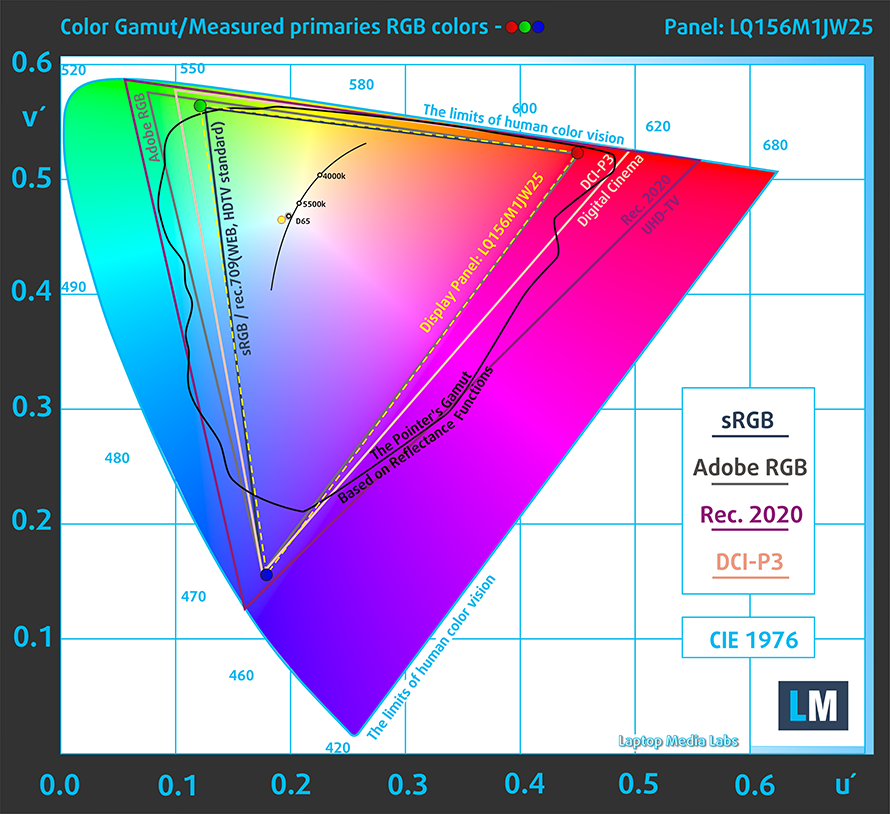 The color accuracy is fantastic as well, especially when using our "Gaming and web design" profile. Below you can see the results of our test, which uses the 24 most commonly used colors, both with the factory settings (left) and with our "Gaming and web design" profile applied (right).
Buy our profiles
Since our profiles are tailored for each individual display model, this article and its respective profile package are meant for ASUS ROG Zephyrus Duo 15 SE (GX551) configurations with 15.6″ FHD IPS Sharp LQ156M1JW25 (SHP152C).
*Should you have problems with downloading the purchased file, try using a different browser to open the link you'll receive via e-mail. If the download target is a .php file instead of an archive, change the file extension to .zip or contact us at [email protected].
Read more about the profiles HERE.
In addition to receiving efficient and health-friendly profiles, by buying LaptopMedia's products you also support the development of our labs, where we test devices in order to produce the most objective reviews possible.
4. The Battery life
The laptop has a huge 90Wh battery unit and it lasts for 9 hours and 27 minutes of Web browsing and 10 hours and 11 minutes of video playback. Keep in mind that the tests were done with the secondary display turned off, so if you want them both working, you should expect a much lower battery life.

1 reason NOT to buy the ASUS ROG Zephyrus Duo 15 SE (GX551)
1. The Keyboard and Touchpad
The placement of the input devices is a bit iffy, due to the secondary display, but even if they had their usual placement, the keyboard has shallow key travel and feedback that is somehow both clicky and soft. The touchpad, due to its vertical orientation, needs some getting used to and generally feels not that great to use, but it has a glass finish which makes tracking and gliding very pleasant.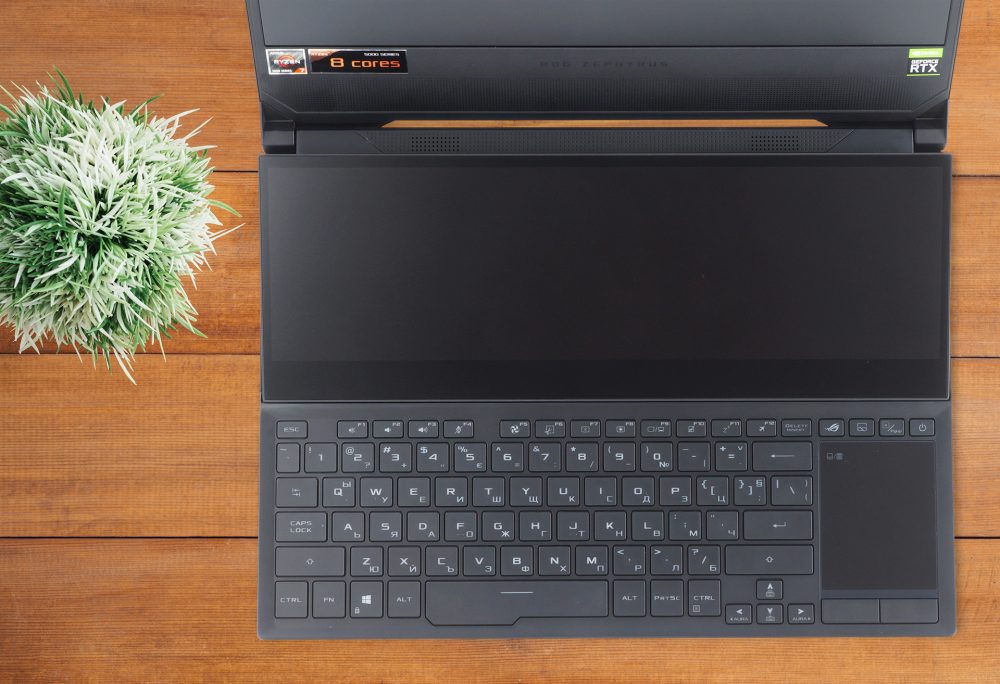 All ASUS ROG Zephyrus Duo 15 SE (GX551) configurations: