Top 5 reasons to BUY or NOT to buy the ASUS ROG Strix SCAR 17 G733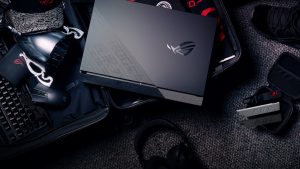 The flagship laptop from ASUS is here, with the ROG Strix SCAR 17 G733. It is the best that ASUS offers and has monstrous specs, which can go as far as the AMD Ryzen 9 5900HX and the 130W version of the NVIDIA RTX 3080 with 16GB of GDDR6 memory.
ASUS has also changed up the design of the laptop, which now comes in several accenting colors: pink, red, and grey. The insane performance when paired with several high refresh rate display options makes it a gaming beast that even some desktop systems would tremble against.
Without spoiling too much here are LaptopMedia's top 5 picks about the ASUS ROG Strix SCAR 17 G733.
ASUS ROG Strix SCAR 17 G733: Full Specs / In-depth Review
4 reasons to BUY the ASUS ROG Strix SCAR 17 G733
1. The Design and build quality
Being the best that ASUS has to offer, the design and build quality are as great as they can be. The chassis is super rigid and it uses a combination of metal and plastic. The laptop has RGB all over the place, including the lid and the base. There is also a shroud for the backside of the base, which can be customized and later 3D printed through ASUS' website, further expanding the customization of the laptop. While the laptop is quite heavy, coming in at 2.70 kg and 23.4 mm, it is fine, considering the hardware and cooling inside.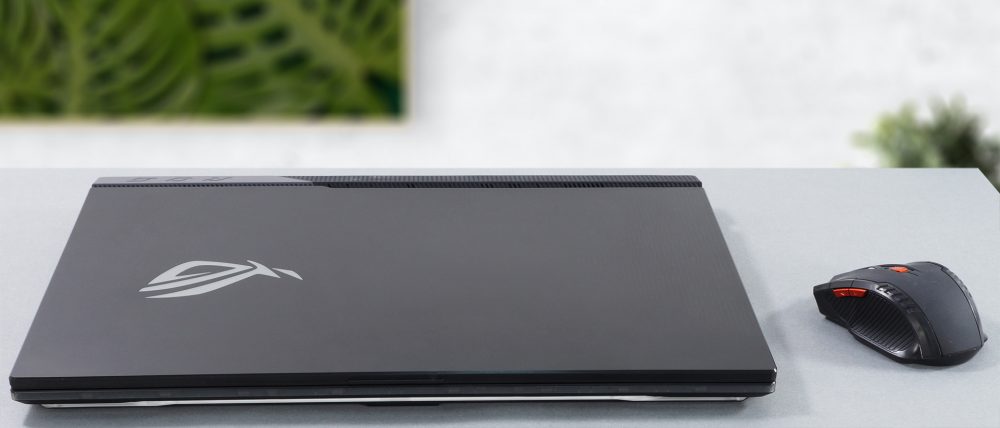 Open up the lid and you are greeted by a display with very thin bezels and a base that has a top right corner that is semi-transparent, revealing the internal components of the laptop. This is a really nice touch and there is definitely a market for such design choices.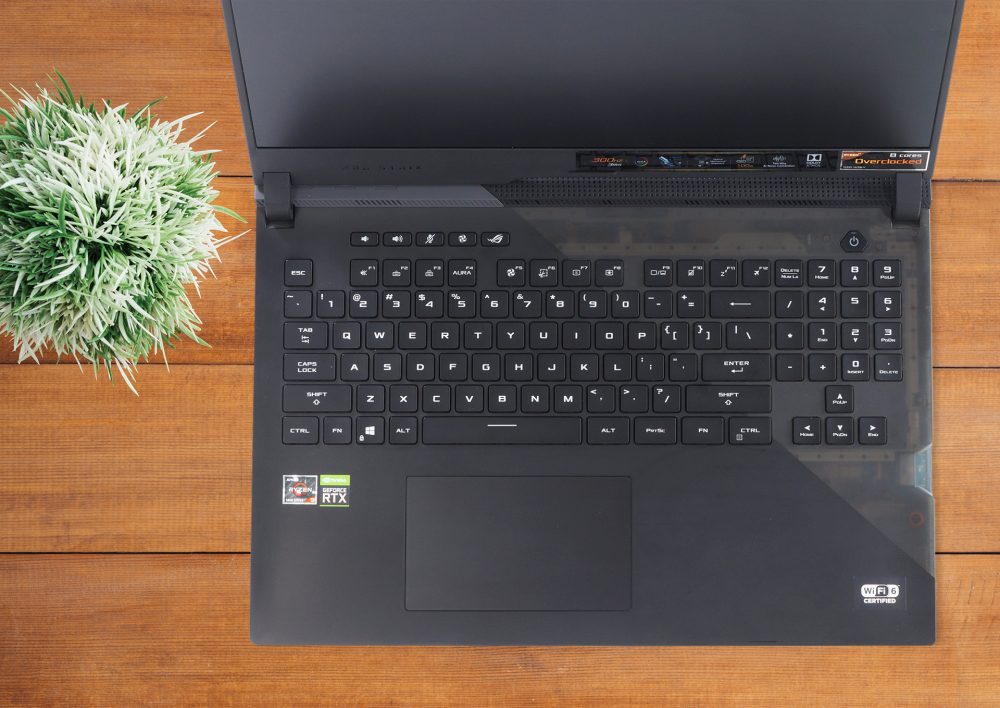 2. The Upgradeability
As games become more and more resource-intensive, a laptop of this caliber has to be able to expand its RAM and SSD storage and with the ROG Strix SCAR 17 G733 being ASUS' halo product, it offers all the upgradeability that you will ever need. There are two SODIMM RAM slots, which support up to 64GB of DDR4 RAM in dual-channel mode. The SSD storage is expandable through two M.2 PCIe x4 slots.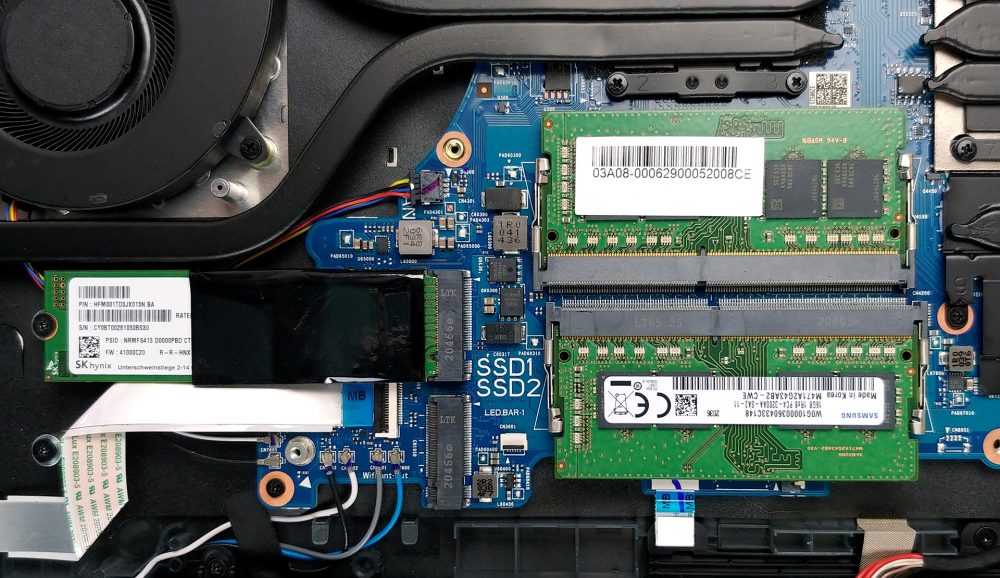 If you wonder about how to upgrade your RAM or storage, we will leave our detailed teardown video down below, which shows all the necessary steps of how to safely access the SODIMM and M.2 slots.
3. The Keyboard and touchpad
What you find on the base is a fantastic mechanical keyboard, which uses optical sensors, bringing the latency between a click and a register down to 0.2 ms, something that is just mind-blowing. The optical sensor technology is something that we want to see become more mainstream, which for sure will be the case in the future, as the technology gets more and more developed. Furthermore, the key travel is quite short, but the feedback is nice and clicky, so the keyboard is definitely satisfying to use.
The touchpad is very accurate and easy to use, especially with the high-refresh-rate displays. While it lacks physical buttons, the mechanism and quality are very good.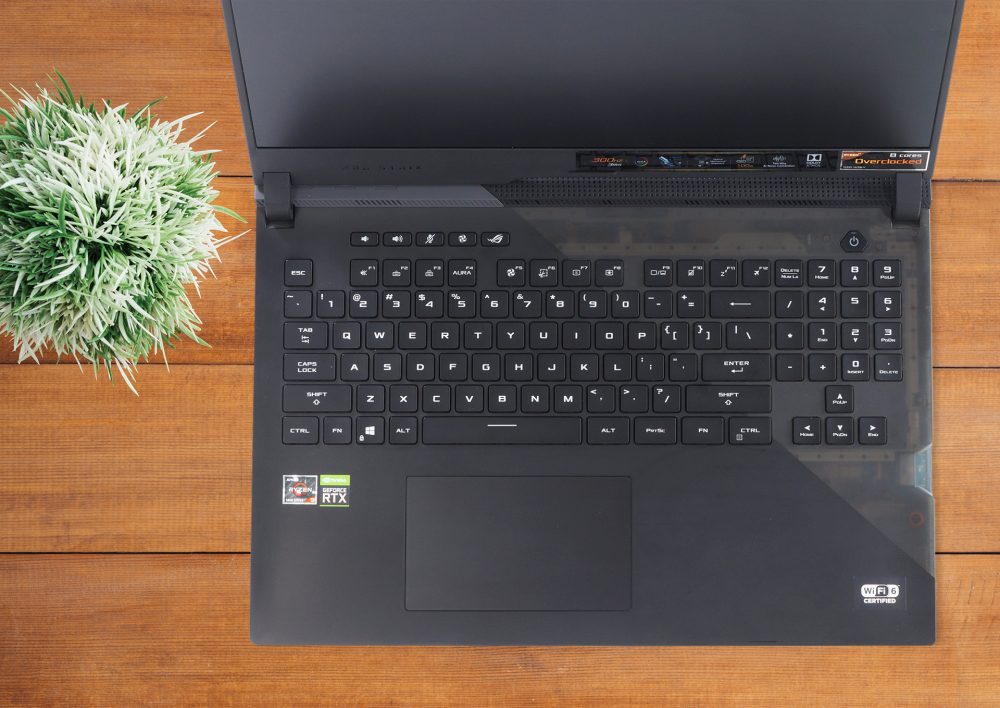 4. The Cooling
As this device can hold up to a Ryzen 9 5900HX and an RTX 3080, the cooling solution that is implemented is one of the best that you can find. The setup consists of six heat pipes, with a total of five for the CPU and GPU (one shared and two separate). The final one is there to cool down the VRMs and graphics memory.

In terms of temperatures, the situation looks really good, with both the CPU and GPU temps hovering at about 81°C. Below are the results of our CPU and GPU stress tests.
| AMD Ryzen 9 5900HX (45W TDP) | 0:02 – 0:10 sec | 0:15 – 0:30 sec | 10:00 – 15:00 min |
| --- | --- | --- | --- |
| ASUS ROG Strix SCAR 17 G733 | 3.58 GHz (B+8%) @ 76°C | 3.55 GHz (B+8%) @ 81°C | 3.59 GHz (B+8%) @ 81°C |
| ASUS ROG Strix G17 G713 | 3.44 GHz (B+4%) @ 70°C | 3.38 GHz (B+2%) @ 72°C | 3.44 GHz (B+4%) @ 71°C |
| NVIDIA GeForce RTX 3080 | GPU frequency/ Core temp (after 2 min) | GPU frequency/ Core temp (after 30 min) |
| --- | --- | --- |
| ASUS ROG Strix G17 G713 | 1523 MHz @ 81°C @ 129W | 1515 MHz @ 83°C @ 130W |
Gaming comfort
While the laptop gets quite noisy, thanks to the fan preset that ASUS provides, it is nowhere near as loud as other gaming laptops, unless you manually increase the fan speed to 100%. As for the outside temperatures, they were bearable, at around 41°C.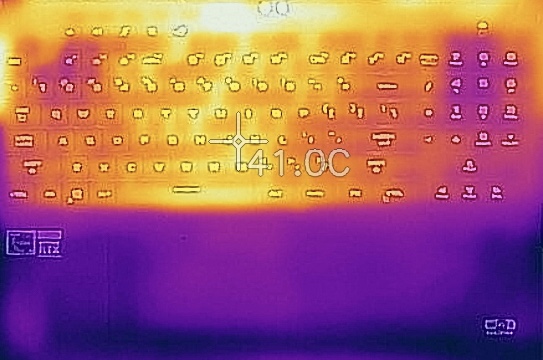 1 reason NOT to buy the ASUS ROG Strix SCAR 17 G733
1. The I/O
While this laptop is huge and one would think that I/O would be amazing, and it honestly is, but there are some things that we would like to have, like for example a MicroSD card reader, because sometimes it can be quite handy. The other thing is Thunderbolt support but as the laptop comes with an AMD CPU, it is out of the question. Other than that the I/O is pretty stacked with a total of three USB Type-A ports and one USB Type-C port as well as an RJ-45 connector, and an HDMI 2.0b connector.
All ASUS ROG Strix SCAR 17 G733 configurations: