Top 5 reasons to BUY or NOT to buy the ASUS Chromebook C223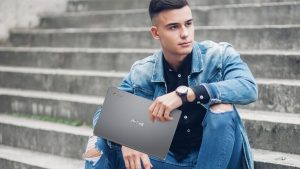 Chromebooks didn't really take off properly, as they were relegated to budget offerings for the people who can't afford Windows laptops right from the start. While this wasn't far from the truth, ChromeOS has come a long way in providing a good platform for everyone.
The Chromebook that we have for today is on the more budget side, but it costs less than a smartphone, so you're not investing much, in terms of financials. The ASUS Chromebook C223 is powered by the Apollo Lake Pentium and Celeron chips, which should work nicely with a non-resource intensive OS like ChromeOS.
Today we are presenting you with LaptopMedia's top 5 picks about the ASUS Chromebook C223.
ASUS Chromebook C223: Full Specs / In-depth Review
3 reasons to BUY the ASUS Chromebook C223
1. I/O
While the I/O on the laptop isn't very wide, it has a good selection of ports, with two USB Type-C 3.2 (Gen. 1) ports, which have Power Delivery and DisplayPort capabilities, one USB Type-A 3.2 (Gen. 1) port, an SD card reader and a 3.5 mm audio jack.
2. Input devices
The keyboard that we have here might as well be the best feature of the entire laptop. While it is small and its keycaps aren't the largest, the unit has good key travel and clicky feedback, which is more than other way-more expensive laptops can say for themselves. While there is some deck flex, it's nothing to worry about, as it is within the reasonable.  The touchpad, on the other hand, could have been better. The tracking is accurate, but you can feel that the unit is outdated.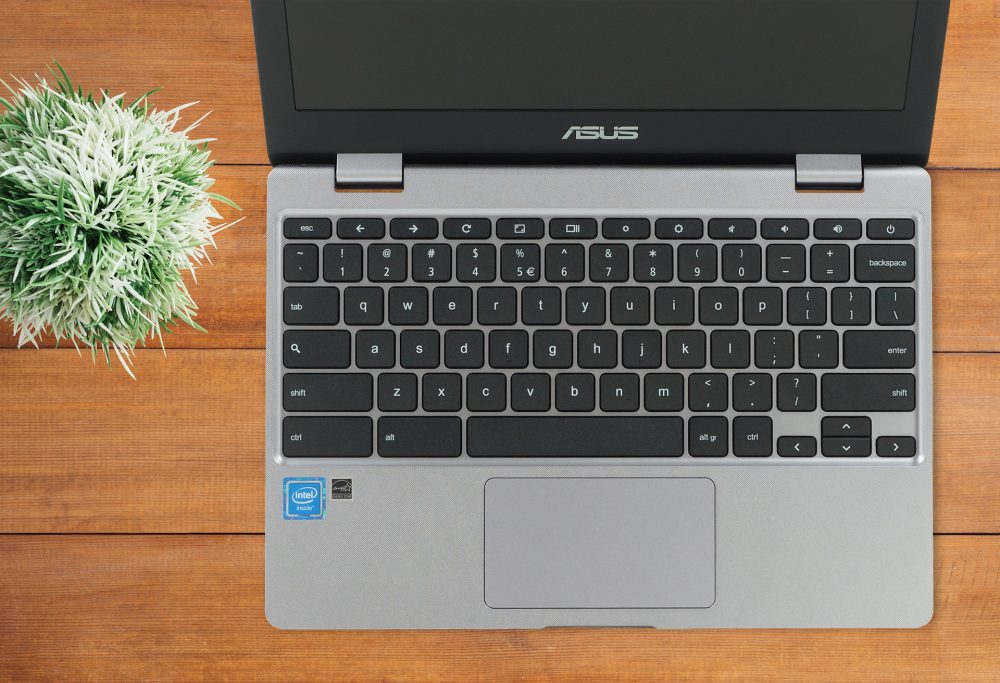 3. Battery life
Due to its power-efficient internals and decent battery size of 38Wh, the laptop manages to last for 10 hours and 33 minutes of Web browsing, and 6 hours and 40 minutes of video playback. Now, we conduct the battery tests with screen brightness adjusted to 120 nits and all other programs turned off except for the one we are testing the notebook with.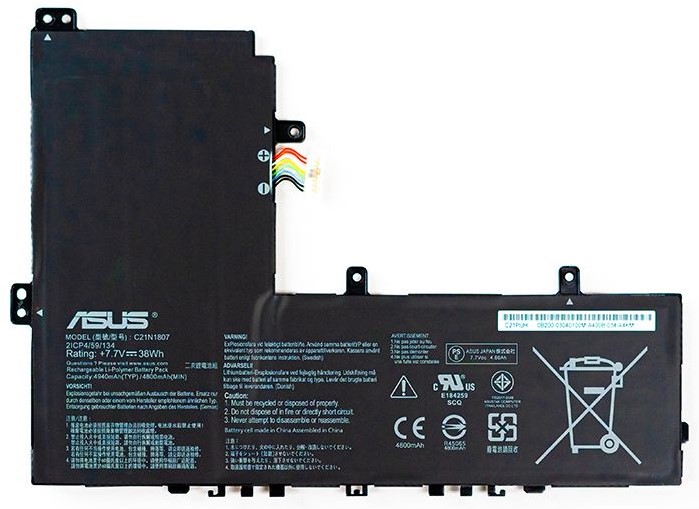 2 reasons NOT to buy the ASUS Chromebook C223
1. Display quality
The Chromebook C223 uses an 11.6-inch TN display with a resolution of 1366 x 768p. The panel has poor viewing angles, a max brightness of around 250 nits with a maximum deviation of 11%. Furthermore, its contrast ratio is low, measuring at 350″1. What is worse is that the display uses PWM to adjust its brightness. It stops doing so only when the panel is at max brightness, which will stagger the battery life. PWM is harmful to your eyes, especially during prolonged periods of use. The color coverage is nothing to be boastful about, with the unit covering 52% of the sRGB gamut.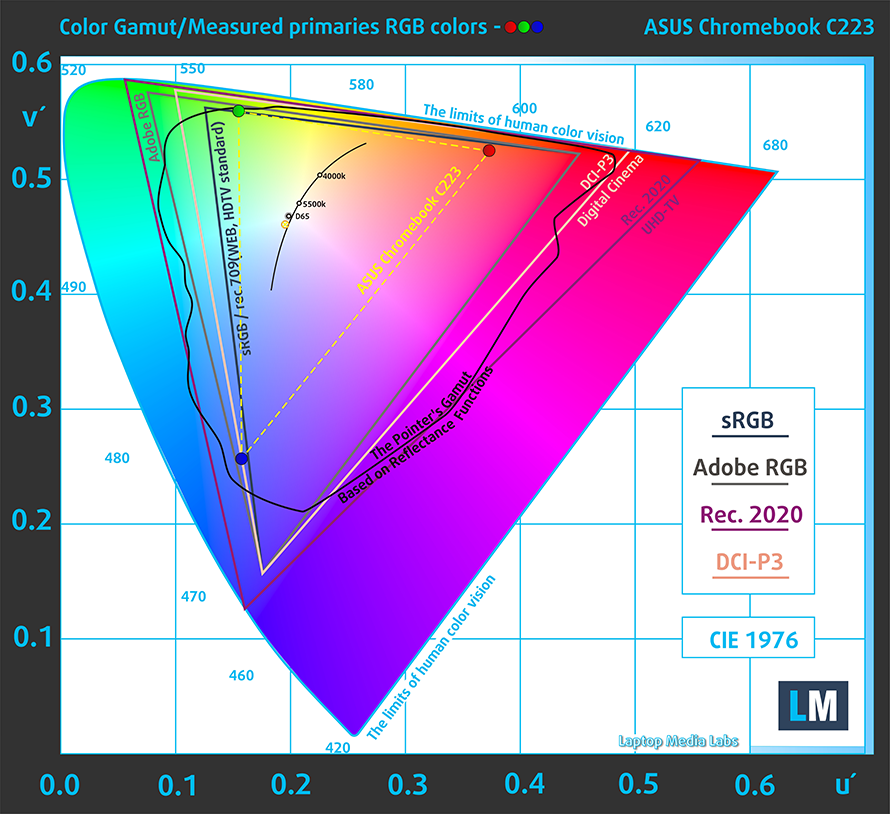 In terms of color accuracy, the test gave us a dE value of 10, which is way higher than it should be if we were ever to consider the panel ready for professional work.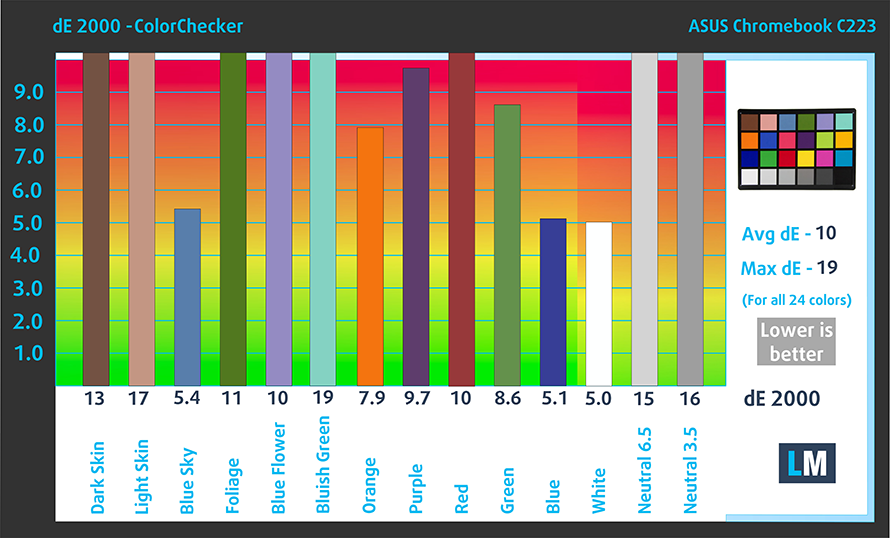 2. Upgradeability
With such a small factor and ASUS trying to keep the laptop as affordable as possible, the upgradeability has been reduced to a minimum. Both the RAM and the storage are soldered onto the motherboard. That leaves you with up to 4GB of RAM and 64GB of SSD storage, which will be enough for browsing the web and watching videos.

All ASUS Chromebook C223 configurations: