Top 5 reasons to BUY or NOT to buy the Acer Nitro 5 (AN517-41)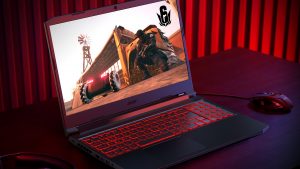 The Acer Nitro series, while having its obvious flaws, has done exactly what is needed from them. It offers powerful hardware at a very reasonable price tag, which is the essence of a great gaming device.
While performance isn't everything in a gaming experience, it is by far the most important factor, so Acer only has to deliver a good keyboard and an adequate display selection to make this a value proposition to consumers. This Acer Nitro 5 packs Zen 3 Ryzen 5000 H-series chips and Ampere RTX graphics.
Today we are presenting you with LaptopMedia's top 5 picks about the Acer Nitro 5 (AN517-41).
Acer Nitro 5 (AN517-41): Full Specs / In-depth Review
3 reasons to BUY the Acer Nitro 5 (AN517-41)
1. Upgradeability
The Nitro 5 offers excellent upgradeability, with both the RAM and storage being expandable. There are two SODIMM RAM slots, which can handle up to 32GB of DDR4 memory. Storage-wise, there are two M.2 PCIe x4 slots, along with a 2.5-inch SATA drive bay.
Here is our teardown video which shows exactly how to get access to both the SODIMM and SSD slots.
2. Cooling
The cooling on this laptop does a great job, which we didn't expect considering the setup that we found. There are three heat pipes, one for the CPU and GPU each and one shared between them. There are also two metal plates, which cool down the components around both chips.

Max CPU load
| AMD Ryzen 9 5900HX (45W TDP) | 0:02 – 0:10 sec | 0:15 – 0:30 sec | 10:00 – 15:00 min |
| --- | --- | --- | --- |
| Acer Nitro 5 (AN517-41) | 3.41 GHz (B+3%) @ 69°C | 3.42 GHz (B+4%) @ 74°C | 3.35 GHz (B+2%) @ 80°C |
The Ryzen 9 5900HX remained within more than reasonable temperatures even after 15 minutes of testing. It managed to maintain a clock speed of way above 3.00GHZ, while not exceeding 80°C.
| NVIDIA GeForce RTX 3080 (85W) | GPU frequency/ Core temp (after 2 min) | GPU frequency/ Core temp (after 30 min) |
| --- | --- | --- |
| Acer Nitro 5 (AN517-41) | 1476 MHz @ 70°C @ 85W | 1419 MHz @ 76°C @ 85W |
The RTX 3080, while having a limited 85W TDP, maintained a clock speed of around 1400MHz, while the temperature was more than acceptable.

3. Input devices
The keyboard here is on a great level, as it has decently long key travel and clicky feedback. The unit has a red backlight as standard, which could be upgraded to an RGB one. As this is a 17.3-inch laptop, you get a NumPad and good-sized keycaps. The touchpad is also decent, offering smooth gliding and accurate tracking. Also, if there seems to be an issue with it, just go over to ASUS's support page to download the latest Intel I/O drivers.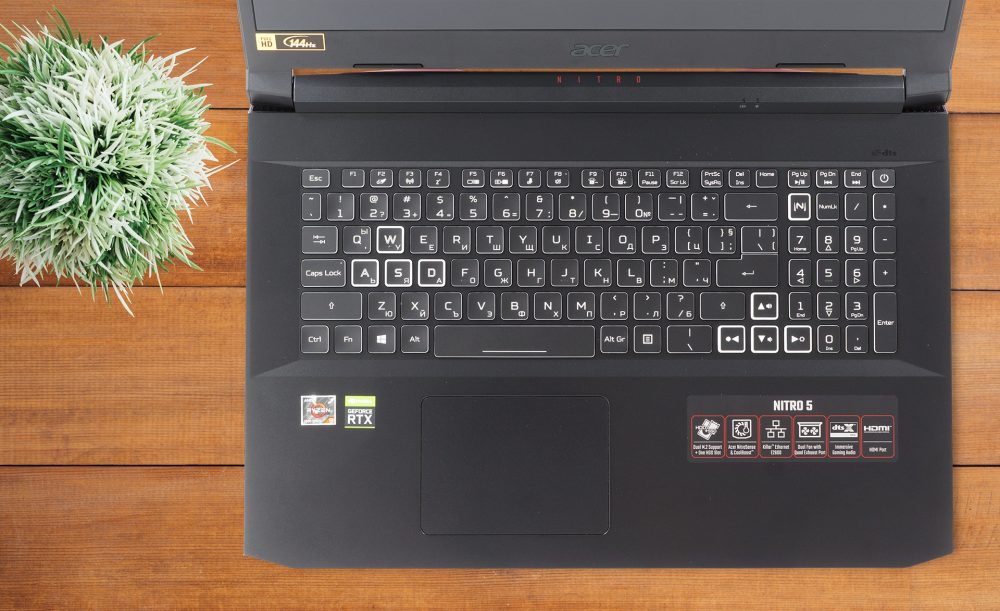 2 reasons NOT to buy the Acer Nitro 5 (AN517-41)
1. Design and build quality
The design is exactly what you would imagine a gaming laptop looking like. You get an aggressive exterior, with angular body lines and red accent pieces. The lid and bottom bezel have a debossed Acer logo while the rear has a Nitro wordmark in red. The design of the laptop is entirely made of plastic, which isn't surprising, but the bendy nature of the laptop had us surprised. You can definitely see some flexing from the lid and the base even if you press lightly on them.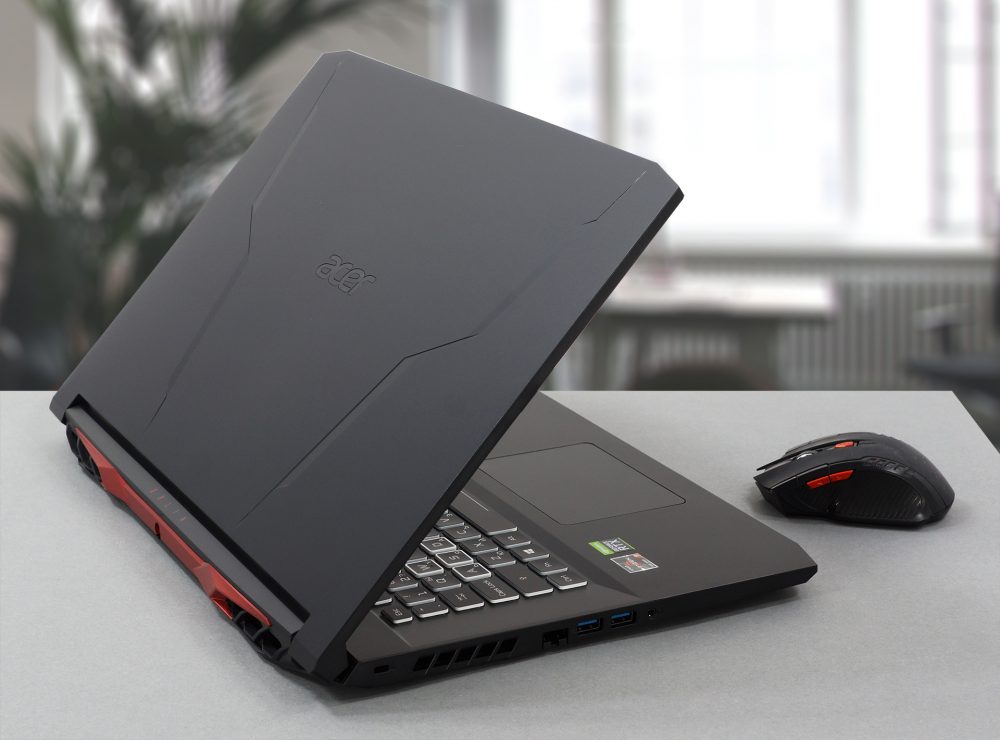 On the other hand, the lid opens easily with a single hand, something fairly common for 17-inch laptops. Doing so reveals a matte display with relatively thin bezels, of which the top one houses an HD webcam.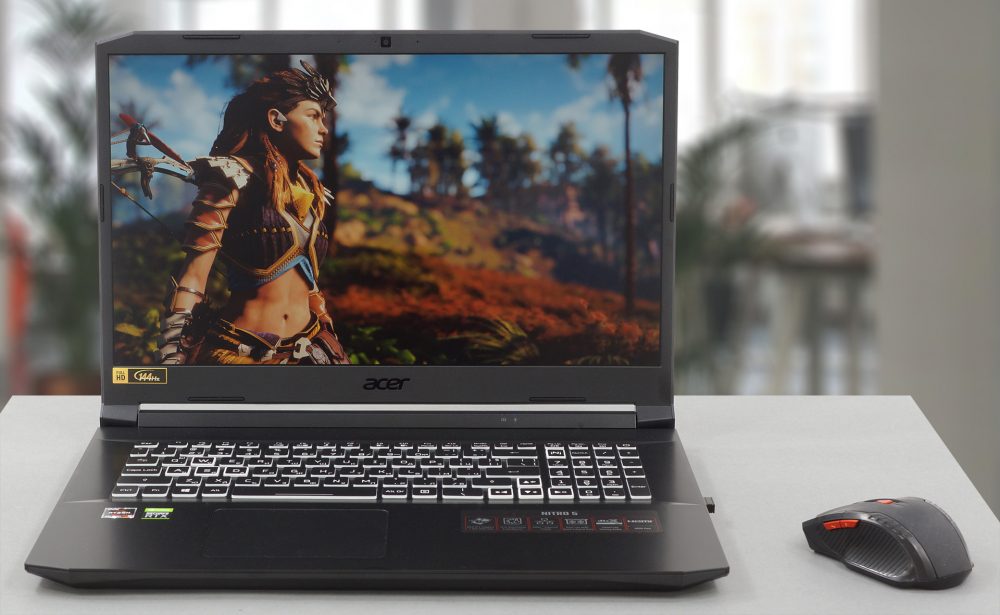 2. Battery life
The battery life definitely suffers here, both from the small battery unit, which has a size of 57.7 Wh, and the powerful hardware that the laptop is equipped with. In our battery test, the unit lasted for a little over 5 hours of Web browsing and exactly 4 hours of video playback. Now, we conduct the battery tests with Windows Better performance setting turned on, screen brightness adjusted to 120 nits, and all other programs turned off except for the one we are testing the notebook with.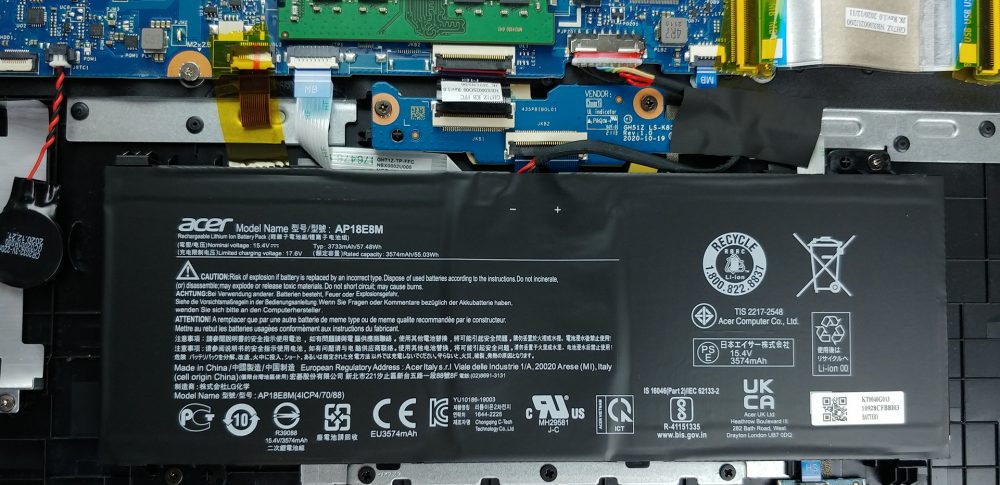 All Acer Nitro 5 (AN517-41) configurations: