Top 5 reasons to BUY or NOT to buy ASUS ExpertBook B1 B1500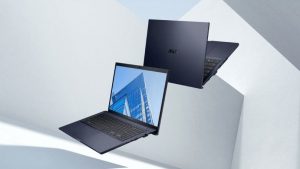 Business laptops don't need a lot to be great. By far their most important prerequisites are stability and security. The ExpertBook B1 series from ASUS has previously had to cut corners, and usually, they weren't the right ones.
Their most recent version, the B1500, brings stability and security, along with a pinch of performance thanks to Tiger Lake. The big question is, however, if ASUS has finally found the winning combination for an affordable enterprise laptop, in terms of cutting the right corners.
Today we are presenting you with LaptopMedia's top 5 picks about the ASUS ExpertBook B1 B1500.
ASUS ExpertBook B1 B1500: Full Specs / In-depth Review
4 reasons to BUY the ASUS ExpertBook B1 B1500
1. Design and build quality
The laptop uses both plastic and aluminum, with the former for the base and the latter for the lid. The sturdiness and rigidity are on point, with there being some flexing, albeit all is within the reasonable amount. The base has a weird surface, which feels abrasive and doesn't click with us. The laptop is portable enough, with a weight of 1.73 kg and a profile of 19.4 mm.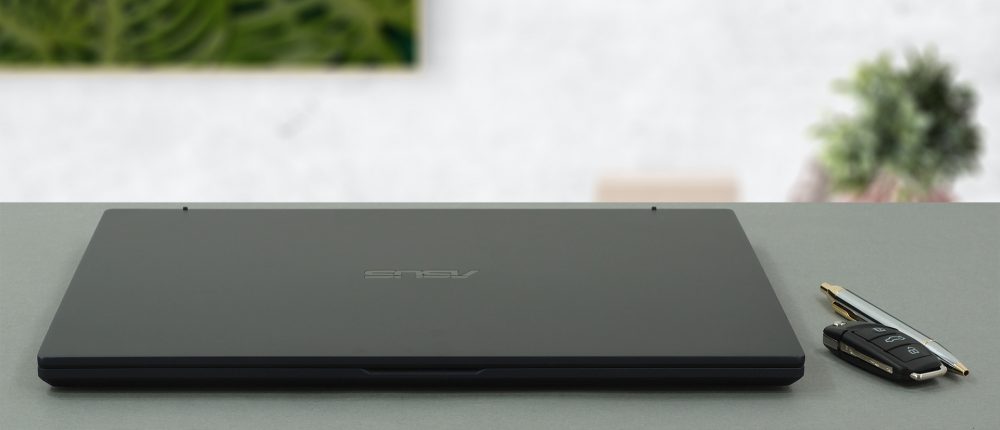 The lid cannot be opened with one hand, but the hinges feel pretty smooth. The lid mechanism also uses ASUS's ErgoLift technology, which does a fantastic job of lifting the base of the laptop, which both gives the consumer a better angle for typing, as well as increases the effectiveness of the cooling, giving the fans more room to breathe.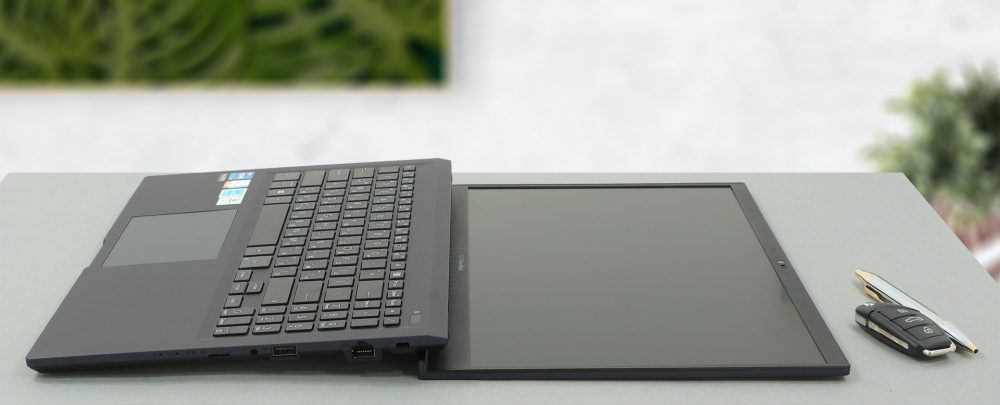 The input devices are great as well, with the keyboard having large enough keycaps, an optional backlight, as well as long key travel and clicky feedback. The digits and letters of the keycaps do look a bit cheap, which is a bummer since we don't think ASUS saved that much by choosing this type of lettering. The touchpad has fast and accurate tracking, despite its looks not suggesting so.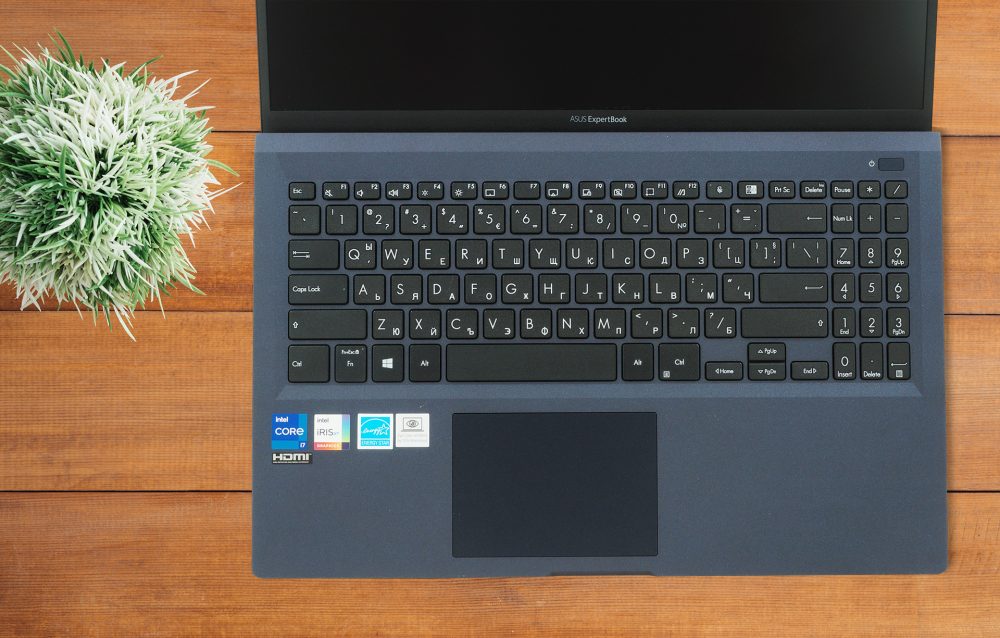 2. I/O
The laptop has a very wide I/O, which has everything but the kitchen sink. You get a total of three USB Type-A (two 3.2 Gen. 1 and one 2.0) ports, a single Thunderbolt 4 port, an HDMI 1.4 connector, as well, as a VGA connector, a MicroSD card reader, an Ethernet port, and a 3.5 mm audio jack.
3. Upgradeability
The upgradeability is fairly decent, with half of the RAM being soldered, while the rest is accessible via a single SODIMM slot. The storage is upgradeable through a single M.2 PCIe x4 drive as well as a single 2.5-inch SATA drive bay.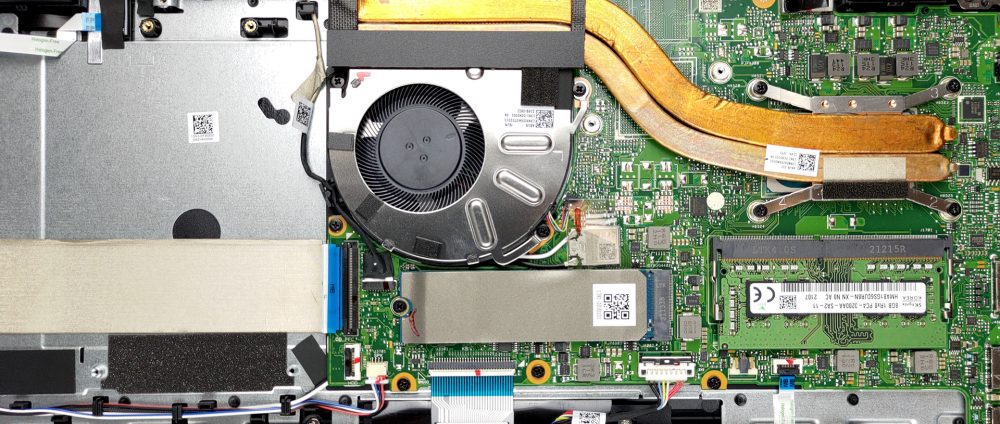 Here is our detailed teardown video, which shows how to access both the RAM and SSD slots.
4. Cooling
To be honest, we didn't expect anything special from this laptop's cooling, as the setup is pretty barebones, consisting of two heat pipes and a single fan.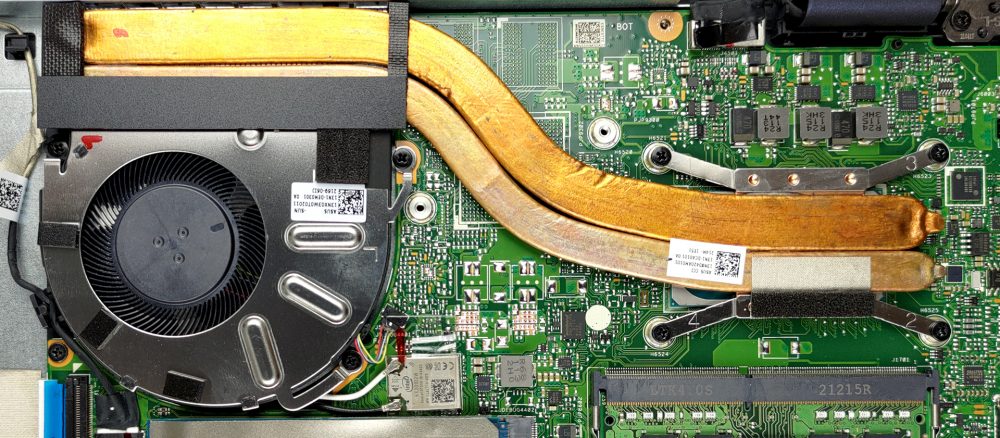 That is why we totally ate our words when we saw how effective it was, managing to keep the Core i7-1165G7's clock speed and temperature within a reasonable amount, especially when compared to its competitors.
| Intel Core i7-1165G7 (15W TDP) | 0:02 – 0:10 sec | 0:15 – 0:30 sec | 10:00 – 15:00 min |
| --- | --- | --- | --- |
| ASUS ExpertBook B1 B1500 | 3.70 GHz (B+32%) @ 89°C @ 51W | 3.21 GHz (B+15%) @ 93°C @ 36W | 3.12 GHz (B+11%) @ 93°C @ 34W |
| Dell Latitude 15 7520 | 3.49 GHz (B+25%) @ 76°C @ 39W | 3.18 GHz (B+14%) @ 91°C @ 33W | 2.09 GHz @ 77°C @ 15W |
| Lenovo ThinkPad T15 Gen 2 | 3.65 GHz (B+30%) @ 99°C @ 49W | 3.42 GHz (B+22%) @ 99°C @ 41W | 2.37 GHz @ 73°C @ 20W |
| Dell Latitude 14 5420 | 3.80 GHz (B+36%) @ 98°C @ 51W | 3.27 GHz (B+17%) @ 98°C @ 35W | 2.78 GHz @ 96°C @ 26W |
1 reason NOT to buy the ASUS ExpertBook B1 B1500
1. Battery life
With a battery size of 42Wh, we didn't expect a miracle and unsurprisingly, we didn't get a miracle. The laptop lasted for 6 hours and 46 minutes of Web browsing, and 4 hours and 57 minutes of video playback. Now, we conduct the battery tests with Windows Better performance setting turned on, screen brightness adjusted to 120 nits, and all other programs turned off except for the one we are testing the notebook with.

All ASUS ExpertBook B1 B1500 configurations: