Top 5 Reasons to BUY or NOT buy the Dell Latitude 7390 2-in-1!
Recently, we shared with you our detailed review of yet another business solution by Dell – we are talking about the 2-in-1 Dell Latitude 7390. Here are the top 5 reasons why you should give it a go or maybe consider purchasing another alternative.
You can check all available Dell Latitude 7390 (2-in-1) configurations here: http://laptopmedia.com/series/dell-latitude-13-7390-2-in-1/
4 reasons to buy Dell Latitude 7390 2-in-1
1. Super sturdy build quality
In terms of build quality, the hard plastic chassis with a rubberized coat contributes to the premium feel of the notebook. As for dimensions, the convertible measures 305 x 210 x 19 mm (12″ x 8.26″ x 0.75″) and it weighs 1.42 kg (3.12 lbs). In addition, not only is the display protected by Gorilla Glass 4, but it also has an anti-smudge coating. The screen itself is connected to the body via the convertible hinge that moves along the movement of the display. The input devices are also on point – the backlit keyboard gives very fast feedback, while the touchpad is responsive and the two dedicated keys come as a bonus. We should also mention the base which has tiny legs that lift up the convertible, thus protecting the material from scratches.
2. Blazing performance for a low-voltage CPU
The Dell Latitude 7390 2-in-1 configurations are equipped with the whole U-series processors range which is not very hungry for power. Our unit packs the low-voltage Core i5-8250U in particular and we found it to be super responsive thus providing great performance for all your business-oriented tasks.
3. Accurate display colors (+ does not use PWM for brightness adjustment)
Turning our heads to the display, we see another significant merit of the convertible. Not only does it stand out with practically full coverage of the colors as per Web and HDTV standards, but also with good color accuracy which can be further improved by our Gaming and Web design profile. Furthermore, the screen doesn't use PWM across all brightness levels making it comfortable for long periods of use without causing eye strain in this aspect.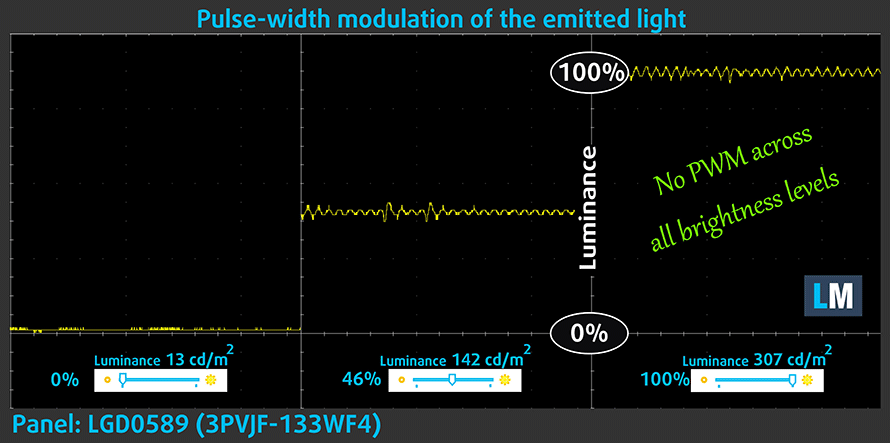 4. Great battery life
Another great strong point of the convertible is its battery life. The 45Wh unit manages to keep the lights on for 11 hours and 48 minutes of browsing, as well as 7 hours and 13 minutes of video playback. And if you want to play your favorite titles away from a charger, you will get about an hour and 45 minutes.
In order to simulate real-life conditions, we used our own script for automatic web browsing through over 70 websites.
For every test like this, we use the same video in HD.
We use F1 2017's built-in benchmark on loop in order to simulate real-life gaming.
1 reason NOT to buy Dell Latitude 7390 2-in-1
1. High internal temperatures during extreme load
During our extreme stress tests that evaluate the overall stability of the cooling system, we noticed something a bit worrying. The Core i5-8250U was running extremely hot with average temperatures of 87C. However, you should keep in mind that it won't reach such temperatures with normal usage.
The best competitors
There are some pretty good alternatives to the Dell Latitude 7390 2-in-1 in the same ballpark such as ASUS VivoBook Flip 14 (TP410UR), Acer Spin 5 (SP513-52) and Dell Latitude 13 7370.
Follow this link to read our in-depth review.
Dell Latitude 13 7390 (2-in-1) configurations