Top 5 Reasons to BUY or NOT buy the Dell Latitude 15 5590!
For those of you who aren't familiar with our in-depth review of the Dell Latitude 15 5590, this is basically the perfect business solution targeted at people who prioritize their job. Keep reading to find out what we think its top 5 pros and cons are.
You can check all available Dell Latitude 15 5590 configurations here: http://laptopmedia.com/series/dell-latitude-15-5590/
4 reasons to buy Dell Latitude 15 5590
1. All-new Core i7-8650U onboard
One of the major merits of Dell Latitude 15 5590 is the new Intel Core i7-8650U processor that stands out with a tad higher frequencies than the Core i7-8550U. The processor operates at a base frequency of 1.9 GHz and goes up to 4.2 GHz in Turbo mode. This leads to relatively higher multi-core and single-core performance during short workloads before going back to more bearable frequencies given the 15W TDP.
2. Good and tough design
The Dell Latitude 15 5590 boasts a plastic body that looks more reliable and sturdier compared to some aluminum notebooks. In addition, the body incorporates one polycarbonate construction, which has a removable bottom panel. The body has a cutout for the backlit keyboard held in place by a couple of clips. In terms of dimensions, the device measures at 376 x 251 x 20.6 mm (14.8″ x 9.87″ x 0.8″) and weight 1.88 kg (4.14 lbs). Furthermore, the hinges are tight enough to keep the screen firmly in place so there is less shakiness.
3. IPS display
An IPS display cannot be disregarded especially when it results in comfortable viewing angles, as well as a very good contrast ratio of 1280:1. We also suggest installing our custom profiles that take things to a whole new level in terms of color accuracy, white balance, and gamma.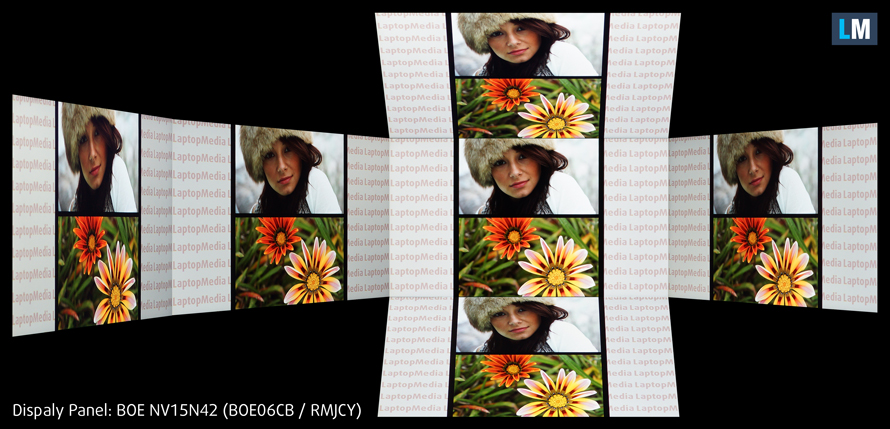 4. Good battery life
A good battery life is a must for a business-oriented device, therefore Dell has made sure you are provided with enough juice to get you through a busy day just on battery power. We can say that 10 hours of web surfing time and a slightly over 7 hours of video playback are some reasonable runtimes. As for gaming, you are provided with around 2 hours away from the plug.
In order to simulate real-life conditions, we used our own script for automatic web browsing through over 70 websites.
For every test like this, we use the same video in HD.
We use F1 2017's built-in benchmark on loop in order to simulate real-life gaming.
1 reason NOT to buy Dell Latitude 15 5590
1. PWM-adjusted for all brightness levels (+ displays only 50% of sRGB colors)
Although the screen comes with an IPS panel, it is not one of the best on the market as it doesn't cover half of the colors in the sRGB gamut (those you can see on Internet and HD television). Another letdown is the use of PWM for all brightness levels although it does it at a relatively high frequency, which partially reduces the negative effect. However, if you find that disturbing, we have a solution for you and it is our Health-Guard profile, which eliminates PWM and also reduces the negative blue light emissions.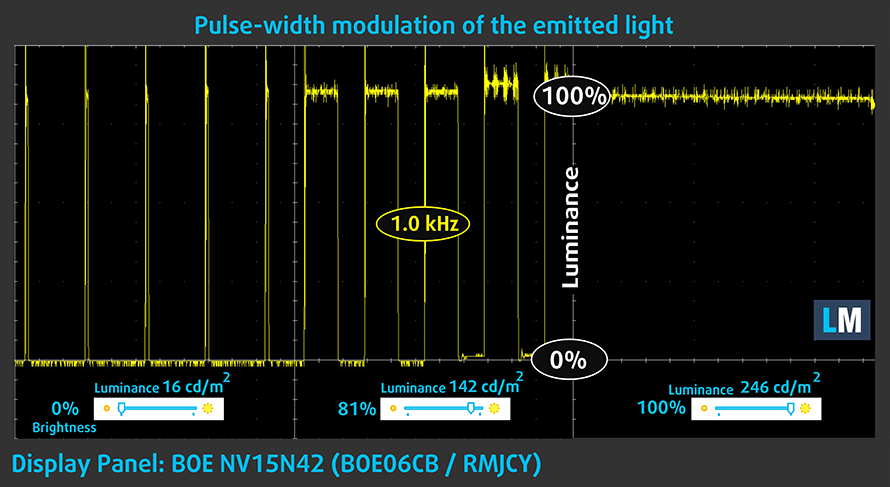 The best competitors
If the laptop is not the right one for you, other similar alternatives include Lenovo V330 (15″), Acer Swift 3 (SF315-41), Lenovo ThinkPad L570 and Dell XPS 13 9370.
Follow this link to read the in-depth review of the Dell Latitude 15 5590.
Dell Latitude 15 5590 configurations