Top 5 Reasons to BUY or NOT buy the ASUS VivoBook Pro 17 (N705UD)!
As you may have read in our in-depth review, the ASUS VivoBook Pro 17 (N705UD) is basically a well-balanced notebook perfect for multimedia purposes. If you are considering a purchase, then today's article will be quite useful as it sums up its top 5 pros and cons.
You can check all available ASUS VivoBook Pro 17 N705 configurations here: http://laptopmedia.com/series/asus-vivobook-pro-17-n705/
4 reasons to buy ASUS VivoBook Pro 17 N705
1. Good build quality (+ one of the most portable 17-inch notebooks on the market)
The ASUS VivoBook Pro 17 N705 offers a sturdy and reliable construction. Both the lid and the interior are made of brushed aluminum, while the bottom features slightly roughened plastic. The lid doesn't give in to our twisting attempts very easily and the interior is also pretty solid with no noticeable flexing. In addition, despite being made of plastic, the hinges manage to keep the screen firmly in place. What's more, ASUS VivoBook Pro 17 N705 falls in the portable category which is a nice surprise for a 17-incher. It is the ideal companion throughout the day weighing 2.1 kg and merely measuring around 20 mm in thickness.
2. Good input devices
As far as the input devices are concerned, ASUS VivoBook Pro 17 N705 sports a nice keyboard with a standard layout, clicky low-profile keys, and discreet LED illumination. In addition, the touchpad not only offers light mouse clicks but it is also fairly accurate, registers gestures accordingly making use on the go pretty easy.
3. A wide range of configurations with various GPUs and CPUs to fit your budget and needs
Another significant merit of the device is that it comes in various configurations so there is something for everyone. You have a choice between the latest 8th generation Intel Core processors and GTX 1050 graphics card or the more affordable alternative – NVIDIA's MX150.
4. Excellent image quality (+ lack of PWM)
The notebook also excels in the display department – the Full HD (1920×1080) IPS panel offers great maximum brightness (360 nits), exceptionally high contrast ratio (1440:1) and 92% sRGB coverage thanks to which the images are vibrant and rich. And that's not all – we are happy to confirm that our equipment didn't detect any PWM throughout all brightness levels so the screen should be safe to use for long periods of time. You could also install our custom profiles that further improve the color accuracy, white balance, and gamma.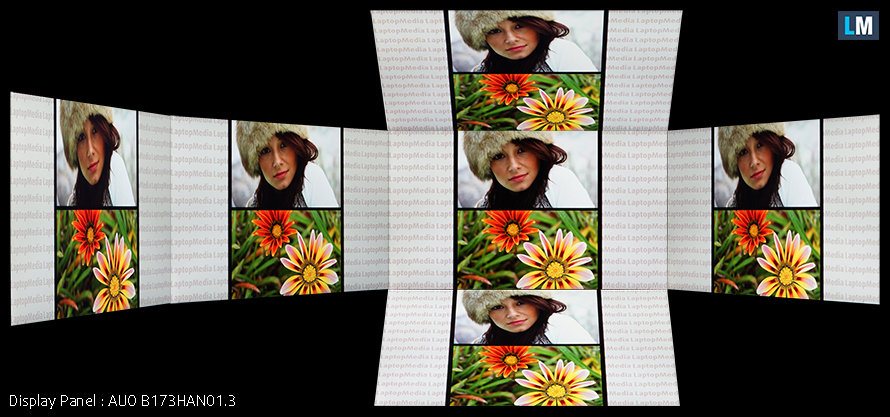 1 reason NOT to buy ASUS VivoBook Pro 17 N705
1. Some of the upgradable hardware is really hard to access
Upgradability is the major drawback of the device as it is quite hard to access all the usual drive and memory slots. In order to do so, you need to remove all the screws on the bottom, gently pry up the interior and detach all the cables and only after that you can reach the 2.5-inch HDD and the battery. And if you want to access the RAM slots and the M.2 SSD slot, you should flip the motherboard around.
The best competitors
If you are looking for similar alternatives to the ASUS VivoBook Pro 17 N705, we suggest checking ASUS VivoBook Pro 15 N580VD, Acer Aspire 5 (A517-51G) and Acer Aspire 7 (A717-71G).
Follow this link to read the in-depth review.
ASUS VivoBook Pro 17 N705 configurations