Top 5 Reasons to BUY or NOT buy the ASUS ROG Zephyrus GA502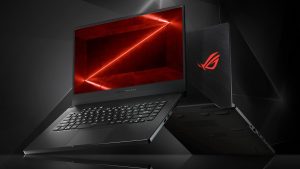 The ASUS ROG Zephyrus GA502 has an AMD Ryzen 7 3750H under the hood. What, 4800H is just around the corner? Why not, the Zen+ CPU is still a powerful and efficient processor and it's a good alternative to Intel Comet Lake or Whiskey Lake. Apart from that, the Zephyrus GA502 has a typical gaming design from ASUS which isn't very intrusive (the thin bezels around the display contribute to that too).
We will present to you our Top 5 picks regarding this machine.
You can check the prices and configurations in our Specs System: https://laptopmedia.com/series/asus-rog-zephyrus-ga502/
3 reasons to BUY the ASUS ROG Zephyrus GA502
1. The price
The price of this device is definitely a deal and at the same time, our test machine has an 8-threaded CPU, 120 Hz monitor, and GTX 1660 Ti Max-Q. An Intel-based laptop costs more.
2. Upgradability
Ok, one RAM stick is soldered but the second memory slot isn't and you can put up to 16GB DDR4 memory in it. There are two NVMe slots limited at PCIe x2 speeds but that is enough for fast sequential read and write operations.

3. Battery life
The battery capacity is 76Wh and we were able to extract from it over 7 hours of Web browsing and almost 9 hours of watching videos.

2 reasons not to BUY the ASUS ROG Zephyrus GA502
1. Bad cooling
Unfortunately, the cooling struggles a lot when the notebook is under load. The result is that the fans are ramped at high rpm and they produce a lot of unpleasant noise and on top of that the shell is getting hot – we measured 56.2°C.

2. Some issues
We have one particular problem with this device that is very annoying – while gaming the iGPU kicked in to support the dedicated GPU for additional FPS. Ok, sounds nice, but the result is stutter and frame drops. At least for now, we didn't find a cure for that. The second issue was that the laptop has a coil whine which is once again annoying and distracting during gaming.