Top 5 Reasons to BUY or NOT buy the ASUS ROG Strix SCAR Edition (GL503VS)!
Today's article is targeted at gaming enthusiasts who appreciate a good compact and powerful laptop to play all their favorite titles. So here are our top 5 reasons for and against one such device – the ASUS ROG SCAR Edition (GL503VS).
You can check all available ASUS ROG Strix SCAR Edition (GL503VS) configurations here: http://laptopmedia.com/series/asus-rog-scar-edition-gl503vs/
3 reasons to buy ASUS ROG Strix SCAR Edition (GL503VS)
1. Good build quality, clean aesthetics, better choice of materials than last time (+ light and thin construction)
The notebook stands out among its rivals with excellent build quality, optimal choice of materials, and portability. Almost the entire chassis is made of plastic with the lid being brushed aluminum. Applying pressure on the back of the panel doesn't cause ripples on the LCD screen. What's more, the hinges contribute to the stability as they provide smooth linear travel making opening the machine with one hand possible. Although the interior is also plastic, it feels pretty robust and premium. Furthermore, the bottom, made of slightly roughened generic plastic, doesn't give in to our twisting attempts. The device also impresses with its portability – the thickness of 23 mm and weight of 2.5 kg make it one of the most portable GTX 1070-powered laptops on the market.
2. Best in its class display with excellent image quality, 144Hz refresh rate, fast response time and G-Sync (+ no PWM)
The ASUS ROG Strix SCAR Edition (GL503VS) comes with an immersive IPS display which is the best gaming display we've ever come across hands down. The panel offers stunning visual experience thanks to the exceptionally high contrast ratio (1440:1), very good maximum brightness (315 nits) and 95% sRGB coverage, while also provides everything a gamer would want – 144Hz refresh rate, G-Sync support and fast response time. On top of that, the display doesn't use PWM for regulating brightness so it is safe to use for long periods of time in this regard. We also recommend installing our custom profiles that further improve color accuracy.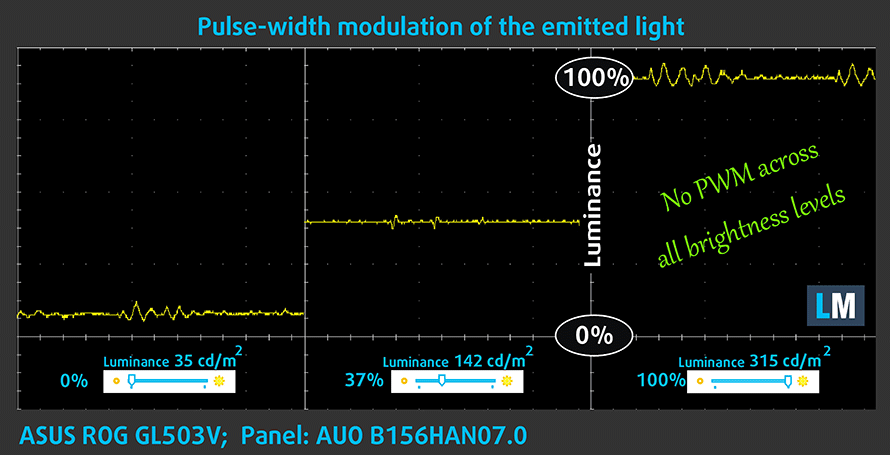 3. A wide range of connectivity for a 15-inch system including USB-C Thunderbolt, DisplayPort and 4x USB 3.0
Despite its compact dimensions, the laptop offers a wide variety of connectivity options. On the left, you will find the RJ-45 LAN port, mini DisplayPort, full-sized HDMI, two USB 3.0 connectors and a 3.5 mm audio jack, while the right side holds the other two USB 3.0 connectors and a USB-C 3.1 supporting the Thunderbolt 3 standard.
2 reasons NOT to buy ASUS ROG Strix SCAR Edition (GL503VS)
1. Inner temperatures tend to get high during heavy gaming
The compact construction comes at the price of rather poor cooling performance. During our stress tests, we measured higher than normal inner temperatures – for instance, the Core i7-7700HQ reached 95 °C while the GTX 1070 ran at 82 °C on average. The good news is that the inner temperatures didn't lead to toasty external ones.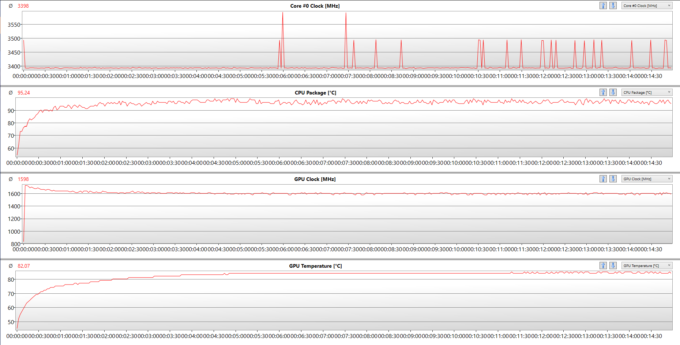 2. Extremely short battery life
The ASUS ROG GL503VS doesn't impress with battery life mostly due to the absence of integrated GPU – the system relies on the discrete GPU, which in this case is the power-hungry GTX 1070. Also, the 62Wh battery unit managed to score only 167 minutes in our web surfing test and 41 minutes in our gaming one so it is not advisable to be away from a power source for too long.
The best competitors
Other gaming alternatives in this price range are the Alienware 15 R3 and the Predator 15 (G9-593) so you can give them a look in case you are still hesitant which laptop to go for.
Follow this link to read the in-depth review of the ASUS ROG Strix SCAR Edition (GL503VS).
ASUS ROG Strix GL503VS configurations