World's first liquid-cooled 2-in-1 device, the Acer Aspire Switch Alpha 12 is just what you expect it to be – powerful, premium and at a decent price
Acer dropped the bomb today with the announcement of two new portable devices that are of great value – the Aspire Switch Alpha 12 and the Aspire S13. This article, however, will focus on the liquid-cooled Aspire Switch Alpha 12.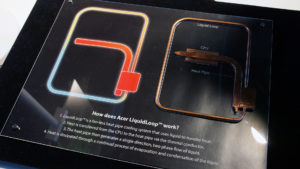 The device features a 12-inch QHD (2160×1440) IPS panel (with touch display, of course) and 3:2 aspect ratio while the liquid cooling system allows the tablet to incorporate Core i3, i5 and i7 processors without the need of a fan. The technology, which Acer uses for the device, is fairly simple – the coolant goes to the CPU, evaporates from the heat and then automatically pushes the coolant back to circle around once again. Acer calls it LiquidLoop and assures flawless performance without signs of thermal throttling. This is a really huge deal for 2-in-1 device lovers as it enables the full potential of the Core i family without being limited to the usual form factors.
Anyway, the device also offers up to 512GB SSD storage, up to 8GB of RAM, camera on the back and premium choice of materials – brushed aluminum on the back with a kickstand. Of course, due to the cooling system and all the internals crammed inside, the device feels a bit hefty (0.9 kg) but it's still portable and compact as all 12-inchers are. It's important to note that the device uses a great magnetic snap offering easy attachment and detachment. Acer claims the Aspire Switch Alpha 12 will offer up to 8 hours of battery life but we don't know what kind of usage they've tested. We will make sure to check that out once the final unit arrives at our office.
The device will be shipping with the docking station featuring LED-backlit keyboard, which is optional in some regions, and a stylus pen. The latter, however, is also optional and Acer claims it's the best they've ever used in their devices – 3rd generation. The pen also comes with a couple of features, which we have already seen in the Aspire R13 convertible. Despite its dimensions, the device offers a wide range of connectivity options including USB-C 3.1 and a full-sized USB 3.0 connector.
Wait until you hear the best part – its starting price is $599 for the Core i3 variant, which is almost half the price some 2-in-1 devices cost and this one features a powerful Core i ULV (ultra-low voltage) processor.
Specs sheet
Some of the specs may differ depending on your region.