The new Acer Swift and Acer Switch laptops preview – world thinnest, yet beautiful and powerful
Acer doesn't intend to slow down and let us catch a breath in the world of technology and the additions to their Swift and Switch lineups presents a testament to their continued efforts.
Click on this link to check for Acer Swift availability and prices.
The company recently introduced the Swift 7 – the world's thinnest laptop measuring just 9.98mm's thick. Not a lot of processing power, but instead bringing portability to the table. However, you may find it slightly expensive starting at around $1,000. So what the company decided to do was release the Swift 3 and Swift 1, and while adding some thickness and weight, they lowered prices – and furthered diversification.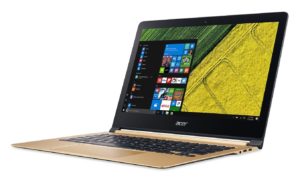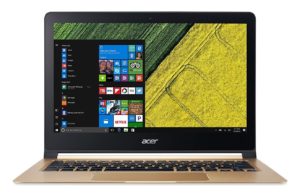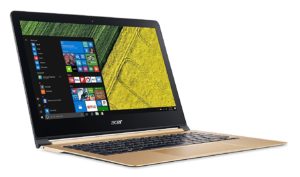 This is the world's thinnest laptop
Between the Swift 1 and Swift 3, the more expensive Swift 3 has a brushed-metal chassis and is available in either 14 or 15.6-inch variations, each supporting a 1,920 by 1,080 pixels resolution and taking full advantage of modern-day IPS technology. The battery life is nothing to scoff at either, Acer boasting an up to 10-hour battery life for all devices.
A closer inspects reveals the other specifications for the higher-end Swift 3. First and foremost, at its core lie the 7th generation Intel Core i3, i5 and i7 Kaby Lake processors. Moving on, we have integrated graphics, along with the option for select NVIDIA GeForce chips. Up to 8GB's of memory can be equipped, various storage options are present, including either a smaller capacity SSD or larger capacity HDD, but not both. The Swift 3 features a fingerprint reader with Windows Hello support, Bluetooth 4.0, a high dynamic range webcam, the latest USB 3.1 Type-C input along with USB 2.0 and 3.0 Type-A ports. We have an SD card reader, HDMI out and a headphones/microphone jack. There is also the optional backlit keyboard for those who fancy a bit more bling or the practicality of typing in dimly environments. You will also find 2×2 MIMO 802.11ac wireless technology for fast and reliable internet connectivity.
Paying close attention to detail, Acer has gone above and beyond with the option to let you customize your back cover for a more personalized experience. There's a special edition of the Swift 3 available with a top cover with Vibrant Corning Gorilla®  Glass, providing the unique flexibility to customize the top cover with photorealistic images that are highly durable and scratch-resistant.
Weight-wise the Swift 3 comes in at 1.8kg and it is just slightly thicker than the Swift 7 at 17.95mm, although truth be told, that doesn't take away from neither its stylishness nor does it diminish that "ultraslim" factor. The price of the base model starts at just $600.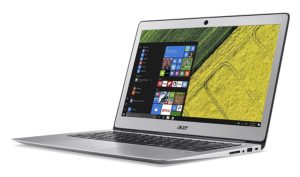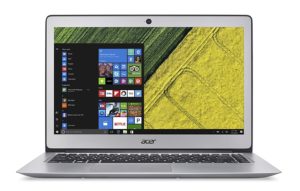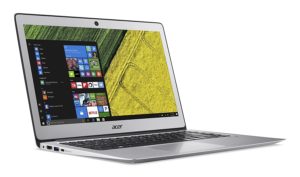 The slightly bulkier Swift 3
In case you are finding the Swift 3 to be too unwieldy, the company is also offering a smaller-scaled model to go alongside the Swift 3 and 7, they are calling it the Swift 1 and you can get your hands on it for as low as $330. The Swift 1's screen measures at 13.3 inches diagonally. It's limited to only 4GB of memory and you'd have to deal with its less-than-state-of-the-art-internals, such as the limited Celeron or Pentium processor options. On a positive side though, it does retain some of the higher end touches of its kinsfolk such as an all-metal chassis, the Full-HD IPS display and we also have the fingerprint reader. Like its larger sibling, the Swift 1 also includes ultra-fast 2×2 MIMO 802.11ac wireless technology, providing seamless connectivity.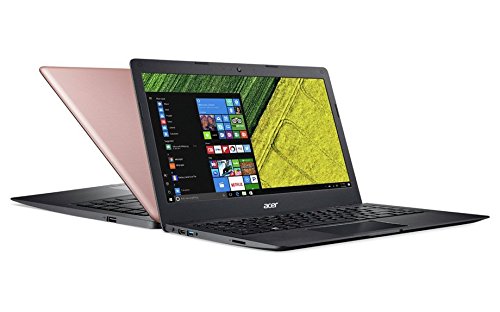 The light and budget-friendly Swift 1
Now, switching over to the other side of the family is the Switch. Sue me, I couldn't resist the pun. On a serious note again, what is it? What is the Switch? In a nutshell, the Switch is a fanless, 2-in-1 hybrid PC which provides us with the functionality of a laptop but merges it with the mobility of a tablet, thanks to a removable keyboard. Simply put, it's a touchscreen laptop that provides compact sizes, a physical keyboard, performance, and features. Following the successful reception of the original Switch Alpha 12, Acer did not waste time and have introduced 2 more models to their lineup. The powerful  Switch 5 and the less focused on performance, but more affordable, Switch 3.
The Switch 5 is based on Intel's Core i5/i7 CPU's while being paired with up to 8GB of LPDDR3 RAM as well as up to 512 GB of solid-state storage. To integrate the relatively powerful CPU while remaining within a reasonable price range, power consumption, and battery life Acer had to make some cuts, so unlike its predecessor, the Switch 5 doesn't benefit from a 4K display, nor does it come equipped with the Thunderbolt 3 controller. While the device may not come with native 4K resolution, the screen is nothing to scoff at either with its 12″ 2160x1440p resolution display. As far as thermals go, the CPU is cooled with a proprietary Acer technology, their "Liquid Loop", making the device completely inaudible during operation while keeping temperatures in check.
Going further into the spec sheet,  this  2-in-1 can be equipped with a 256 GB or a 512 GB PCIe 3.0 x2 SSD, an 802.11ac Wi-Fi controller, front- and back-facing cameras, a fingerprint reader, one USB 3.0 Type-A, and one USB 3.0 Type-C port, as well as a MicroSD card reader. The body is made of anodized magnesium, bringing the weight of the device to a moderate 920 grams. The tablet portion of the device isn't very thick at 9.6 mm.  This device will set you back $799/ €1099 for the base model.
The less expensive Switch 3 features a slightly larger 12.2″ display, but with a lower 1920x1080p resolution. Its other specifications are very similar, so I'll go over the differences quickly. The biggest distinction between the 2 models lies in their price. The Switch 3 base model starts at $399/€499. The biggest compromises you'll have to make are with the processor, you only have the option of using select Pentium or Celeron models, akin to the Swift 1. The RAM only goes up to 4GB of LPDDR3, compared to the 8GB of the Switch 5. The storage options are also much more limited, with the biggest capacity available topping out at 128GB of eMMC, which shares more similarities to flash cards than it does to Solid States Drives. The thickness is slightly increased as well, sitting at a still comfortable-to-use 9.95 mm.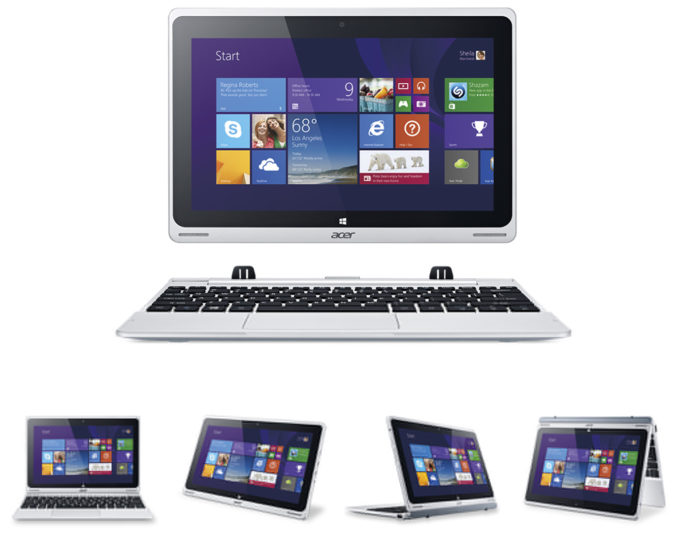 A 2-in-1 hybrid from the Switch family
What we reckon Acer is attempting with these models is they're trying to find out what the ever changing market is most interested in, with recently smaller form-factor PC's gaining in popularity and people becoming more aware of how technology can help their lives. The recent additions to their lineups signify their dedication to finding out what the consumer really needs in today's day and age and trying to make the correct adjustments accordingly and in time. Let's hope they find the right balance, but the Switch and Swift series are surely a step in the right direction.
Expected availability for the Switch 3 and 5 family of products in Europe and the U.S. is around June, while in China they are expected to hit the shelves in July.
Click on this link to check for Acer Switch availability and prices.