The grand Next@Acer event – Live Stream (April 21th, 11:00 EDT)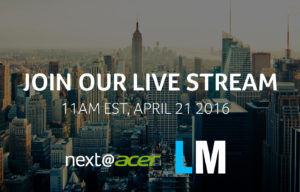 Today, April 21th at 11:00 EDT (New York time) Acer will unveil what's next for the company and what the projects they've been developing in the last months are.
Just a year after Acer unveiled a good part of its portfolio, the company is holding another event, but this time we expect it to be even more interesting, not counting the gaming Predator series announcement.
You may ask why. Well, we have some interesting information about a 2-in-1 liquid-cooled device, part of the Aspire Switch family featuring Intel's RealSense 3D camera. That's not all, though, as we are expecting a HUGE upgrade of the Predator gaming laptops in terms of hardware and cooling design, but we can't tell you more about this. And besides, the event is going to start in a few hours, so we will spend some time with the machines on our own.
We know that Acer has prepared some interesting products and we can't wait to tell you more about them, but you have to wait just a little bit more than an hour to see their live announcement. You can expect surprises in the Predator and Aspire lines, as well as some really awesome and innovative ultra-portable devices.
Maybe we should expect a cake, too, bearing in mind that the event coincides with Acer's 40th birthday, so let the party begin…
Stay tuned for more information – we are as excited about the new announcements as you are.