The Acer Spin 1 preview – an affordable 11.6″ Touchscreen IPS, 2-in-1, metal chassis notebook
Have you heard of Acer's Spin line of products? They were introduced in the summer of 2016 and are aimed at those users who'd make use of a small-sized, convertible (as in they can be used both as a fully functional notebook and also as a tablet, thanks to the touchscreen display – whichever suits the user's needs) line of notebooks. Well, it's 2017 and the lineup got its latest addition! However, before we move on to the details, it's important that we make the distinction between what a regular notebook and a convertible Spin notebook are.
A convertible Spin notebook looks like this

Check them out here
In accordance with Acer's vision of a convertible notebook, this is essentially a fully functional laptop, but with the added functionality of an interactive (touch screen) display, allowing users the option to use it as a tablet as well. The screen can rotate around its axis to a wider degree than what you'd see in regular notebooks, going beyond the limits of regular laptops, even filling the role of a functional stand.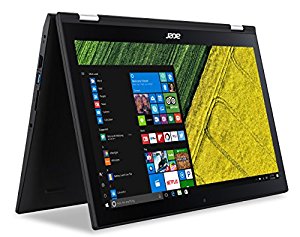 The newest addition differs from the rest of the line-up in a few key areas. First of all, it comes with an 11.6"display, built around a slim frame, with the whole device measuring at just 0.55 inches of thickness and coming in at just short of 2.8 pounds, for those of you not used to the Imperial System, that's around 1.3 kilograms. Compared to its predecessors, the new generation model has the advantage of a slimmer profile and better construction materials.
Other than its fairly premium Full HD IPS display and metal chassis, the Spin 1 is a mixture of a wide spectrum of components, going from its quite modest Intel Apollo Lake CPU (models with either Intel Celeron or Pentium are up for grabs) and eMCC storage configurations, through the metal chassis and leading to the mandatory modern connectivity options such as a USB 3.1 port.
The convertible, according to Acer, can get up to 8 hours of battery life, which we will happily put to the test. Although you can purchase models with either 32 GB, 64 GB or 128 GB of storage, you are limited to 4GBs of RAM on all of them, so for multitasking purposes, the device might not hold out too well. Some of the common features include 802.11ac WiFi, Bluetooth 4.0, a USB 2.0 port, and a microSD card slot.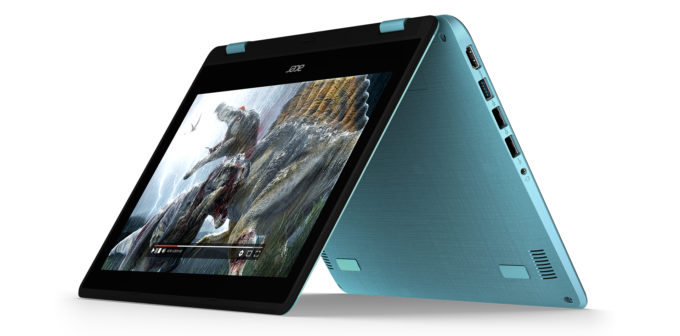 An optional stylus is sold separately from the notebook while the notebook itself is expected to retail for $329 with availability somewhere around July.