Teclast X22 Air – ultra-affordable 21.5-inch All-In-One PC

The summer is almost over, the school year is here and winter is ahead. Indeed, it's not very nice to know that you will be stuck at work or school for the next ten months or so. Well, we have decided to try to shift your attention to a more appealing subject. It may very well be the case that you want to buy a new piece of tech (if you think that you deserve it) so as to brighten up your winter days a bit. However, you may not be left with much money after the summer holiday – don't worry, the product that will be in the subject of this article is exactly for people on a budget. We are talking about Teclast X22 Air – an affordable 21.5-inch all-in-one device.
Among the most notable features of this product are an Intel Celeron N3150 Quad Core CPU (1.6 GHz – 2.08 GHz), Intel HD Graphics GPU, 4 GB of RAM, 128 GB of SSD, and a Full HD display (1920 x 1080 p).

Design
The device is offered only in a white version which looks good. The 21.5-inch screen is encompassed by black frames, and it is the back of this computer that is actually covered in white. Other than that, a silverish frame is used to support the screen.
An important aspect of Teclast X22 Air is the fact that it's an all-in-one device. This means that you won't need to think about any additional cables other than the power cable (assuming that you are using a wireless mouse and keyboard). Furthermore, the 21.5-inch form factor makes it even more compact and convenient computer that will be just enough for your everyday tasks.

Hardware
For this affordable price you get a quad core processor – Intel Celeron N3150 Quad Core (1.6 GHz – 2.08 GHz). In addition to it, you are provided with an Intel HD Graphics GPU and 4 GB of RAM. Now, this is more than enough for office work, everyday tasks, and even some light gaming.

Also noteworthy is the fact that the device offers a 128 GB M-SATA SSD, delivering high data transfer speeds. Additionally, you can make use of an HDMI output and four USB ports.
We must also mention that Teclast X22 Air does not come with a pre-installed OS, which means that you will need to install one if you decide to purchase. If you want to know more about the features of this device, as well as its price and availability, you can click HERE.

Specs Sheet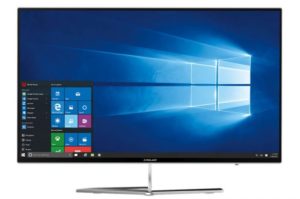 CPU
Intel Celeron N3150 Quad Core (1.6 GHz – 2.08 GHz, 2MB cache)
RAM
4 GB (DDR3)
Internal storage
128 GB (M-SATA SSD)
GPU
Intel HD Graphics
Display
21.5-inch Full HD (1920 x 1080 p) display (16:9)
Connectivity
Wi-Fi 802.11b/g/n, WLAN, LAN
Features

VGA slot
2x USB 3.0
2x USB 2.0
standard HDMI
RJ 45
integrated loudspeaker
microphone jack
3.5 mm headphones jack

Dimensions
50.20 x 5.50 x 35.60 cm
Weight
3.0 kg
Gearbest is running a flash sale with great promotions – check it out here: GEARBEST Flash Sale