[Specs, Info, and Prices] The HP EliteBook family is entering the AMD space, with its new 835 G8, 845 G8, and 855 G8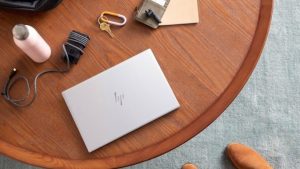 We haven't heard from HP in a while. The #2 global PC manufacturer isn't sitting on its laurels, but instead is focusing on taking down Lenovo and becoming #1. That is why they are introducing a bunch of new devices or adding new hardware to existing ones, to make them both more flexible and appeal to more and more consumers.
Their EliteBook laptops are what you would expect: premium built laptops with a sleek design that can do some serious damage. Now they are outfitted with the AMD Ryzen Pro 5000 U-series chips, which are more optimized for heavy loads (they are professional grade after all).
Today we are giving you a quick overview of the HP EliteBook 835, 845, and 855 G8.
The HP EliteBook 835, 845, and 855 G8 are available right now for the starting price of $1,899, $2,016, and $2,037, respectively.
Full Specs: EliteBook 835 G8 / EliteBook 845 G8 / EliteBook 855 G8
HP EliteBook 835 G8 configurations:
HP EliteBook 845 G8 configurations:
HP EliteBook 855 G8 configurations:
Design
The EliteBooks are really stylish laptops. from the silver color to the metallic finish, which is cool to the touch, these are very well-made laptops. All of them come with aluminum bodies that are thin and light. There are several differences between the different laptops. The 835 G8 has a touchpad with no separate buttons, while the 845 G8 and the 855 G8 have physical buttons on top of the touchpad, which is the preferred choice. On the other hand, the 835 G8 and the 845 G8 have speaker grills that are put on the left and right sides, while the 855 G8 has a single grill above the keyboard, due to it also featuring a NumPad.
| | Weight | Height |
| --- | --- | --- |
| HP EliteBook 835 G8 | 1.27 kg (2.8 lbs) | 17.7 mm (0.70″) |
| HP EliteBook 845 G8 | 1.37 kg (3 lbs) | 17.7 mm (0.70″) |
| HP EliteBook 855 G8 | 1.70 kg (3.7 lbs) | 19 mm (0.75″) |
Display
The 835 G8 and 845 G8 have a single panel to choose from, which is identical on paper, except for the size. The 835 G8 comes with a 13.3-inch display, while the 845 G8 comes with a 14-inch display.  It has a Full HD resolution and uses an IPS panel. It also has up to 1000 nits of brightness, which is exceptional. The 855 G8 also offers this display, while at the same time giving the consumer the option for a 4K display, which we believe will have good color accuracy and adequate color accuracy.
Specifications and features
The laptops come powered by the Zen 3-based Ryzen Pro 5000 U-series processors, which are specially made with stability and security in mind. The entry configuration is equipped with the Ryzen 3 5450U, which has a 4-core / 8-thread setup. After that, you can get the Ryzen 5 5650U, which adds two additional cores and four more threads. Finally, the most expensive configuration has the Ryzen 7 5850U, which is an octa-core processor with 16 threads. Handling the graphics are the Radeon RX Vega 6, 7, and 8 (R4000/5000, 15W), which at this point are very well known. They can handle light gaming, but most importantly they offer a stable and smooth operation.
Being that these are premium laptops, they have some premium features, such as a fingerprint reader, a backlit keyboard with spill resistance, a triple Multi Array microphone, which give the person on the other end the best call experience, and a stereo speaker setup from Bang & Olufsen, which are an industry leader in the audio space.
Dimensions
307.5 x 204.4 x 17.7 mm (12.11" x 8.05" x 0.70")
Dimensions
323.3 x 214.3 x 17.7 mm (12.73" x 8.44" x 0.70")
All HP EliteBook 835 G8 configurations:
All HP EliteBook 845 G8 configurations:
All HP EliteBook 855 G8 configurations: