[Specs, Info, and Prices] Lenovo ThinkPad E14 Gen 4 (AMD) and E15 Gen 4 (AMD) – not so budget computing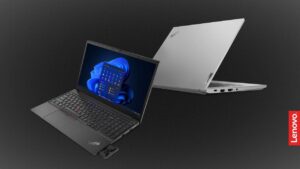 If it's your first time buying a ThinkPad device, one of these two might be your best options, to get you on your feet s you explore the corporate world. The ThinkPad E-series presents us with two notebooks of different sizes.
The E14 and E15 Gen 4 both come with Ryzen 5000U-series processors, integrated Vega graphics, and Full HD displays. With the ThinkPad brand, you're getting fantastic build quality and a minimal design that is perfect for the office or the board room.
Today we are giving you a quick overview of the Lenovo ThinkPad E14 Gen 4 (AMD) and the E15 Gen 4 (AMD).
The Lenovo ThinkPad E14 Gen 4 (AMD) and the E15 Gen 4 (AMD) are available now with a starting price of $1,469.00 and $1,386.75, respectively.
Full Specs: Lenovo ThinkPad E14 Gen 4 (AMD) / ThinkPad E15 Gen 4 (AMD)
Lenovo ThinkPad E14 Gen 4 (AMD) configurations:
Lenovo ThinkPad E15 Gen 4 (AMD) configurations:
Design
Both laptops come with well-built bodies. The 14-inch device does offer more metal, with its lid and chassis being crafted from the material. On the other hand, the E15 has an aluminum lid and a plastic chassis. Regardless, we have seen how Lenovo can make a plastic laptop feel durable and tough, so there isn't a single ounce of worry that the laptops won't be up to standard, in terms of quality. Generally, the laptops look the same, with either a black or a silver exterior and minimal branding. The E15 has a trick up its sleeve, with a special compartment for wireless earbuds, which is helpful, but without any charging prongs, we don't find it that useful.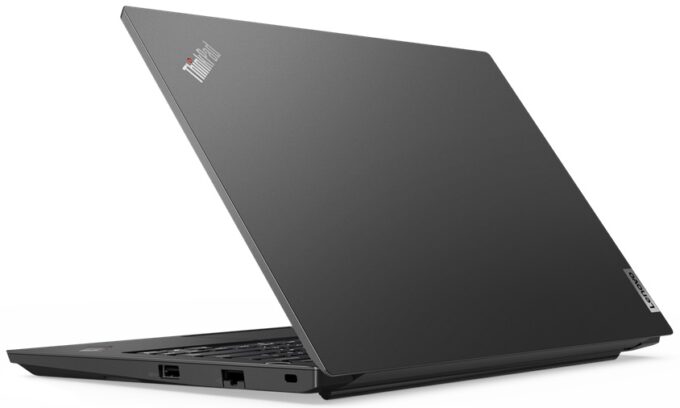 Display
Both laptops come with two Full HD IPS panels with an 800:1 and a 1200:1 contrast ratio, a max brightness of 300 nits, with the higher ratio panel coming with 100% sRGB coverage. On the E14, there's also a Full HD TN panel with a 250 nits contrast ratio and a 500:1 contrast ratio.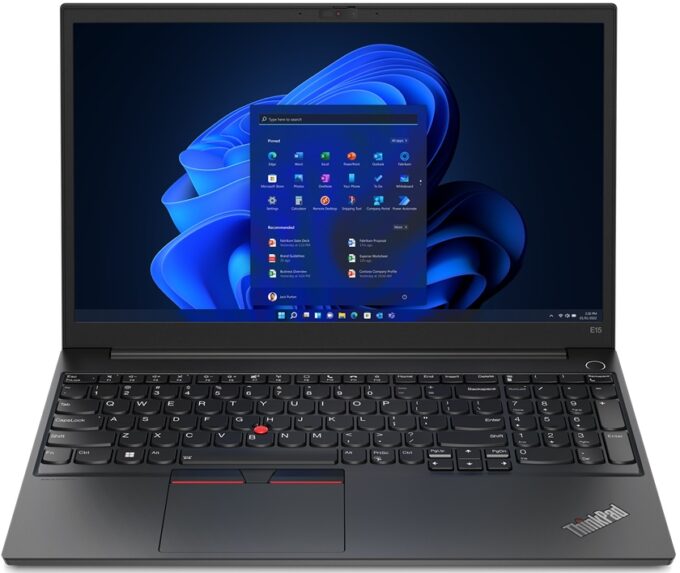 Specifications and features
The two laptops offer the same hardware options, with three Ryzen 5000U-series CPUs: the Ryzen 3 5425U, the Ryzen 5 5625U, and the Ryzen 7 5825U, which are part of the Ryzen Pro lineup, which in theory come with increased performance and stability. The integrated graphics, consist of three of the older Vega units, the Vega 6, Vega 7, and Vega 8, which have a 15W TGP.
The laptops arrive with good I/O coverage, but it could be better. There are two USB Type-A ports, one of which sadly runs at 2.0 speeds, while the other one runs at 3.2 (Gen. 1) speeds. There's also a single USB Type-C 3.2 (Gen. 1) port, an HDMI 1.4b port, an Ethernet port, and a 3.5 mm audio jack.
There are also some optional features, mainly the fingerprint reader, a backlight for the keyboard, and an upgraded Full HD webcam. The speakers, while firing towards the bottom, come from Harman and have Dolby Atmos support.
All Lenovo ThinkPad E14 Gen 4 (AMD) configurations:
All Lenovo ThinkPad E15 Gen 4 (AMD) configurations: