[Specs, Info, and Prices] HP puts out three new Chromebooks in different price ranges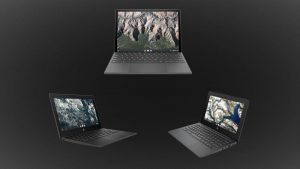 The Chromebook market is blowing up, in a good way, of course. Consumers are finally realizing that there are other options rather than Windows, or if you're flush with cash, Apple laptops. Today we will take a look at three Chromebook devices, which are all different and aim at different people.
We have a more premium offering with the HP Chromebook x2 11 (11-da0000), while the other two (HP Chromebook 11MK G9 EE and HP Chromebook 11) focus on education, offering rugged builds, and lower prices.
Today we are giving you a quick look at the new Chromebook x2 11, Chromebook 11MK G9 EE, and Chromebook 11.
The Chromebook x2 11 and the 11MK G9 EE are available with a starting price of $679.99 and $285.00, respectively. The Chromebook 11 still doesn't have a price to go with it.
Full Specs: Chromebook x2 11 / Chromebook 11MK G9 EE / Chromebook 11

HP Chromebook x2 11 (11-da0000)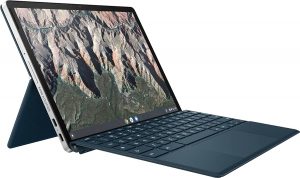 This one really does look like a premium device and resembles a tablet, more than it does a laptop. It looks to be built entirely from metal, s the sides have a brushed aluminum finish, while the display has slim bezels and a Gorilla Glass cover.
The chamfered edges should provide a good grip for you to hold it, while the kickstand on the back will allow you to set it up on a table and enjoy some entertainment. In terms of dimensions, the laptop has a weight of 0.55 kg and a thickness of 7.62 mm.
For the display, you have an 11-inch 2.1K unit with a 3:2 aspect ratio. It uses an IPS panel and has a max brightness of 400 nits and has 100% sRGB coverage. The specs are pretty nice too, featuring the Snapdragon 7c SoC, which has 8-cores and is built on an 8nm dye.
It has two USB Type-C ports and a MicroSD card reader, which should be plenty. The device also comes with stereo Bang&Olufsen speakers and both front and rear-facing cameras. All in all, this seems like a good tablet for a Creator, who needs good color representation.
HP Chromebook 11MK G9 EE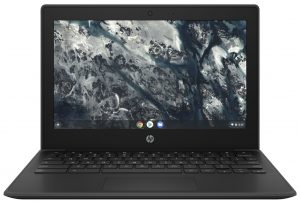 This one is made primarily for students, featuring low-powered hardware, which should increase the battery life and lower the price. Of course, it comes with a plastic built, but bings in reinforced corners and a rubberized lid finish, which won't scratch as easily.
It can survive drops of up to 120 cm, and the keycaps are anchored so that kids can't pick them and then try to ingest them. The device has double the weight of the Chromebook x2 11, stopping the scales at 1.34 kg while having a profile of 18.8 mm.
It offers two displays, both with an 11.6-inch diagonal and a 1366 x 768p resolution. The first one has a TN panel while the second one uses an IPS panel. Both will be fine for a child, so if you don't want to spend more on an IPS display, you don't really need to.
Here we also get a mobile SoC, with the Mediatek MT8183, which should have enough power with its 8 cores to handle web browsing, watching videos, and playing some Android games, which are now available on the Google Play store. If your child has just been trusted into online education, this is a great starting point for it to spark an interest in technology and attend classes at the same time.
HP Chromebook 11 (11a-nb0000)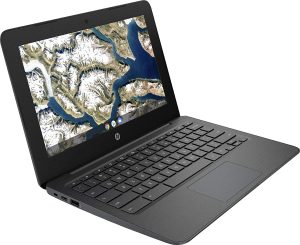 The Chromebook 11 also offers plastic build quality, although it lacks the reinforcements of the previous device. This will make it more prone to damage if you drop it. It has the same weight and height as the Education Edition device. In terms of displays, it only offers an 11.6-inch TN panel with a 768p resolution.
Lastly, the specs aren't that impressive as well, featuring the dual-core Celeron N3350 and the Intel HD Graphics 500. Still, it should be plenty good for web browsing and media consumption. The device has a pretty wide I/O, which includes two USB Type-A 3.2 (Gen. 1) ports, two USB Type-C 3.2 (Gen. 1) ports, a MicroSD card reader, and a 3.5 mm audio jack.
All HP Chromebook x2 11 (11-da0000) configurations:
All HP Chromebook 11MK G9 EE configurations:
All HP Chromebook 11 (11a-nb0000) configurations: