[Specs, Info, and Prices] Acer Spin 5 (SP514-51N) – pure quality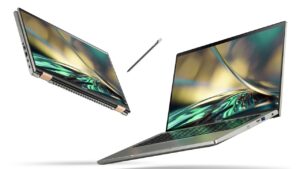 Acer is better known for its budget and mid-range offerings, but the Acer Spin 5 is on its way to change that. The 2022 modification, called the (SP514-51N) brings a well-built convertible chassis with Alder Lake P-series components. While the device is expensive, it brings a lot of features for its size, which we'll talk more about down below.
Today we're giving you a quick overview of the Acer Spin 5 (SP514-51N).
The Acer Spin 5 (SP514-51N) is available now with a starting price of $1,379.99.
Acer Spin 5 (SP514-51N): Full Specs
Design
The laptop is made from an unspecified material, but if it's anything different from a metal alloy, we would not be happy. After all, you're paying over 1300 dollars for it, so quality should come first and foremost. The design is refreshing, with sharp edges and rounded corners. All in all, the Spin 5 has a very angular appearance. The rear of the lid and the base are rounded, which is a classic tactic for convertibles. There's also a big vent at the edge of the base, pushing the hot air out of the system. In terms of weight and height, the laptop stops the scales at 1.30 kg and has a profile of 17 mm.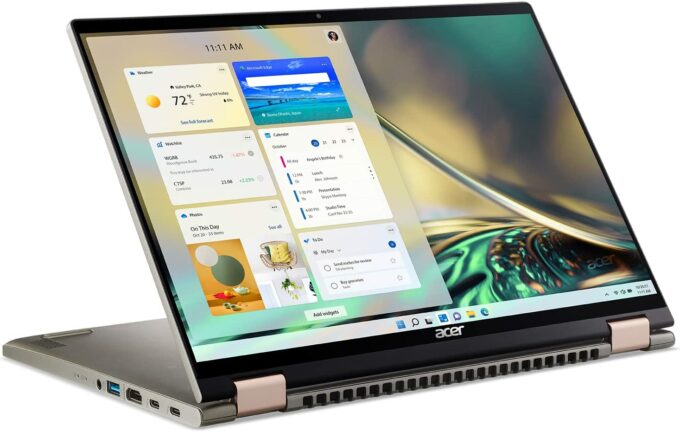 Display
Covered by a layer of glass, we see a QHD+ IPS panel with a 16:10 aspect ratio. Acer does state that you'll be able to use it for sketches and art but gives no information about the color reproduction. The unit does however come with TUV certification for blue light, which makes it usable for prolonged periods of time.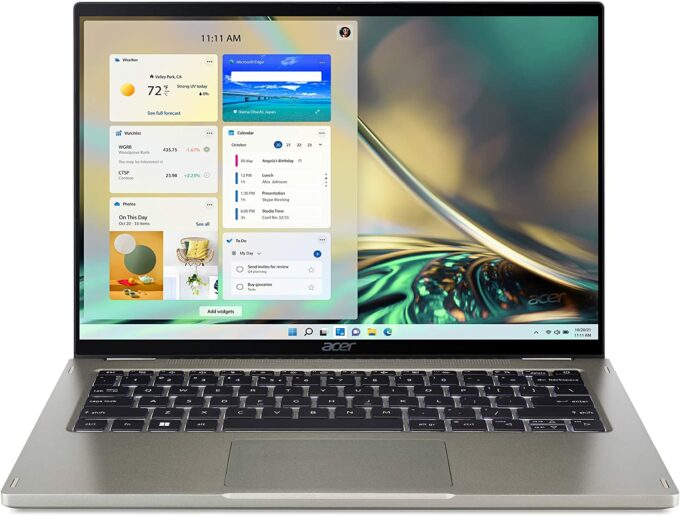 Specifications and features
So far, there's only one available CPU, the Core i7-1260P, which is a 12-core/ 16-thread processor. In terms of performance, the P-series has shown to be able to match a lot of last-gen processors in 3D Rendering, despite the 28W power limit, while delivering exceptional performance in Photoshop, with some of the fastest results that we have seen. With the Iris integrated graphics, the laptop should be able to handle some productivity and Rendering, however, not on the level that a discrete GPU can offer.
While on paper capped at 28W, the CPUs can reach higher wattage, so it's nice to see that Acer has thought about good cooling, to try and squeeze extra performance out of its CPU. There are two heat pipes with two fans, mounted at the rear while drawing air from the vent above the keyboard.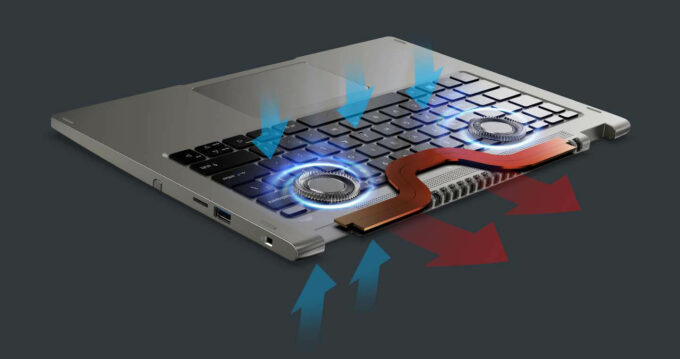 The I/O is another strong point of the laptop, with two USB Type-A 3.2 (Gen. 2) ports, one of which is always on, two Thunderbolt 4.0 ports, an HDMI 2.1 port, which can output an 8K signal at 60Hz, or a 4K signal at 120Hz, MicroSD card reader, and a 3.5 mm audio jack. There is also an enclosure for a Stylus pen, making the laptop a portable artstation.
Dimensions
312.42 x 218.44 x 17.01 mm (12.30" x 8.60" x 0.67")
Price
Starting at $1301.01
All Acer Spin 5 (SP514-51N) configurations: