[Specs and Info] The Gen 2 ThinkPad L-series is getting the Zen 3 treatment + a load of other features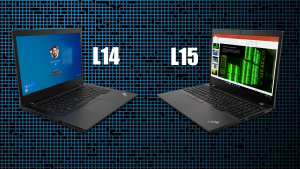 It was close to this time last year when we reviewed the Gen 1 ThinkPad L-series. Of course, those were powered by Intel's Coffe Lake chips, but still, we got to have a pretty good feel for the overall series. Recently, Lenovo introduced the Gen 2 ThinkPad L notebooks, this time coming with AMD's Zen 3-based Ryzen 5000 U-series chips. However, there is a caveat with these CPUs, which we will talk about more below. For now, you just have to know that you're getting a feature-full device that can be your perfect business buddy.
Today we are giving you a quick overview of the Lenovo ThinkPad L14 and L15 Gen 2 (AMD).
Full Specs: Lenovo ThinkPad L14 Gen 2 (AMD) / ThinkPad L15 Gen 2 (AMD)
Lenovo ThinkPad L14 Gen 2 (AMD) configurations:
Lenovo ThinkPad L15 Gen 2 (AMD) configurations:
Design
Since this is set to be a less expensive notebook, the build materials are on the cheaper side. However, this doesn't mean that build quality has to be sacrificed. You have to look no further than their predecessors to see that while there might have been some flex on both the lid and chassis, plastic actually allows for that before it eventually snaps. Yes, you would have to be a bit more careful, but nothing out of the ordinary.
There are some subtle differences between the L14 and L15 devices. The L15 has fitted a bigger full-sized keyboard, which spans the entire horizontal area of the base, while on the L14 the unit is sectioned off on its own island. Thankfully, both laptops are pretty light, with the L14 weighing around 1.60 kg, with the L15 stopping the scales at 1.99 kg. The height is also very manageable, with the L14 measuring at 20.4 mm, with the L15 being just a tad thicker, at 21 mm.
Display
The display situation is pretty straightforward. Both laptops have identical panel offerings, with the only exception being the size of the diagonal, as the L14 gets 14-inch panels, while the L15 settles for 15.6-inch displays. The base configuration comes with a 768p TN panel, which we wouldn't recommend. It has poor max brightness and contrast ratio, and TN panels are known for their narrow viewing angles. On the other hand, there is a Full HD IPS panel, which has up to 400 nits of brightness and a contrast ratio of 800:1, which doubles the ratio on the TN panel. Also, there are some configurations of this panel, which have 99% sRGB coverage.
Specifications and features
The laptop, as we mentioned before, comes with the Ryzen 5000 U-series CPUs, which replace the Zen 2 based, 4000-series units. There are several of these to choose from, starting from the entry-level Ryzen 3 5400U, all the way up to the high-end Ryzen 7 5850U, which has 8 cores, 16 threads, and a boost speed of 4.40GHz. To handle the GPU loads, you get the Radeon RX Vega iGPU solutions, with either the RX Vega 6, 7, or 8 (R4000/5000, 15W).
Features-wise, you get a ton, some of which are optional, however. The list starts from a fingerprint reader, a spill-resistant backlit keyboard, Mylar-covered touchpad, a Dual-Array microphone, and a stereo speaker setup with Dolby Audio support.
Dimensions
331 x 235 x 20.4 mm (13.03" x 9.25" x 0.80")
Lenovo ThinkPad L14 Gen 2 (AMD) configurations:
Lenovo ThinkPad L15 Gen 2 (AMD) configurations: