[Specs and Info] The ASUS BR1100F strives to be the best device for education and learning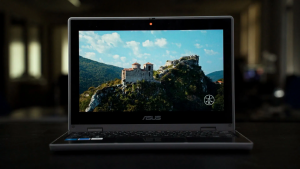 The state of the world right now requires a lot of laptops and devices, to function properly. With many students still stuck at home, there is a need for a sturdy, kid-proof laptop, which can handle basic tasks, such as video chats, writing documents, etc.
A while ago, we took a look at the HP ProBook x360 11 G7 EE, which offered exactly that: a tank laptop with rubberized coating and reinforced corners, which could survive drops with no problem. Now, ASUS is trying to one-up that HP with its ASUS BR1100F, which is also targeting the younger audience.
It offers several improvements, such as a modular design and a built-in stylus, which makes for easy maintenance and improves usability for kids.
Today we are taking a quick look at the ASUS BR1100F.
ASUS BR1100F: Full Specs
Design
The laptop comes with an interesting design, which we presume is made entirely of plastic. It has a rubberized bumper, to protect it from drops, as well as rubber on the bottom and a textured, scratch-resistant finish on the lid, making it very easy to grip. Maintenence is made very easy, as the notebook utilizes a modular design, making the keyboard, I/O, thermal solution, or the battery replaceable with common hand tools within minutes. The keyboard is spill and tamper-resistant, as the gaps between the keycaps and base are made to be as small as possible. The weight and height of the device are easily manageable, standing at 1.40 kg and 20.0 mm, respectively.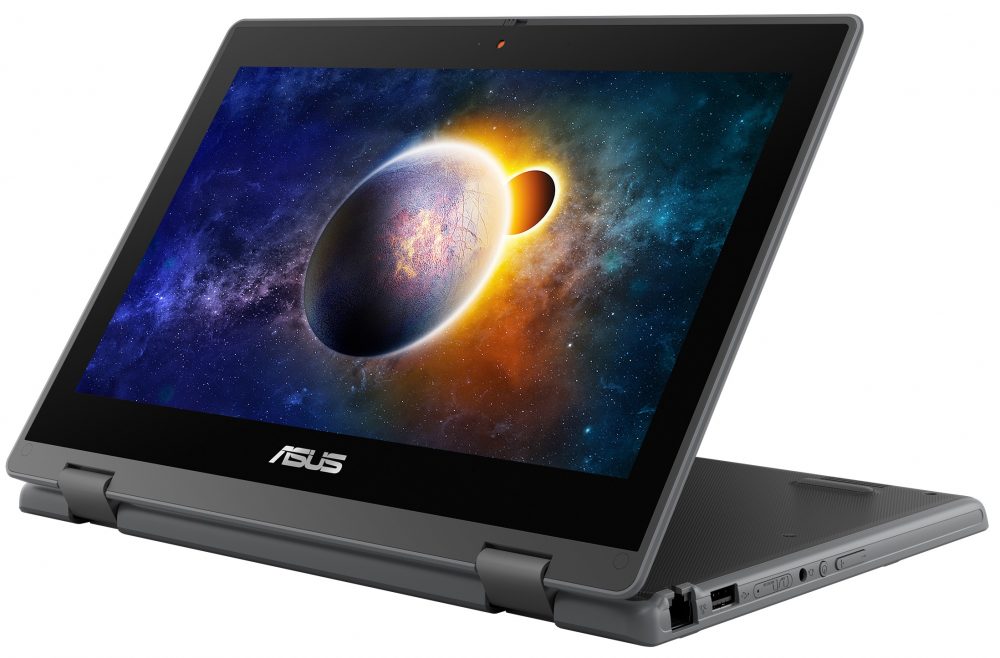 Display
In terms of displays, ASUS gives you only one option, in the face of an 11.6-inch 768p TN panel. Now, we know that TN panels aren't the best when it comes to quality, but kids won't mind them and they are readily available, so it brings down the overall cost of the device. The screen has touch support, 250 nits of brightness, and TUV Reinhart certification for lack of Blue light emissions, making it safe for kids.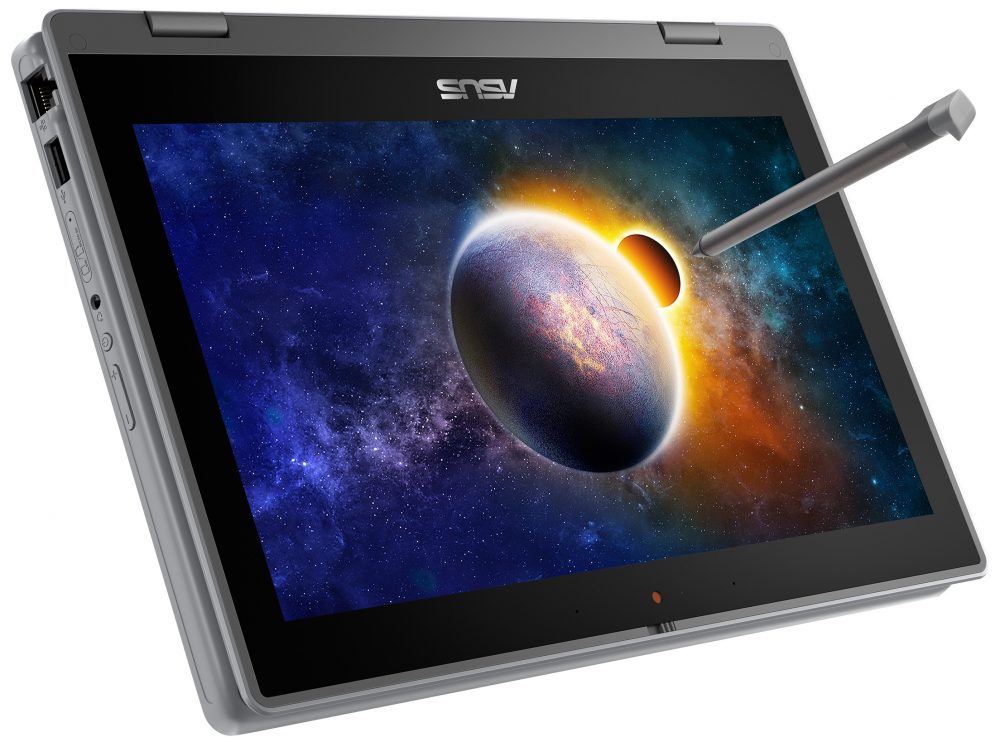 Specifications and features
Specs-wise, this isn't a powerful laptop, however, it packs enough of a punch for a kid. It offers three CPU options, with two Celeron and one Pentium CPU from the Jasper Lake family. All of them come with Intel UHD Graphics, with either 16, 24, or 32 Execution Units (EU).
For features, you get an in-built stylus pen, and two cameras, one above the display, and one on the keyboard, which becomes a world-facing camera when you flip the device into tablet mode. In terms of audio, you get an array microphone with active noise cancelation, as well as a SonicMaster Audio speaker. The laptop also has support for WI-Fi 6 and Bluetooth 5. The I/O is pretty wide, consisting of one USB Type-A 2.0 port, a USB Type-A 3.2 (Gen. 1) port, a USB Type-C 3.2 (Gen. 1) port, an HDMI connector, a 3.5mm audio jack, and a MicroSD card slot.
Dimensions
294.6 x 204.9 x 19.9 ~ 20.0 mm (11.60" x 8.07" x 0.78")
Price
Starting at $197.00
All ASUS BR1100F configurations: