[Specs and Info] Lenovo Yoga 7i (14″, 2022) – slim device with features to spare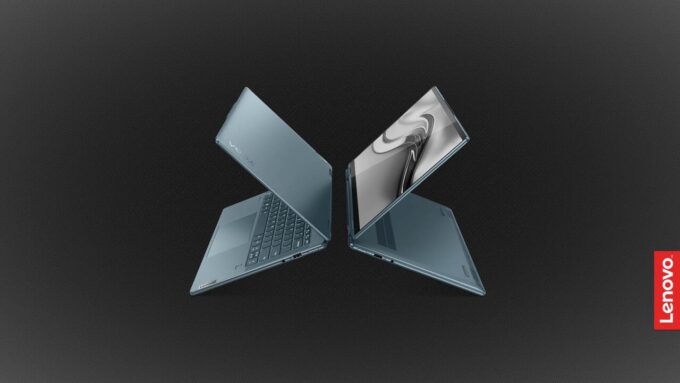 What happens when you really like the Lenovo Yoga 9i, but you don't necessarily have the budget for the premium laptop. Lenovo have you covered, offering a knockdown variant that doesn't really lose a lot, still offering the Alder Lake U-series and P-series processors, the aluminum chassis, and a high-resolution display.
The Lenovo Yoga 7i (14″, 2022) is a portable convertible laptop that can fit any situation and has enough performance to deliver a smooth user experience in a variety of tasks.
Today we are giving you a quick overview of the Lenovo Yoga 7i (14″, 2022).
Lenovo Yoga 7i (14″, 2022): Full Specs
Design
The chassis of the laptop is crafted from aluminum which has been put through a CNC machine, in order to carve out the inside of the aluminum block, which will then fit the components. Using this method makes the chassis more rigid, since it's from a single block, and no welding is involved. The surfaces of the laptop are treated using a sandblasting method, which results in a smooth, yet still grippy finish. The design features rounded edges and corners on both the lid and the base. In terms of weight and height, the laptop stops the scales at 1.45 kg and has a profile of 17.35 mm.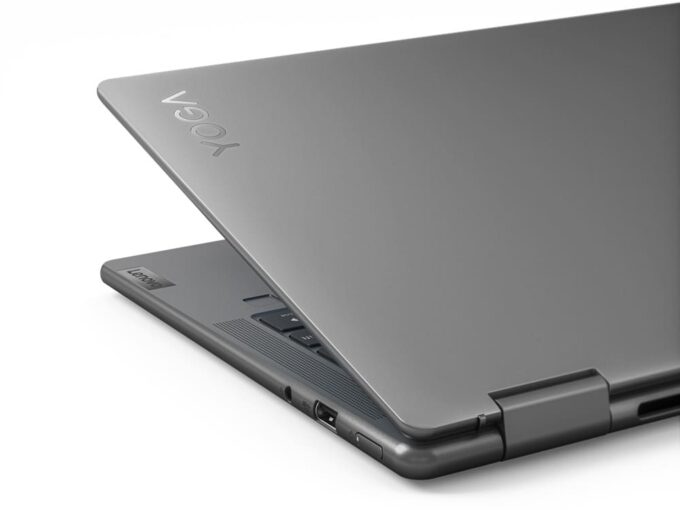 Display
There is a single display option, with a 14-inch 2.2K IPS panel that offers the increasingly popular 16:10 aspect ratio. The display comes with touch and stylus support. In terms of specs, the brightness is capped at 300 nits, while the contrast ratio calculates at 1500:1. The display seems ready for professional work, coming with 100% sRGB coverage.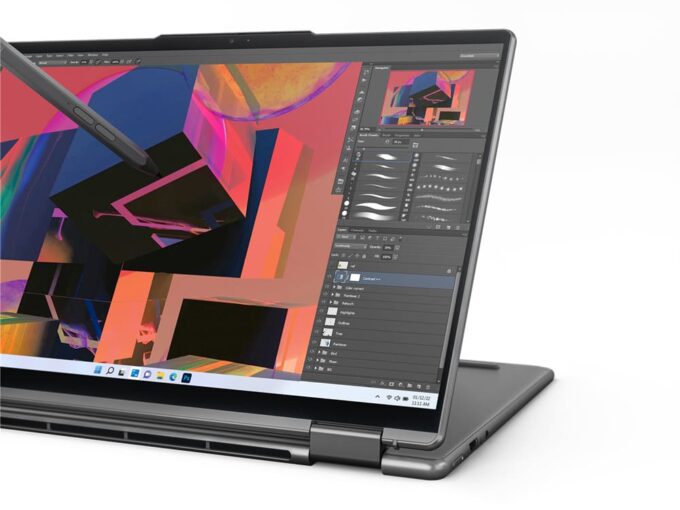 Specifications and features
Hardware-wise, there are four CPU options, including two Alder Lake U-series processors: the Core i5-1235U and the Core i7-1255U, which both come with 2 P-cores with hyperthreading and 8 E-cores without hyperthreading. Then we have two Alder Lake P-series CPUs with the Core i5-1240P and the Core i7-1250P, which both have 4 P-cores and 8 E-cores. In terms of graphics, there's only the integrated Iris Xe Graphics G7, which comes with either 80 or 96 Execution units, as the Arc GPUs are released but only in theory.
In terms of features, there's Dolby Vision and Dolby Atmos support, which power quad-stereo speakers with two on the front and two on the back. There's also a fingerprint reader, which is separated from the keyboard, along with a backlight.
Dimensions
316.66 x 220.25 x 17.35 mm (12.47" x 8.67" x 0.68")
All Lenovo Yoga 7i (14″, 2022) configurations: