[Specs and Info] Lenovo ThinkPad T16 Gen 1 – Embracing the trend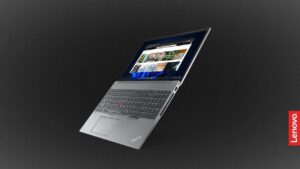 The ThinkPad brand has managed to retain its identity and success in times where innovation and change are at the forefront. The truth is, the enterprise sector is just fine with what it's currently got, as it prioritizes stability and security of information.
However, that doesn't mean Lenovo can't sprinkle some modern touches into its notebooks, and the ThinkPad T16 Gen 1 is a prime example. It has much of the same security, stability, and performance, but has embraced some modern trends, such as a 16:10 display. It also has both AMD and Intel options for hardware, so you can factor in the advantages and disadvantages of both and decide for yourself what you want in your notebook, without having to look for a completely other laptops outright.
Today we give you a quick overview of the Lenovo ThinkPad T16 Gen 1.
Full Specs: Lenovo ThinkPad T16 Gen 1 (Intel) / ThinkPad T16 Gen 1 (AMD)
Lenovo ThinkPad T16 Gen 1 (Intel) configurations:
Lenovo ThinkPad T16 Gen 1 (AMD) configurations:
Design
The new laptop comes with two options for materials. The black one uses a lid that combines plastic, glass fiber, and carbon fiber, while the base and bottom panel are 100% plastic. If you want something different, including a change in colors, you can go for the Storm Grey variant, which offers an aluminum lid, and the same plastic base. Thankfully, there isn't any noticeable difference in the weight of the differently built laptops, with both iterations hovering around 1.65 kg.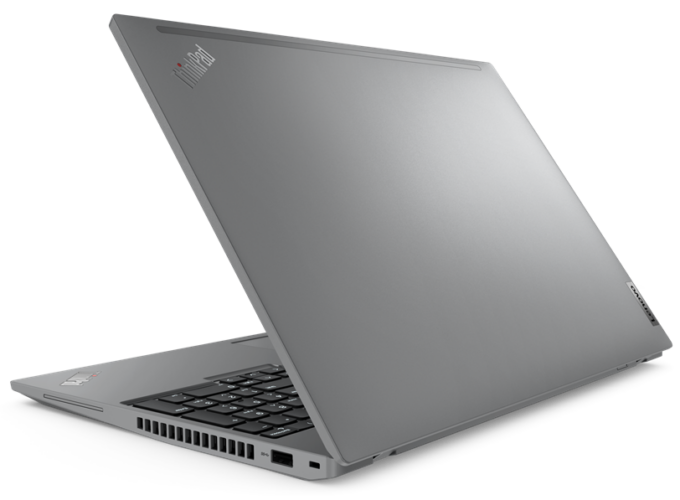 Display
The display selection offers quality 16-inch IPS displays with either FHD+ or QHD+ resolution. The FHD panel is a bit finicky, as there are several versions, some of which cover 100% of the sRGB gamut and get up to 500 nits of brightness. The QHD+ option is much simpler, with full sRGB coverage, 400 nits peak brightness, and a 1200:1 contrast ratio.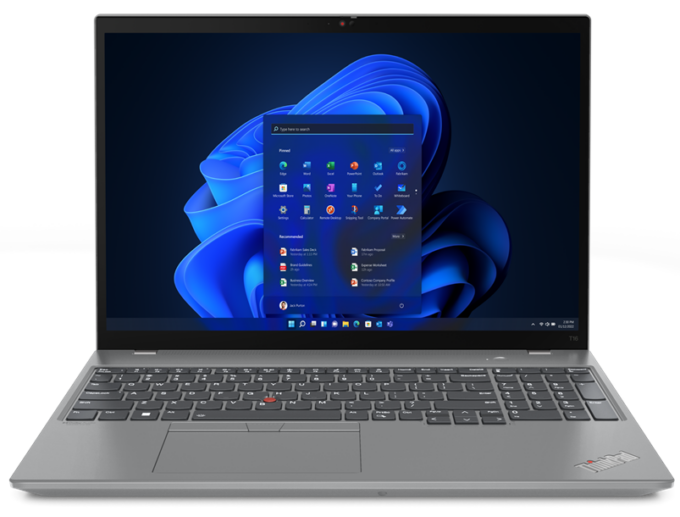 Specifications and features
Lastly, the laptop brings a variety of hardware, with both Intel and AMD processors. We have much more options on Team Blue, with a total of nine SKUs to pick from. The highest you can go is the Core i7-1280P, which comes with plenty of performance. When cooled properly, the CPU goes on an absolute tear. Currently, it holds the #8 spot in our Top Laptop CPU Ranking, which is pretty good considering the competition it's constantly facing.
On the AMD side, you have two processors to pick between, depending on how much power you need. The Ryzen 6000U-series is hotly anticipated, both because of the improvements to the Zen 3+ architecture and the new RDNA2 integrated graphics. Furthermore, these exact units are part of the Ryzen Pro series, which is specifically created for the enterprise world.
The laptop comes with stellar I/O, offering two USB Type-C 3.2 (Gen. 2) ports, which bring Thunderbolt 4 support on the Intel model, two USB Type-A 3.2 (Gen. 1) ports, an HDMI 2.0 port, an Ethernet port, and a 3.5 mm audio jack.


Dimensions
361.9 x 255.5 x 20.5 - 21.1 mm (14.25" x 10.06" x 0.81")
All Lenovo ThinkPad T16 Gen 1 (Intel) configurations:
All Lenovo ThinkPad T16 Gen 1 (AMD) configurations: