[Specs and Info] Lenovo Legion Slim 7 and Slim 7i (16″) – For gamers who put the work in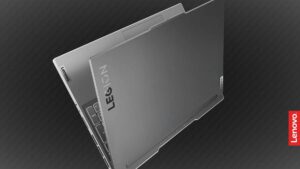 The Legion series from Lenovo has quickly expanded to cover not only the gaming market pretty well, but now it's definitely stepping on the toes of content creation laptops.
Today we have the 2022 Legion Slim 7 series, which is available with both AMD and Intel hardware, along with powerful graphics from both AMD and NVIDIA. This takes the performance and features of the larger and bulkier Legion 7 but appropriates it for a more portable chassis.
Today we're giving you a quick overview of the Lenovo Legion Slim 7 and Slim 7i (16″).
Full Specs: Lenovo Legion Slim 7 (16″ AMD, 2022) / Legion Slim 7i (16″ Intel, 2022)
Lenovo Legion Slim 7 (16″ AMD, 2022) configurations:
Lenovo Legion Slim 7i (16″ Intel, 2022) configurations:
Design
The Slim 7 is way lighter than the regular Legion 7, dropping down to 2.17 kg, which is a weight reduction of around 300 to 400 grams. What's even crazier is that it also slims down in terms of thickness. This is quite impressive, since the Legion 7 was already pretty thin, at 19.4 mm. The Slim 7 comes in at just 16.9 mm. Design-wise, you get a minimal look, with sharp edges and rounded corners. The sides have a glossy, brushed aluminum finish, while the lid and the base are matte and come in two colors, either Onyx Grey or Storm Grey.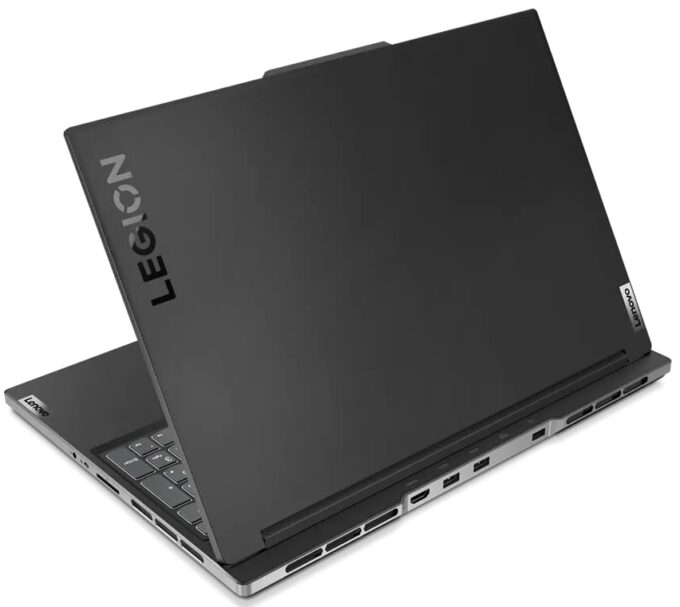 Display
The display selection includes several 16-inch 16:10 IPS displays. The base configuration offers a Full HD+ panel with a 165Hz refresh rate, 300 nits of brightness, a 1200:1 contrast ratio, and 100% sRGB coverage. Then we have two QHD+ displays with either 165Hz or 240Hz refresh rate, 500 nits of brightness, and the same color coverage. NVIDIA-powered models have G-Sync, while AMD-powered devices have FreeSync.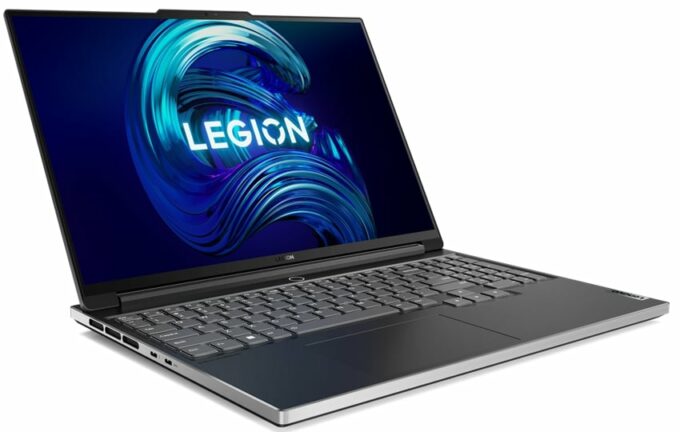 Specifications and features
Hardware-wise, you can pick between the Alder Lake H-series and the Ryzen 6000H-series. The Intel front is covered by the Core i5-12500H, Core i7-12700H, and Core i9-12900H. On the AMD side, there's the Ryzen 5 6600H, the Ryzen 7 6800H, and Ryzen 9 6900HX. It's no secret that when plugged in, Intel chips run circles around AMD. However, once on battery, AMD's offerings run more efficiently and bring longer battery life and good performance, so you have to choose for yourself what you prefer.
In terms of graphics, we have the NVIDIA 30-series, capped at 100W, and AMD's Radeon RX 6000S-series, which are specifically made for thinner and lighter laptops. Now, with the great displays that we have here, you might want to take advantage of the laptop's Creator capabilities, so going with NVIDIA is the smarter option. If you only see gaming in your future, then sticking with AMD is a smart play, since they would likely come cheaper, as well as mix well together with the AMD CPU.
In terms of ports, the AMD notebook comes with two USB Type-A 3.2 (Gen. 1) ports, two USB Type-C 3.2 (Gen. 2), an HDMI 2.1 port, an SD card reader, and a 3.5 mm audio jack. The Intel device comes with an additional Type-A port, as well as swapping one of the Type-C ports for a Thunderbolt 4 port.
There are also two options for battery, including a base variant with 71Wh as well as a bulkier 99.99Wh option, which is the max that a laptop can legally carry.
All Lenovo Legion Slim 7 (16″ AMD, 2022) configurations:
All Lenovo Legion Slim 7i (16″ Intel, 2022) configurations: