[Specs and Info] Lenovo is betting big on Chromebooks with the 100e, 300e, and 500e Gen 3 Chromebooks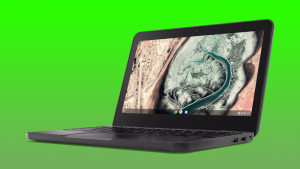 Chromebooks are the new budget laptop alternative. They offer a good user experience, due to the simplicity of ChromeOS and the fact that it actually doesn't cost anything, which goes a long way in reducing the overall cost of devices with it, allowing for more powerful hardware to be used.
Today we have three Chromebooks from Lenovo which have been designed with kids in mind, featuring rigid bodies, and easy-to-use features.
Today we are taking a quick look at the Lenovo 100e, 300e, and 500e (Intel) Chromebook Gen 3.
Full Specs: 100e Chromebook Gen 3 / 300e Chromebook Gen 3 / 500e Chromebook Gen 3 (Intel)
Lenovo 100e Chromebook Gen 3 configurations:
Lenovo 300e Chromebook Gen 3 configurations:
Lenovo 500e Chromebook Gen 3 (Intel) configurations:
Design
All three Chromebooks share an identical design, with all of them being made of plastic. The devices are made to be child-proof, utilizing rubber bumpers to absorb shocks along with improving the grip on the laptops. As for the design itself, we find it very appealing and we think kids and little students will love them. The speckled pattern fits the school aesthetic and the grey color will be liked by both boys and girls. The 300e and 500e laptops have a 360-degree hinge and a stylus pen with a red end, which contrasts itself nicely when the stylus is packed inside the laptop. The 100e weighs 1.25 kg, while the 300e and 500e are a bit heavier, at 1.33 kg. On the opposite end, all of them are 19.9 mm tall.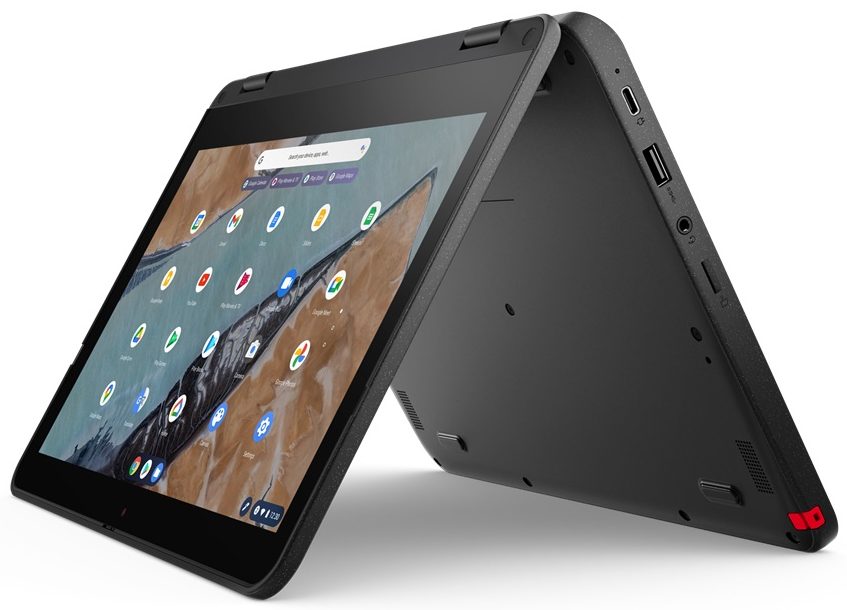 Display
All Chromebooks come with an 11.6-inch screen with a 768p resolution. The 100e uses a TN panel and has a max brightness of 250 nits and a 400:1 contrast ratio. As the 300e and 500e are convertibles, they have a glass touchscreen and use IPS panels, with the same 250 nit max brightness, while increasing the contrast ratio to 800:1.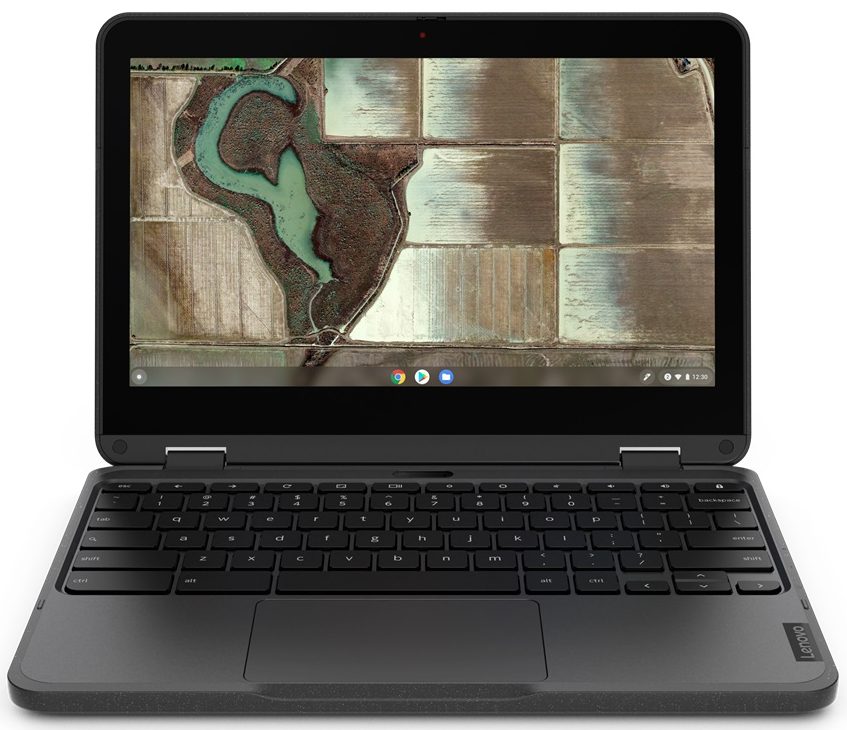 Specifications and features
The 100e and 300e use the same chipset, the AMD 3015Ce, which have two cores and four threads and are built on the Raven Ridge architecture, which is in itself based on the original Zen microarchitecture. They also come with the Radeon RX Vega 3, which can handle the most basic stuff such as watching videos and movies. The 500e is Intel-based and offers either the Celeron N4500 or N5100, two Jasper Lake APUs, which come with Intel UHD Graphics, with either 16 or 24 Execution Units (EU).
The laptops are equipped with a microphone and stereo speakers, along with a microSD card slot, a USB Type-C 3.2 (Gen. 1) port, an HDMI connector, a 3.5 mm audio jack, and two USB Type-A 3.2 (Gen. 1) ports. In terms of connectivity, you are getting support for Wi-Fi 6 and Bluetooth 5.
In our opinion, regardless if you pick the AMD or Intel-based Chromebooks, you won't be getting much, in terms of performance. What you will be getting is a stable laptop, that is a decent first device and will be of great help to a young student, and that can go a long way.
Lenovo 100e Chromebook Gen 3 configurations:
Lenovo 300e Chromebook Gen 3 configurations:
Lenovo 500e Chromebook Gen 3 (Intel) configurations: