[Specs and Info] Dynabook Portégé X30L-G: slightly older hardware in an extremely portable device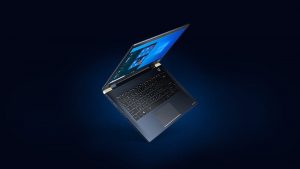 This might as well be the best device when it comes to portability-performance ratio. It brings decent, although a bit older hardware to the mix, while reducing the weight so so much. The laptop in question is the Portégé X30L-G and it is made from Dynabook.
Most consumers aren't willing to risk and spend money on a manufacturer that is unproven, however, Dynabook has a lot of history, even if its name doesn't suggest it. Toshiba marketed its laptops as Dynabook, and after Sharp bought out their laptop division, they scrapped the Toshiba name, for obvious reasons, and made Dynabook the sole brand.
Today we are taking a quick look at the Dynabook Portégé X30L-G.
Dynabook Portégé X30L-G: Full Specs

Design
The Dynabook homepage doesn't specify the build materials that are used for this laptop, but we would assume that it is made from plastic, mainly because the laptop is said to feature a honeycomb pattern on the inside, which would seem to be hard to accomplish with an aluminum chassis. The honeycomb pattern is great to see here, as it shows that Dynabook knows its stuff when it comes to laptop design. The laptop has a two-tone finish, with the hinges coming painted in white while the overall notebook has a dark blue exterior. In terms of weight and height, the laptop stands at 0.87 kg and 17.9 mm, respectively.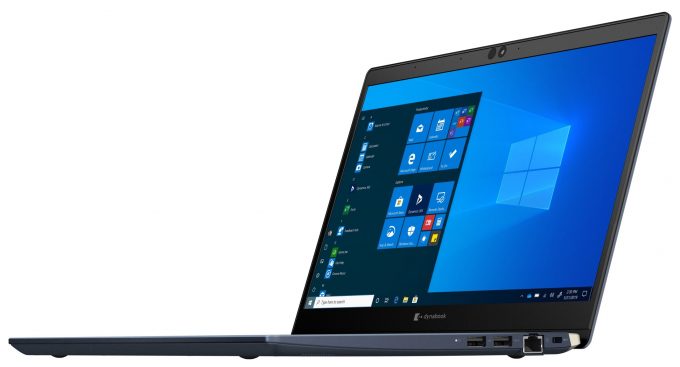 Display
The laptop has a single display option, with a 13.3-inch diagonal, Full HD resolution, and an IPS panel. The panel has a 470 nit max brightness, which should be plenty even during bright conditions.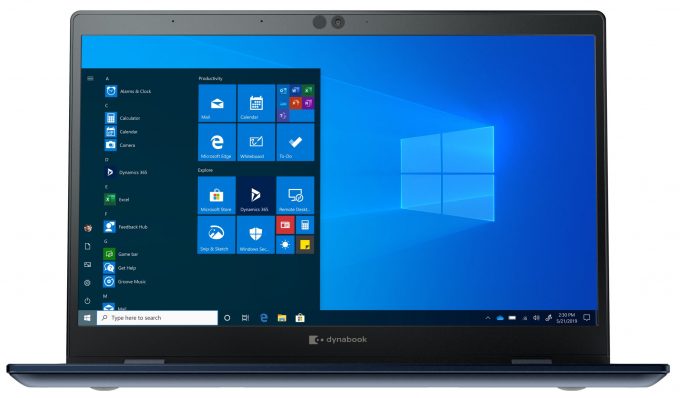 Specifications and features
The laptop offers CPUs from the Comet Lake U-series, which were the 10th Gen processors before Tiger Lake was released. They were still okay in daily tasks, however, you shouldn't expect a lot of prolonged high-load performance from them, as they were mostly created for quick and snappy tasks. For the graphics, we have the Intel UHD graphics, which weren't really that powerful.
Lastly, we have to cover the features, we have a backlit keyboard with spill-resistance, stereo speakers, and a fingerprint reader. The I/O brings a lot of stuff, including two USB Type-A 3.2 (Gen. 1) ports, a single USB Type-C 3.2 (Gen. 1), an HDMI connector, a MicroSD card reader, an Ethernet connector, and a 3.5 mm audio jack. Dynabook also heavily advertises security, as the Portégé X30L-G comes with its own BIOS, which makes hardware verification a much simpler process, as it is specifically programmed to detect the exact 10th Gen Comet Lake U CPUs and all other hardware.
Dimensions
308.8 x 211.6 x 17.9 mm (12.16" x 8.33" x 0.70")
All Dynabook Portégé X30L-G configurations: