[Specs and Info] Dynabook enters the educational space with the Satellite Pro E10-S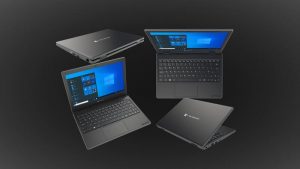 Educational laptops have become a big hit. These small and rugged devices don't pack a big punch, but they feel safe and secure, which is all that you would want from a notebook for a child to use for his classes.
Dynabook, which is Toshiba under new ownership, is quickly expanding its presence in all markets, including the educational one. What they offer is the Dynabook Sattelite Pro E10-S, which uses a low-TDP Intel CPU and integrated graphics.
Today we are giving you a quick overview of the Dynabook Satellite Pro E10-S.
Dynabook Satellite Pro E10-S: Full Specs

Design
The laptop offers a good design, which is entirely made of plastic. We expect some reinforcement in the corners and the sides since a drop can be pretty devastating for a laptop. the device is mainly black, but the sides have a lighter grayish lining, which makes the device appear a tad more interesting. The lid seems to be covered in a material that resembles tumbled leather, with the Dynabook logo plastered in the middle. In terms of weight and height, the device stands at 1.15 kg and 19.9 mm, respectively.

Display
The laptop comes with an 11.6-inch TN display with a resolution of 1366 x 768p. It has a brightness of 200 nits, which will be put to the limit when it comes to outdoor use, or if the area where you use it is very bright and well lit.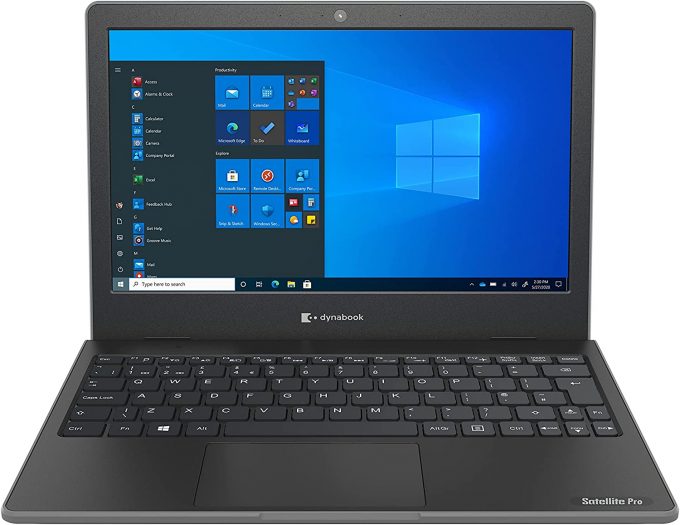 Specifications and features
In terms of hardware, we get a single CPU option, in the face of the Celeron N4020 from Intel. It has two cores and a boost clock speed of 2.80GHz. You can find detailed information about it here, but to summarize, don't expect anything spectacular from it, unless you count the power consumption, which will be minimal, considering that it comes with a 6W TDP. The integrated Intel UHD Graphics 600 also isn't a strong performer, but it will do a fine job in basic tasks.
Features-wise, the laptop doesn't get a lot, which is to be expected, but it still has an SD card slot and stereo speakers. Despite its small stature, it also brings two USB Type-A 3.2 (Gen. 1) ports, a single USB Type-C 3.2 (Gen. 1) port, HDMI and Ethernet connectors, and a 3.5 mm audio jack.
Dimensions
283.8 x 197.5 x 19.9 mm (11.17" x 7.78" x 0.78")
All Dynabook Satellite Pro E10-S configurations: