[Specs and Info] ASUS Zenbook Pro 15 Flip OLED (Q593, 12th Gen Intel) – A good move, in our opinion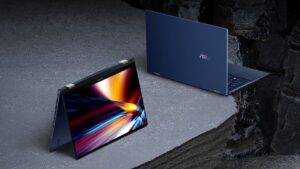 ASUS is taking an exciting approach that won't hurt to try at least. Since they release many laptops every year, outfitting one of their flagships with solely Intel hardware is a well-taken risk, which might pay off well. The ASUS Zenbook Pro 15 Flip OLED comes with an Alder Lake processor and Arc graphics, delivering a combination that will either make or break the device (figuratively of course).
While currently, Intel is getting a beating for its discrete graphics, having delayed its launches several times, their GPUs will have use once drivers and optimization are figured out. If not for gaming, Creators should definitely show interest, since on the hardware front they have everything to be great devices for rendering and intense workloads.
Today we're giving you a quick overview of the ASUS Zenbook Pro 15 Flip OLED (Q593, 12th Gen Intel).
ASUS Zenbook Pro 15 Flip OLED (Q593, 12th Gen Intel): Full Specs
Design
Complementing the Intel hardware on the inside, the whole laptop is made of CNC aluminum that comes with a sweet Navy blue surface treatment. The laptop has diamond-cut edges, along with rounded corners, making for a classy and sleek appearance. In terms of weight and height, the laptop weighs 1.80 kg and has a profile of 18.9 mm.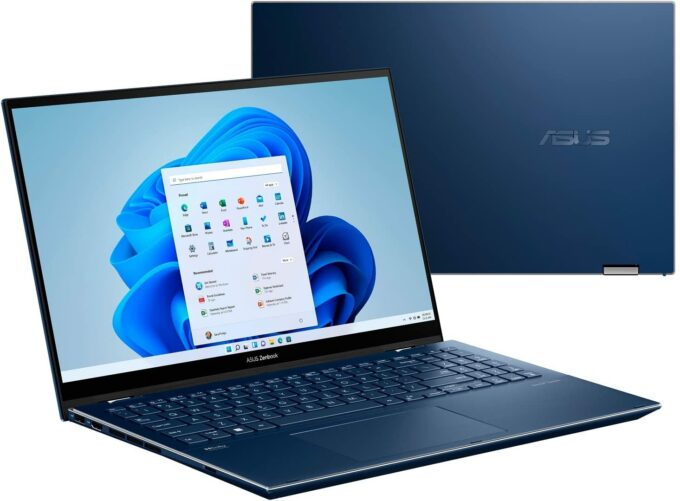 Display
The display on the front has a 15.6-inch diagonal and a 2.8K resolution. More importantly, it uses an OLED panel with an infinite contrast ratio, a 0.2 ms response tie, 120Hz refresh rate, peak brightness of 550 nits, 100% DCI-P3 coverage, and both PANTONE and VESA certification.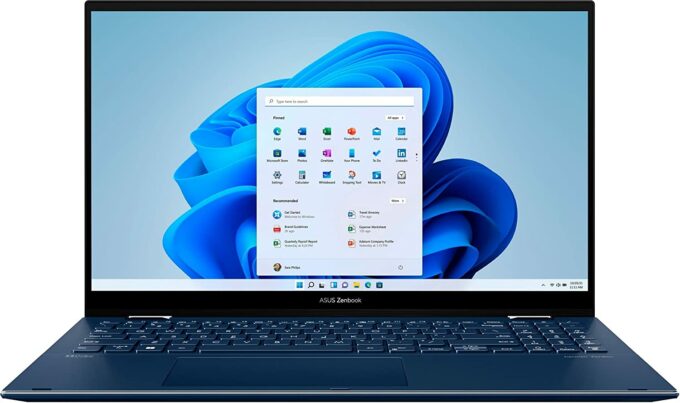 Specifications and features
The laptop carries the Core i7-12700H, a CPU that currently takes the #1 spot in our Top Laptop CPU Ranking. With 14 cores and 20 threads, it's a monstrous performer that needs proper cooling and thermal management, as well as a good power brick, otherwise, the processor rarely reaches its potential.
The Intel Arc A370M is one of the few Arc GPUs that you can get your hands on. Being from the lower-end 3-series, it should be around the level of the RTX 3050 in terms of performance, otherwise, Intel would be doing something wrong.
The cooling setup has only two heat pipes with two fans, which hopefully is enough, but we're not as optimistic as ASUS would want us to be.

Dimensions
3552 x 229 x 18.9 mm (139.84" x 9.02" x 0.74")
Price
Starting at $1399.00
All ASUS Zenbook Pro 15 Flip OLED (Q593, 12th Gen Intel) configurations: