[Specs and Info] ASUS ZenBook 14 OLED – next level power efficiency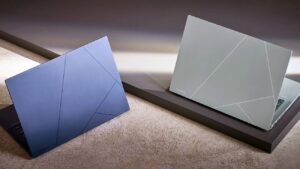 The new and improved ZenBook 14 OLED notebook features some of the best processors on the market that can both perform relatively well while bringing superb efficiency, which is important for a thin device like this that can't spare a ton of space for a beefy battery unit.
The notebook is available with both Intel and AMD hardware with either an Alder Lake P-series CPU or a Ryzen 5000U-series CPU. While you get integrated graphics, nowadays they are very good, offering enough power for both daily use and even some gaming.
Today we are giving you a quick overview of the ASUS ZenBook 14 OLED.
Full Specs: ASUS ZenBook 14 OLED (UX3402, Intel) / ZenBook 14 OLED (UM3402, AMD)
ASUS ZenBook 14 OLED (UX3402, Intel) configurations:
ASUS ZenBook 14 OLED (UM3402, AMD) configurations:
Design
Being a ZenBook, you can't expect anything less than a premium aluminum unibody with the rigidity to match. The design features sharp edges, round corners, and a small ASUS ZenBook inscription on the lid. Speaking of the lid, it has a different design depending on which hardware you choose. The Intel-powered device has an oversized ASUS logo, which doesn't fit the dimensions of the lid, so it appears as a bunch of lines. The same logo appears on the AMD-based laptop, but this time is much smaller and more visible, in its entirety. In terms of dimensions, the notebook weighs only 1.39 kg and has a profile of just 16.9 mm.
Display
The laptop has a 14-inch 2.8K OLED panel with a 90Hz refresh rate. It comes with a 16:10 aspect ratio, which is standard for productivity laptops, a 0.2 ms response time, and 100% DCI-P3  coverage. The panel has been tested and certified by Pantone and TÜV Rheinland, ensuring accurate colors and a limited blue exposure even after long hours of use. Outside work won't be a problem with a max brightness of 600 nits.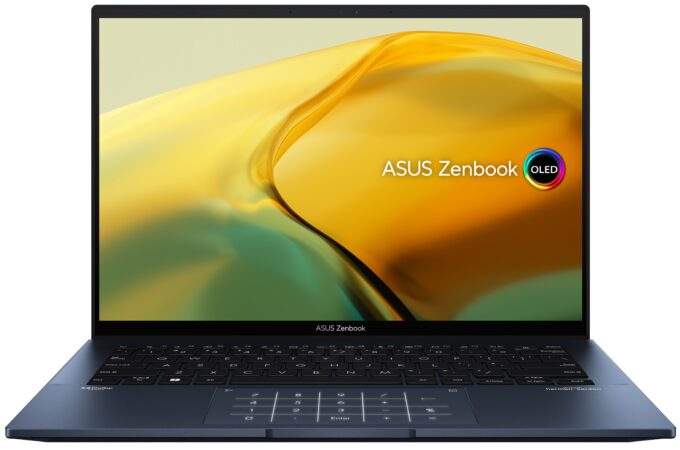 Specifications and features
The Intel CPU that you can get is the Core i7-1260P, which is part of the Alder Lake P-series. These chips have a TDP of up to 28W, while this specific SKU gets 12 cores and 16 threads, with there being 4 Performance cores and 8 Efficiency cores. The latter ones will handle basic stuff such as web browsing and background processes, while the more powerful quartet comes in when you're working with something more, such as image editing and vector graphics.
On the AMD side, we have the Ryzen 7 5825U, which is a derivative of the Ryzen 7 5800U, a CPU that was better than anything that Intel and its Tiger Lake U-series could have offered in 2021. This new version has 8 cores, 16 threads, 20MB of cache, and a TDP of up to 15W.
Both the Intel and AMD versions come with a 75Wh battery, which should deliver great results with these respective CPUs, while the integrated Iris Xe Graphics G7 and Radeon RX Vega 8 (15W)perform quite well in esports titles like Dota 2, CS:GO, and League of Legends.
All ASUS ZenBook 14 OLED (UX3402, Intel) configurations:
All ASUS ZenBook 14 OLED (UM3402, AMD) configurations: