[Specs and Info] ASUS VivoBook Pro 14 OLED (K3400) – it doesn't get any more portable than that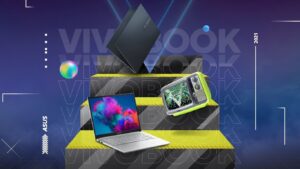 If you as a person draw inspiration from the outside world, then you can't be stuck at an office working from there. And for you to be able to create efficiently, you need a laptop that isn't a hassle to move around with you, while at the same time bringing the features that will allow you to work right then and there, including battery life, a good display, and ample computing power. That is why we have the ASUS VivoBook Pro 14 OLED (K3400), which as you can guess by the name comes with an OLED panel that brings amazing visuals.
Today we are giving you a quick overview of the ASUS VivoBook Pro 14 OLED (K3400).
ASUS VivoBook Pro 14 OLED (K3400): Full Specs
Design
In terms of design, we get pretty much the same treatment as other VivoBook Pro laptops, namely the Pro 15 and Pro 16. An aluminum lid and body are complemented in either Quiet Blue or Cool Silver, both of which look good, along with the new brand identifier of all VivoBook laptops: Chevron. Yes, we get some decoration on the lid, where we also see a protruding Asus logo, with chevron patterns on the keyboard as well. The laptop has a simple shell with sharp edges, round corners, and flat shapes. In terms of dimensions, the laptop is very portable, considering the power it has inside, weighing only 1.40 kg while sporting a profile of 19.3 mm.
Display
The 14-inch OLED panel is all you need to be a professional artist. It has a 2.8K resolution, which comes down to 2880 x 1800p, and a 16:10 aspect ratio. It also gets quite bright, with a peak brightness of 600 nits, which should be plenty even when you're outside. The 90Hz refresh rate will make the device feel even smoother, as the laptop even has enough power to be a decent gaming rig. Color coverage is superb, coming at 100% of the DCI-P3 gamut. The panel is also Pantone validated, meaning that the accuracy is good enough for professional use straight out of the box.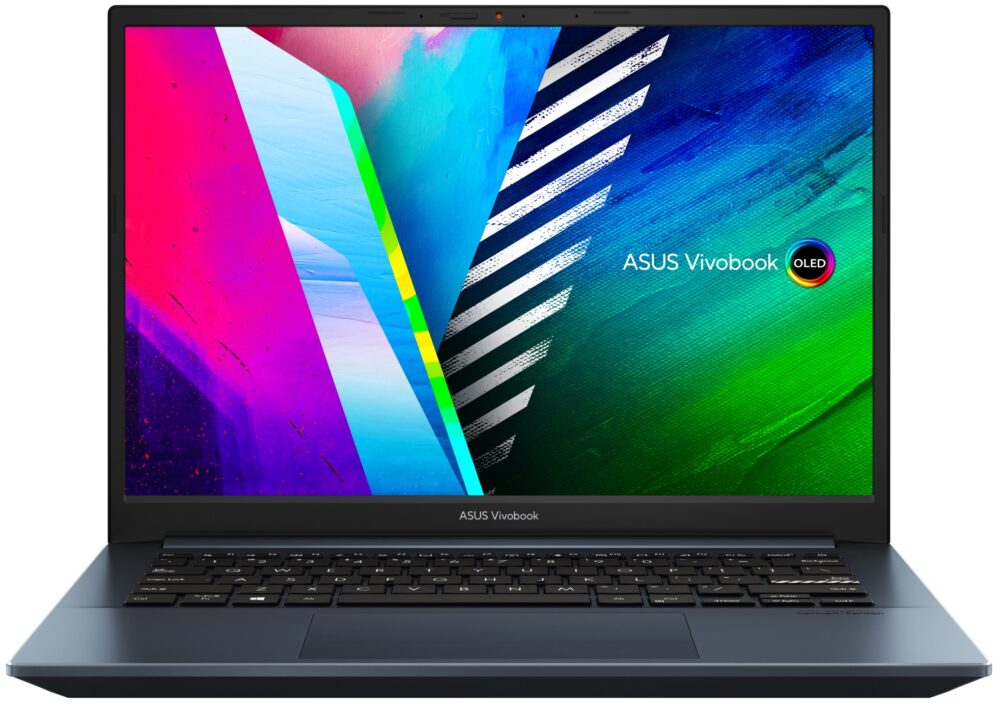 Specifications and features
For hardware, we get two Tiger Lake H35 processors, and while they don't have the power of their H45 relatives, are still quite close. You get the Core i5-11300H and the Core i7-11370H, both of which will do more than fine when it comes to 2D Rendering, drawing, and photo editing. In terms of graphics, you either have to stick with the integrated Iris Xe Graphics G7, which is good, but not as good as the discrete GTX 1650.
Features-wise, you have a Harman/Kardon sound system, a backlit keyboard, and quite a lot of ports, despite the slim chassis. There are a total of three USB Type-A ports (two 2.0 and one 3.2 Gen. 1), one Thunderbolt 4 port, an HDMI connector, a MicroSD card reader, and a 3.5 mm audio jack.
Dimensions
317.4 x 228.5 x 19.2 - 19.3 mm (12.50" x 9.00" x 0.76")
Price
Starting at $549.00
All ASUS VivoBook Pro 14 OLED (K3400) configurations: