[Specs and Info] ASUS TUF Gaming F15 (FX507) and TUF Gaming F17 (FX707) – sleeker logo with sleeker designs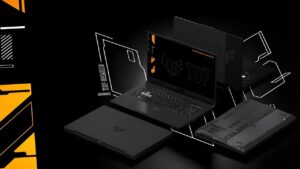 One of the more popular brands in the gaming space, ASUS definitely solidified TUF as its own brand, very different from ROG, but still bringing the ASUS engineering and creativity. Today we have the TUF Gaming F15 and F17, which for the 2022 year bring the new 12th Gen Intel Alder Lake CPUs, and a new design, with a new TUF logo.
In terms of graphics power, the RTX Ampere 30-series are once again making their presence known, but we do see a lack of the latest RTX 3070 Ti and RTX 3080 Ti.
Today we are giving you a quick overview of the ASUS TUF Gaming F15 (FX507) and TUF Gaming F17 (FX707).
Full Specs: ASUS TUF Gaming F15 (FX507) / TUF Gaming F17 (FX707)
ASUS TUF Gaming F15 (FX507) configurations:
ASUS TUF Gaming F17 (FX707) configurations:
Design
The laptops retain the same shape from last year, but have a reworked lid design, with a new simplified TUF logo and a status Crosshair LED, which lights up to indicate the status of the laptop when it comes to power consumption, battery life, and system load. The lid has either an embossed TUF logo, sitting in the middle or an engraved TUF logo, half of which is displayed negative space. In terms of dimensions, the new F15 weighs 2.20 kg, 500 grams lighter than the F17, which stands at 2.70 kg. They are pretty similar, when it comes to the thickness, with only a 0.5 mm difference, with 24.9 mm for the F15 and 25.4 mm for the F17.
Display
The TUF Gaming F15 has three 15.6-inch IPS display offerings. There are two Full HD panels with either 144 Hz or 300 Hz refresh rates. The latter option also fully covers the sRGB color gamut. The third option has an increased QHD resolution and a 165 Hz refresh rate. Going over to the TUF Gaming F17, it has a single display option with a Full HD resolution and a 144 Hz refresh rate.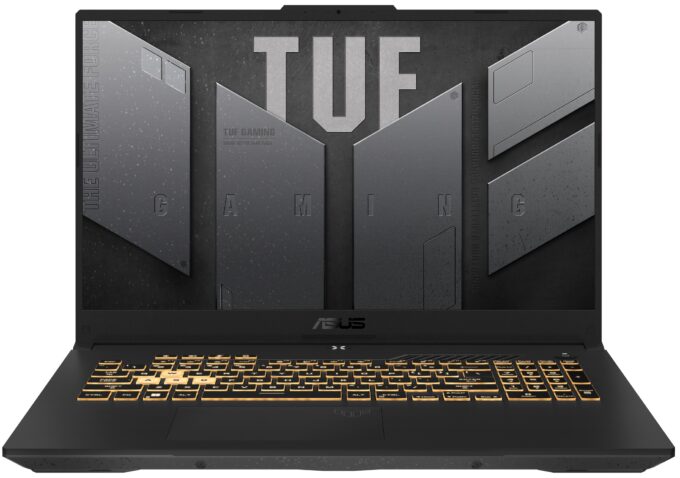 Specifications and features
Both laptops come with the same hardware options. In terms of computing power, we have the Core i5-12500H and the Core i7-12700H. The Core i5 has 4 Performance cores and 8 Efficiency cores, along with a boost speed of 4.50 GHz. In daily use and low-resource tasks, the Efficiency cores will mostly work by themselves, with the high-performing quartet kicking in when you're gaming, editing, or rendering. The Core i7 has two more performance cores, which should improve rendering performance.
For graphics, there are four GPU offerings, with the RTX 3050, RTX 3050 Ti, RTX 3060, and RTX 3070. The RTX 3070 is the star of the show, coming with a 140W TDP, which absolutely kills at 1080p and 1440p.
The I/O is a bit better, simply because the laptop uses Intel hardware, offering two USB Type-A 3.2 (Gen. 1) ports, two USB Type-C 3.2 (Gen. 2) ports, with one of them, also bringing Thunderbolt 4 support, an Ethernet port, and a 3.5 mm audio jack. Contrasting with its ROG relatives, these devices do come with a Webcam, which is quite visible. The top bezel of the lid has a reverse notch, which houses the hardware, in order to maintain the rest of the bezels thin.
All ASUS TUF Gaming F15 (FX507) configurations:
All ASUS TUF Gaming F17 (FX707) configurations: