[Specs and Info] ASUS TUF Dash F15 (FX517) – slim chassis and no compromises in the performance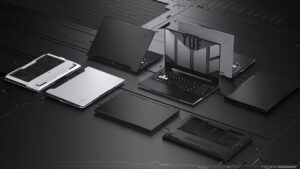 Slim gaming notebooks seem like the natural progression of gaming hardware. With each year, you get more and more powerful components, that are more power and thermo-efficient, thus you can fit them in smaller laptops.
This is where the TUF Dash comes in, which is quick on its feet, while bringing the latest in terms of tech, with Alder Lake and Ampere under the hood. The device is also quite versatile, offering several display options with higher resolutions and increased refresh rates, some of which can be used for professional work. When you pair this with the streamlined design, you really have a winning formula for a laptop that can have a wide user base.
Today we are giving you a quick overview of the ASUS TUF Dash F15 (FX517).
ASUS TUF Dash F15 (FX517): Full Specs
Design
The laptop uses aluminum for the lid and plastic for everywhere else. On the previous TUF Dash, we also saw a honeycomb support structure on the inside, which further strengthened the body, which we hope is present here as well. The new device also still has the MIL-STD-810H certification, meaning that it can sustain a decent amount of abuse.
In terms of the design itself, we have a modern approach with sharp edges, chamfered corners, and an ErgoLift hinge, which lifts up the back end of the laptop, allowing the fans to suck more air from the bottom. We said that this was a portable laptop and we meant it, as it weighs only 2.00 kg and has a profile of 19.9 mm, which is very good for a 15.6-inch gaming notebook.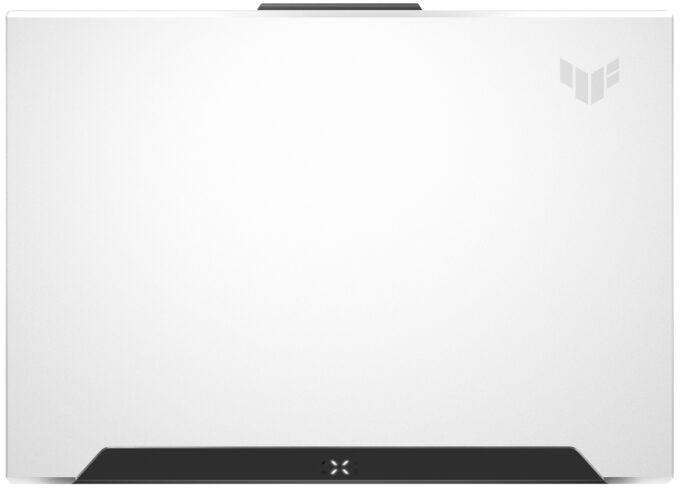 Display
There are three display options. The base configuration has a Full HD IPS display with a 144Hz refresh rate and Adaptive Sync. From there you can upgrade to a Full HD IPS panel with a 300Hz refresh rate and 100% sRGB coverage. The final option gets a QHD IPS panel with 100% DCI-P3 coverage.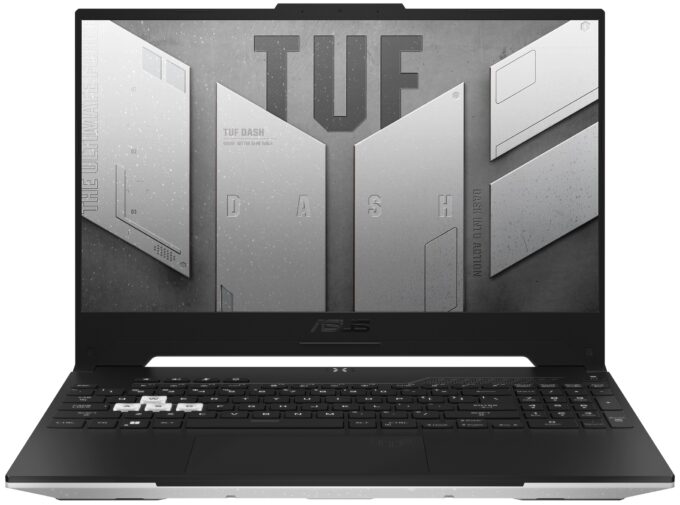 Specifications and features
Hardware-wise, the laptop offers two Alder Lake-H CPUs with either a Core i5-12450H or a Core i7-12650H. The former has a total of 8 cores and 12 threads, while the Core i7 has 10 cores and 16 threads. This is fantastic for pure performance, but also for reducing the power consumption, since the Efficiency cores are pretty good by themselves, especially when you're not doing resource-intensive tasks.
Graphics-wise, there are four Ampere GPUs, starting with the entry-level RTX 3050 (75W) and RTX 3050 Ti (75W), the mid-range RTX 3060 (85W), and going as high as the RTX 3070 (105W). These GPUs aren't the fastest ones, but even at 1440p, the RTX 3070 will offer plenty of power.
Being that these laptops use Alder Lake, they come with DDR5 memory running at 4800MHz. The memory is upgradeable through two SODIMM slots, but with up to 32GB out of the box, you'll hardly need to use them. In addition to that, DDR5 memory is quite expensive as of now.
In terms of I/O, there are two USB Type-A 3.2 (Gen. 1) ports, two USB Type-C 3.2 (Gen. 2) ports, one of which has Thunderbolt 4 support, an HDMI 2.0b, an Ethernet port, and a 3.5 mm audio jack.
Dimensions
354 x 251 x 19.9 - 20.7 mm (13.94" x 9.88" x 0.78")
Price
Starting at $799.44
All ASUS TUF Dash F15 (FX517) configurations: