[Specs and Info] ASUS ROG Zephyrus G16 (GU603, 2023) – ASUS is changing the status quo when it comes to gaming laptops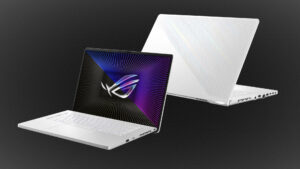 The Zephyrus G15 is no more, as we greet and welcome the ASUS ROG Zephyrus G16, equipped with powerful Raptor Lake H-series processors and the brand new RTX-40 series GPUs. It's safe to say that the whole laptop community is pretty excited about the new hardware, as it's been about two years since we've last gotten new graphics cards for laptops.
The 16-inch form factor also means that the displays are now taller, implementing the 16:10 aspect ratio, which makes the laptops also great for video editors, designers, and general productivity freaks.
Today we're giving you a quick overview of the ASUS ROG Zephyrus G16 (GU603, 2023).
ASUS ROG Zephyrus G16 (GU603, 2023): Full Specs
Design
Compared to last year's Zephyrus G15, the G16 comes with an extra 100 grams of weight, stopping the scales at 2.00 kg, as well as a few extra millimeters added to the thickness, (19.9 mm on the G15 vs 22.9 mm on the G16). The chassis retains the same materials from last year, with aluminum and magnesium, which contribute not only to the aforementioned portability but should also keep the laptop rigid and able to withstand the tests of everyday use.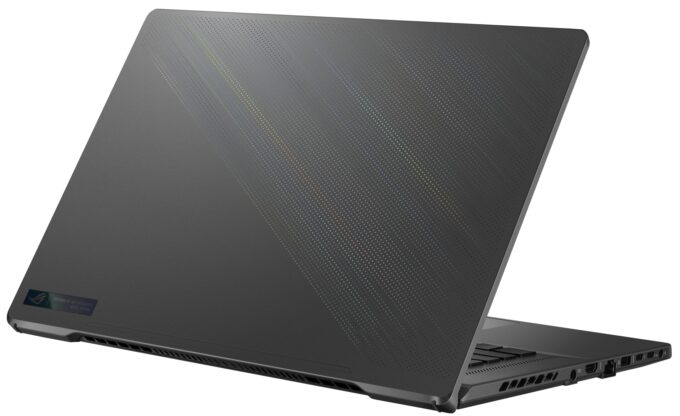 Display
There are two displays available, one that's branded as a ROG Nebula Display, with a QHD+ resolution 240Hz refresh, 100% DCI-P3 coverage, a 3ms response time, G-Sync and Adaptive-Sync, Pantone validations. The other panel has a lower FHD+ resolution, a 165Hz refresh rate, 100% sRGB coverage, and the same G-Sync and Adaptive-Sync support. Both displays come with a MUX switch, to improve gaming performance, as well as Advanced Optimus, so you don't have to switch it on and off manually, the laptop will do it automatically for you.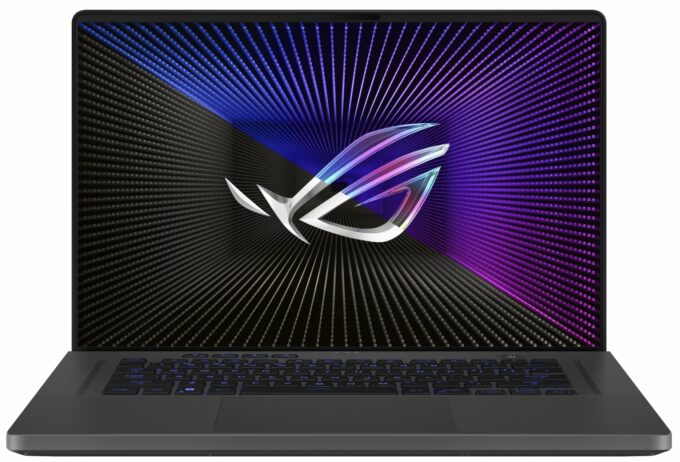 Specifications and features
The Core i9-13900H must be ASUS' favorite CPU, as they're chucking it in every laptop that you can imagine. It's for good reason, as with its 14-core/20-thread setup, there's hardly anything that can oppose it. The GPU selection is well thought out, starting with an RTX 4050, which we're expecting to perfectly handle gaming at 1080p. From there, the RTX 4060 takes off, handling QHD games. Lastly, for performance maniacs, there's the RTX 4070, which should murder any game, even at 1600p.
Cooling everything down is a setup with liquid metal on both the CPU and GPU, six heat pipes, and three fans, with 84 blades each. The blades are curved and shaped like a feathered wing, so it moves more air with less noise (according to ASUS).
Inside the device, there's a large 90Wh battery, and with the supposed efficiency improvements of ADA 40-series RTX GPUs, we hope battery life is good. The Raptor Lake processors also have to contribute to that, as despite carrying separate efficiency cores, the 12th Gen chips weren't the most efficient CPUs last year.
Audio is an area where a lot of laptops fail, so seeing ASUS go hard here is making us all warm and fuzzy inside, as with a front-firing setup and 6 speakers total, we hope the quality is elevated and a new status quo is reached regarding laptop sound.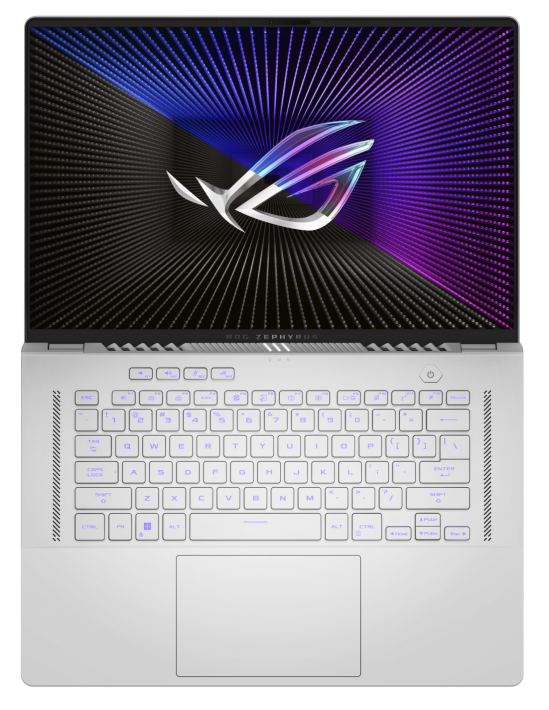 Dimensions
355 x 243 x 19.9/20.5 - 22.3/22.9 mm (13.98" x 9.57" x 0.78")
Price
Starting at $1649.99
All ASUS ROG Zephyrus G16 (GU603, 2023) configurations: