[Specs and Info] ASUS ROG Strix G17 G713P (2023) and ROG Strix SCAR 17 G733 (2023) – Zen 4 finally makes an appearance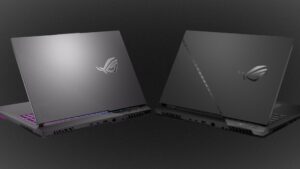 There's nothing like ASUS's ROG laptops when it comes to pure performance, attention to detail, and the overall brand presence that ROG has. 2023 sees the expansion of their laptop portfolio, introducing the Strix G16 and G18 laptops, with more performance and better displays. Today we have two 17.3-inch laptops with the more standard 16:9 aspect ratio, the 2023 versions of the Strix G17 and the Strix SCAR 17.
Rather than going in the same direction as the G16 and G18, which use the Core i9-13980HX, these ROG laptops settle for AMD and its most powerful CPU to date, the Zen 4-based Ryzen 9 7945HX. To handle the gaming side of things, you get the RTX 40-series graphics with very high TGPs, which leaves us thinking that ASUS is still giving AMD and Intel the same attention.
Today we're giving you a quick overview of the ASUS ROG Strix G17 G713P (2023) and the ROG Strix SCAR 17 G733 (2023).
Full Specs: ASUS ROG Strix G17 G713P (2023) / ROG Strix SCAR 17 G733 (2023)
ASUS ROG Strix G17 G713P (2023) configurations:
ASUS ROG Strix SCAR 17 G733 (2023) configurations:
Design
The two laptops look basically identical to their 2022 versions, which is fine, as the designs are pretty good. There is a fair bit of RGB on the lid, the keyboard, as well as the front. On the G17, there is a whole RGB strip, while the SCAR 17 has RGB on the front corners of the base. The lids on both machines are made of metal, while the bases are still plastic, however, rigidity is very good. When you look at the top bezel, you can see that the webcam makes a comeback, whereas previous iterations lacked one. We never really understood why ASUS removed it in the first place, as it doesn't add that much bulk on top. In terms of dimensions, the Strix G17 weighs 2.70 kg and has a profile of 30.8 mm at its thickest point. The SCAR 17 is heavier, with 3.00 kg of weight, but a thinner profile of up to 28.3 mm. On the back, you'll find the ROG Armor Cap, of which you can 3D print your own, using selected designs from the ROG website, or designing your own of you're good at CAD, as its damn sure that the laptop is.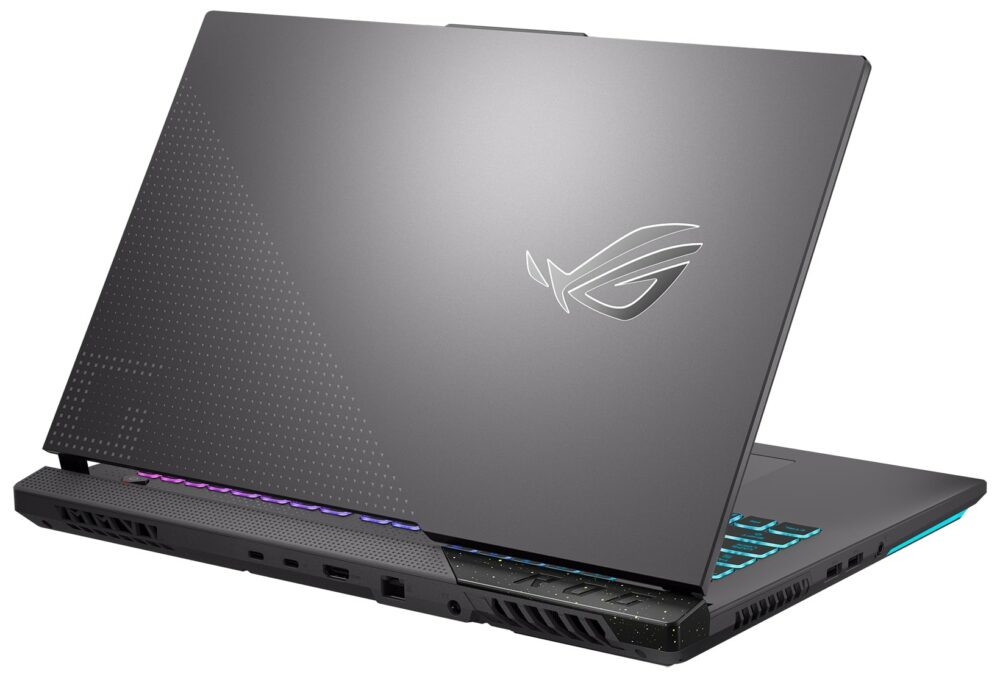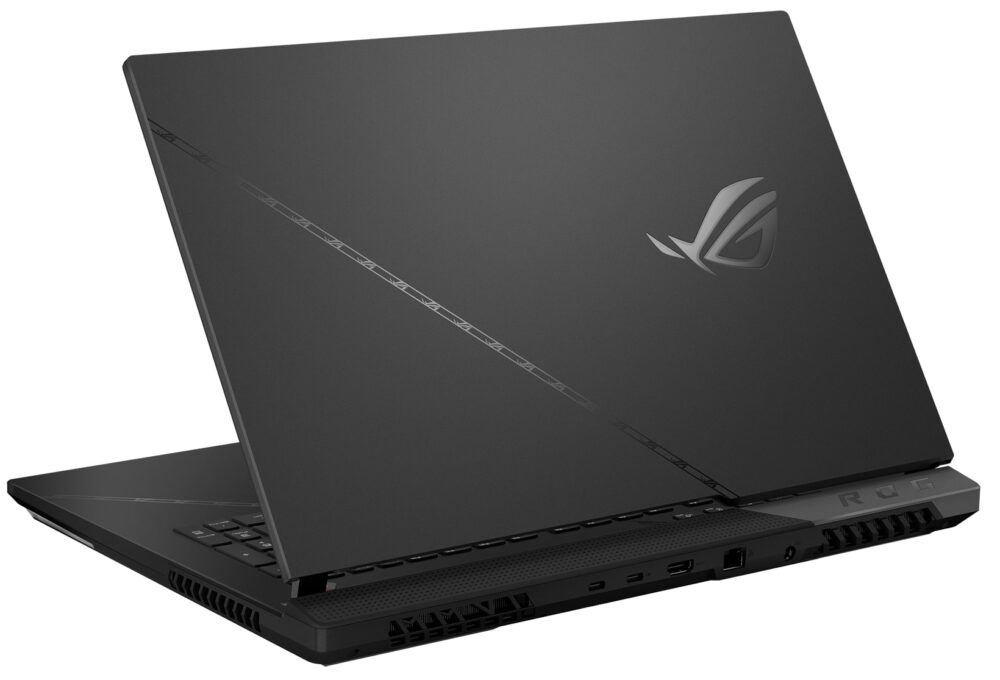 Both laptops have the same port selection, which includes two USB Type-A 3.2 (Gen. 1) ports, two USB Type-C 3.2 (Gen. 2) ports, an HDMI 2.1 port, a LAN port, and a 3.5 mm audio jack.


Display
Both laptops have the same ROG Nebula Display, with a QHD 240Hz IPS Panel. It covers 100% of the DCI-P3 gamut and a 3ms response time. The two laptops do have a MUX switch as well as NVIDIA Advanced Optimus, which means you can automatically switch between discrete and integrated graphics without needing a restart.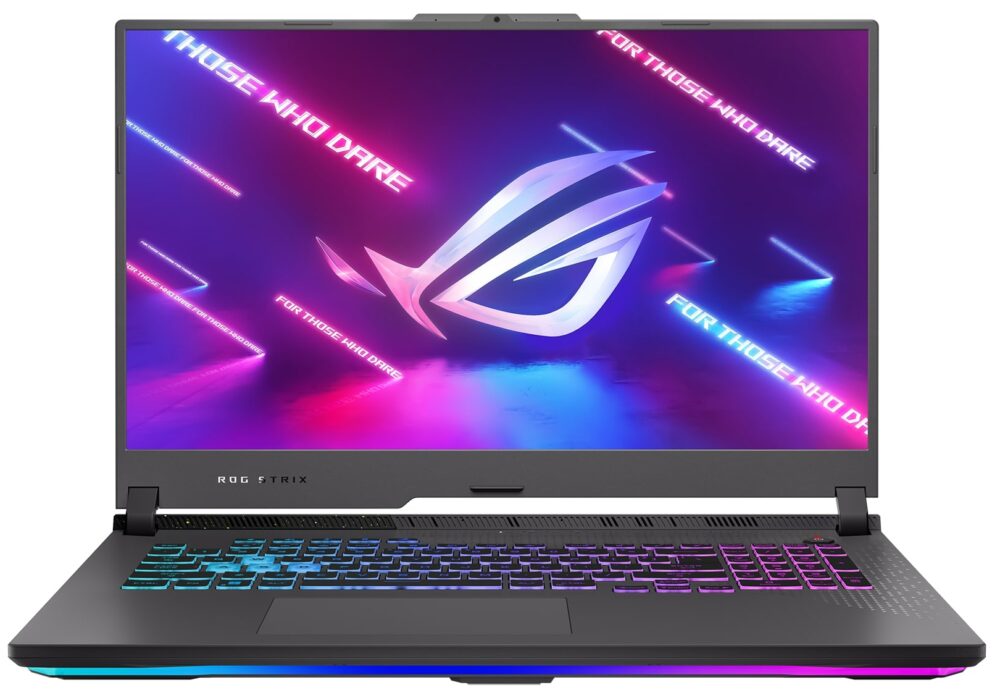 Specifications and features
For processors, you only have the Ryzen 9 7945HX, a 55W chip with 16 cores and 32 threads. We're expecting good performance out of it, thanks to the new Zen 4 architecture. It can also reach a boost speed of 5.45 GHZ, so depending on the cooling, you might get some amazing results. There's also 82MB of cache, which can impact gaming performance. The CPU comes with the Radeon 610M iGPU, which has the RDNA 2 architecture and can be fine for encoding video in the background while you're playing a game. Overall, it's useful to have an iGPU for multitasking or if you're using the laptop for streaming. When you really need GPU performance, you can rely on the RTX 40 series. The Strix G17 offers the RTX 4050, RTX 4060, and RTX 4070, all with a 140W TGP. On the other hand, the SCAR 17 uses the RTX 4080 and RTX 4090, with a 175W TGP. To keep everything cool, the laptops have liquid metal on top of the CPU and GPU, as well as a vapor chamber with two Arc Flow fans, which have a winged blade design. It's supposed to produce less noise, so we'll see once we review a ROG product from this year.
Dimensions
395 x 282 x 23.4 - 30.8 mm (15.55" x 11.10" x 0.92")
Price
Starting at $1795.00
Dimensions
395 x 282 x 23.4 - 28.3 mm (15.55" x 11.10" x 0.92")
Price
Starting at $2899.00
All ASUS ROG Strix G17 G713P (2023) configurations:
All ASUS ROG Strix SCAR 17 G733 (2023) configurations: