[Specs and Info] ASUS ROG Flow X16 (GV601, 2023) and ROG Flow Z13 (GZ301, 2023) – The most powerful convertibles you'll ever find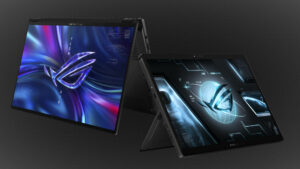 Kicking off our CES coverage are two devices that innovate the gaming space for a second year in a row. The ROG Flow X16 convertible and the ROG Flow Z13 tablet now have been updated to Intel's newest 13th Gen Raptor Lake H-series processors and the ADA 40-series graphics from NVIDIA.
ASUS is bringing a lot of features to all of its 2023 ROG gaming laptops, including Advanced Optimus and a MUX Switch, so you can get the best possible performance regardless of whether you're gaming or doing other types of work, which is guaranteed, considering the display selection that we have right here.
Today we're giving you a quick overview of the ASUS ROG Flow X16 (GV601, 2023) and the ROG Flow Z13 (GZ301, 2023).
Full Specs: ASUS ROG Flow X16 (GV601, 2023) / ROG Flow Z13 (GZ301, 2023)
ASUS ROG Flow X16 (GV601, 2023) configurations:
ASUS ROG Flow Z13 (GZ301, 2023) configurations:
Design
The ROG laptops are all about that gamer aesthetic, however, year by year, ASUS modernizes it, so now it looks futuristic and sleek at the same time. The X16 retains the lid pattern from last year but adds a purple ROG logo in the corner, which sits tastefully. We would expect the laptop to be fully made out of metal, so durability should be okay if not great. Despite having a 16-inch form factor, the base lacks a NumPad, deciding on using the space for front-firing Dolby Atmos stereo speakers.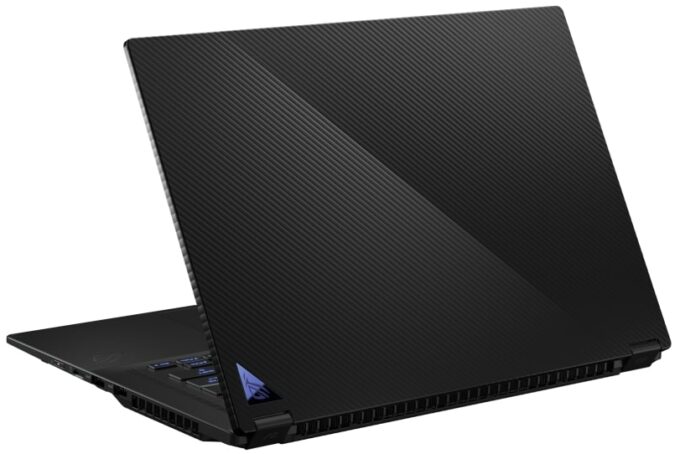 As for the Z13, it retains the metal chassis from last year, as well as the kickstand and the glass panel on the back, which is illuminated and gives you insights inside the machine. The back of the tablet is decorated with lines, digits, and the "For those who dare" tagline.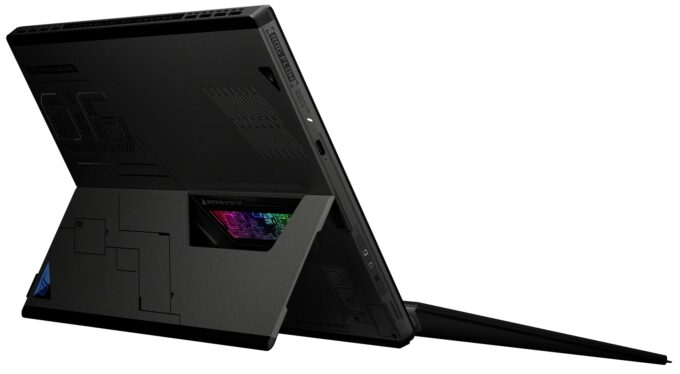 | | Weight | Height |
| --- | --- | --- |
| ASUS ROG Flow X16 (GV601, 2023) | 2.20 kg | 19.4 – 21.9 mm |
| ASUS ROG Flow Z13 (GZ301, 2023) | 1.18 kg | 12.9 – 14.2 mm |
Display
The Flow X16 brings a ROG Nebula HDR Display, which is sort of like an internal standard that ASUS has so that consumers can more easily detect quality panel offerings without having to delve into specifications.
To meet the criteria of a Nebula panel, it has to have a resolution of QHD or higher, as well as a refresh rate of 240Hz or higher, and cover 100% of the DCI-P3 gamut. The panel of the Flow X16 does all three, even increasing the resolution to QHD+, thanks to its 16:10 aspect ratio. The unit uses MiniLED backlighting and has a 3 ms response time, as well as Adaptive-Sync and a Pantone validation.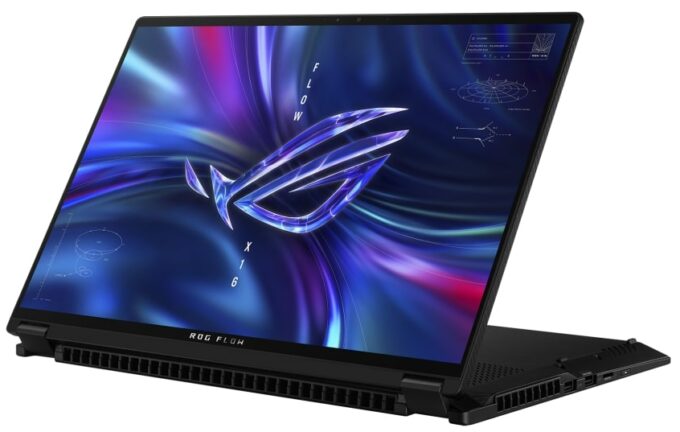 The Flow Z13 comes with a ROG Nebula Display, without the HDR part. Still, at 13.4 inches, it has a very impressive QHD+ resolution, a 165Hz refresh rate, and 100% DCI-P3 coverage, along with the Adaptive-Sync and Pantone Validation.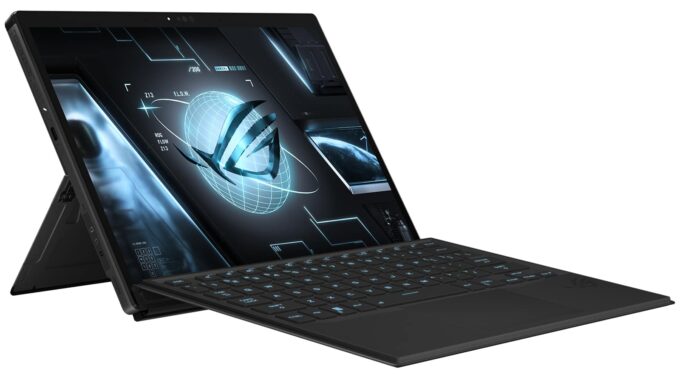 Specifications and features
Both devices come with the Core i9-13900H, a 14-core CPU with 20 threads, which sounds totally crazy when you factor in the portability of the Z13. For graphics, the X15 comes with three 40-series RTX GPUs, a 105W RTX 4050, as well as a 120W version of the RTX 4060 and the RTX 4070. The Flow Z13 brings a more modest wattage range of 65W for all three of its offerings. You get to pick between an RTX 2050, an RTX 4050, or an RTX 4060.
In terms of ports, the Flow X16 has a decent selection of two USB Type-A 3.2 (Gen. 2) ports, one USB Type-C 3.2 (Gen. 2) port, a Thunderbolt 4 port, an HDMI 2.1 port, a MicroSD card reader, an audio jack, and a ROG XG Mobile interface.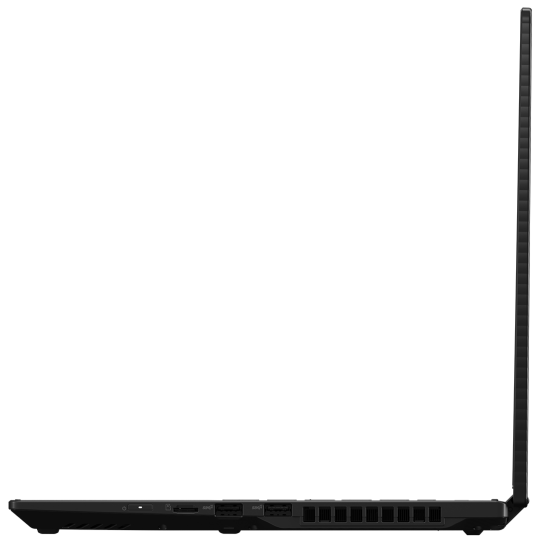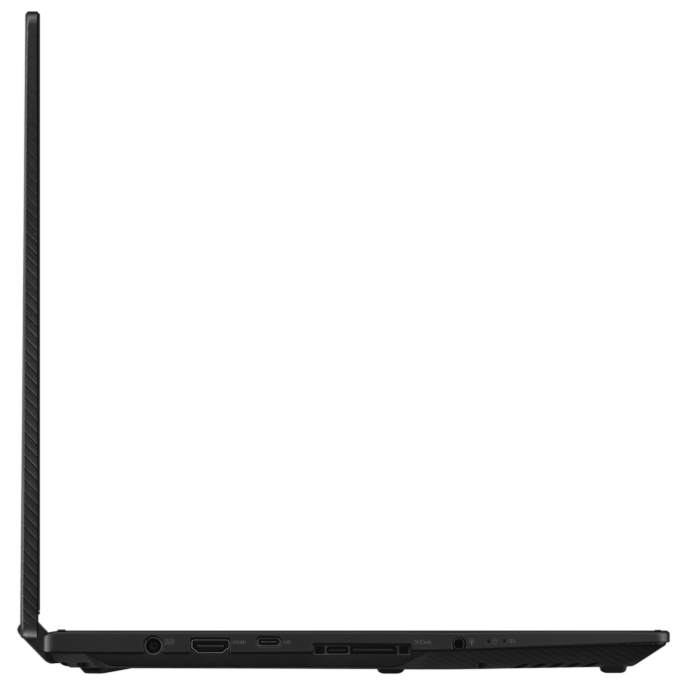 Despite being a 13-inch tablet, the Flow Z13 brings a capable selection of ports, including one USB Type-A 3.2 (Gen. 2) port and one Type-C 3.2 (Gen. 2) port, a Thunderbolt 4 port, a MicroSD card reader, and a 3.5 mm audio jack, with the same ROG XG Mobile connector for an external GPU.


The two devices also bring liquid metal on top of the CPU and GPU. As for cooling, the Z13 has a vapor chamber with two fans and two heat sinks, while the X16 relies on a standard setup with three fans and a total of six heat pipes. We can't wait to test the performance of these machines, and you can be sure that the cooling is something that we're very curious about.
Dimensions
355 x 243 x 19.4 - 21.9 mm (13.98" x 9.57" x 0.76")
Dimensions
302 x 206 x 12.9 - 14.2 mm (11.89" x 8.11" x 0.51")
Price
Starting at $2998.00
All ASUS ROG Flow X16 (GV601, 2023) configurations:
All ASUS ROG Flow Z13 (GZ301, 2023) configurations: