[Specs and Info] ASUS ExpertBook B9 (B9450, 12th Gen Intel) – Is this the lightest 14-inch laptop?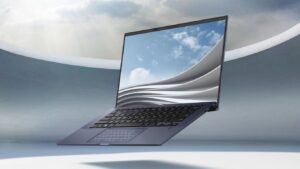 The current display size sweet spot for business laptops seems to be 14-inches, which allows you to have enough screen real estate for more apps but isn't that big either to be cumbersome to carry around. The laptop that we have for today is also one of the lightest ever to exist, while still using a capable CPU, both for daily use, but also for productivity work.
Today we're giving you a quick overview of the ASUS ExpertBook B9 (B9450, 12th Gen Intel).
ASUS ExpertBook B9 (B9450, 12th Gen Intel): Full Specs
Design
The ExpertBook B9 has been able to reach such a low weight of 0.88kg, by employing magnesium alloy for the whole machine. The material is very durable, which allows ASUS to use thinner sheets, lowering the weight and the thickness. The profile of the laptop is only 14.9 mm. The device has a Navy Blue finish. The lid comes with a lever mechanism, which lifts the rear end by quite a lot, ensuring a proper supply of fresh air for the cooling.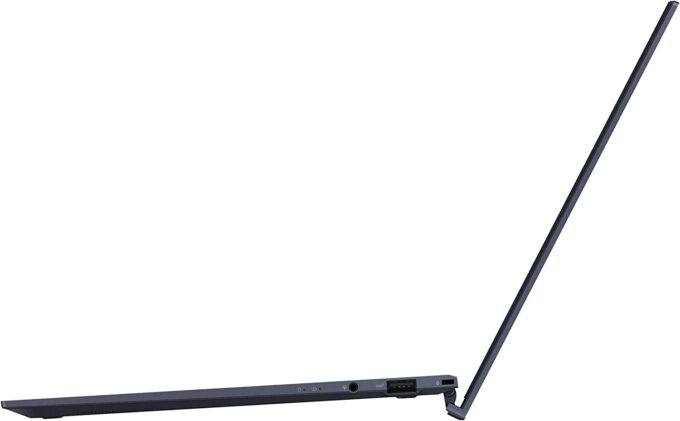 Display
On the front, we have an FHD IPS panel with 400 nits of brightness and 100% sRGB coverage. The screen-to-body ratio is also astonishingly high, at 94%, meaning next to no bezels.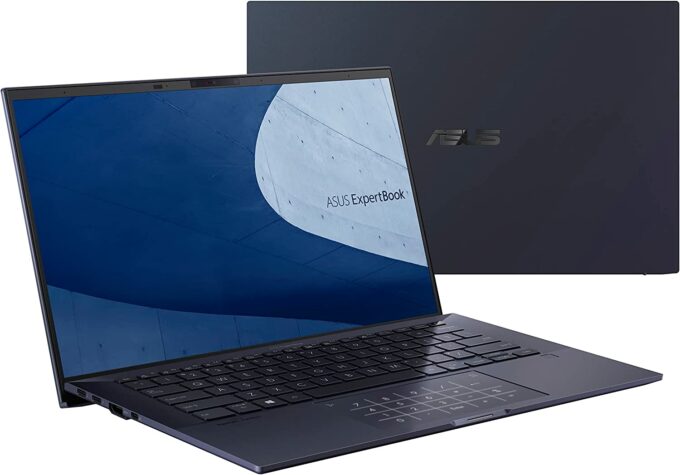 Specifications and features
The laptop only has the Core i7-1255U in terms of the hardware selection, but we think that it's a perfect match, both with its efficiency, thanks to the high number of Efficiency cores, and with the performance, as all the cores can kick into high gear when it's needed. This flexibility is ideal for thin & light laptops so that you don't even need to carry a charger around, but even if you did, it's only a 65W adapter, which is about as large as a phone charger.
Another aspect that must be covered by a business laptop is security, and this is where the B9 shines. It has an NFC reader, for unlocking the laptop with a keycard, along with an IR face recognition and proximity sensors, which automatically unlock the laptop when you're close to it, locking it when you leave. There's also a fingerprint reader, as well as a TPM 2.0 chip, which stores that security information. The webcam also has an FHD resolution and a privacy shutter.
The I/O selection of the device is pretty good, with one USB Type-A 3.2 (Gen. 2) port, two Thunderbolt 4 ports, an HDMI 2.0b port, a 3.5 mm audio jack, and a mini HDMI port, which is solely used as a substitute for an RJ-45 port.

Dimensions
320 x 203 x 14.9 mm (12.60" x 7.99" x 0.59")
Price
Starting at $1836.99
All ASUS ExpertBook B9 (B9450, 12th Gen Intel) configurations: