[Specs and Info] ASUS doubles down on the productivity and creative devices with its ZenBook Pro Duo 15 OLED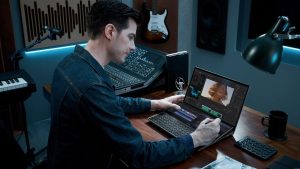 ASUS has several brands and lineup, that sometimes intertwine, but most of the time each of them serves its own unique purpose.
The ZenBook lineup has had devices that have beеn multi-purpose, but their newest ZenBook Duo laptops double down on the designers and workaholics by implementing dual displays with amazing quality and enough performance to allow you to do anything you want.
We already covered the smaller ASUS ZenBook Duo 14, so for today, we have the big gun here, in the face of the ZenBook Pro Duo 15 OLED.
ASUS ZenBook Duo 15 OLED: Full Specs

Design
To begin with the design, this laptop is as stylish and as sleek as a laptop with two displays can get. The body is made out of metal, which gives it a premium feeling and the much-needed sturdiness and rigidity. When you open the lid the base lifts a little, which gives the cooling some more room to breathe, which ASUS calls "Ergolift". The secondary display also lifts up slightly so that you have a better viewing angle when looking at it. The trackpad is on the side of the keyboard, and it doubled as a Numpad, with the number popping up with the press of a button.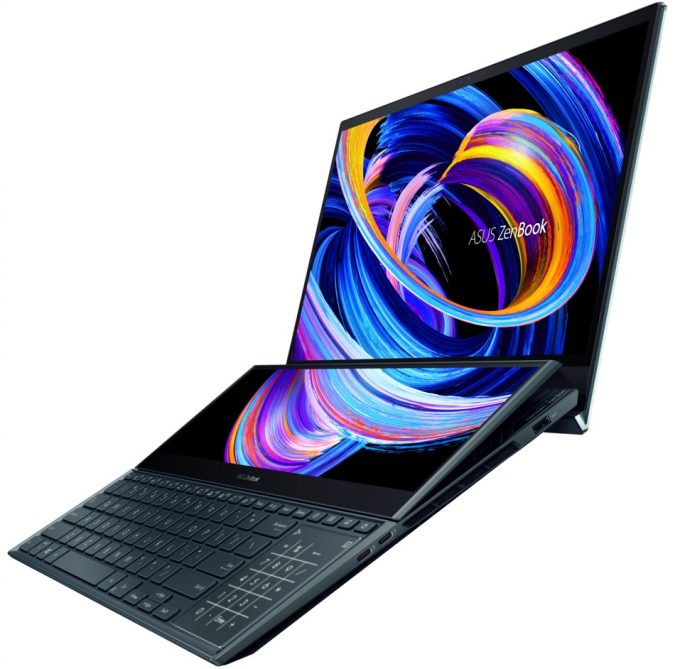 Displays
Both displays on the ZenBook Pro Duo are great to look at and are of great quality. The main display has a size of 15.6-inches,  a 4K resolution, and has an OLED matrix, ensuring detailed and crisp images. Additionally, the panel has 100% coverage of the DCI-P3 color gamut, which is among the best that you can get for any price. The secondary display, which ASUS calls the "ScreenPad Plus", has a size of 14.09-inches, and it also has a 4K resolution along with touch support.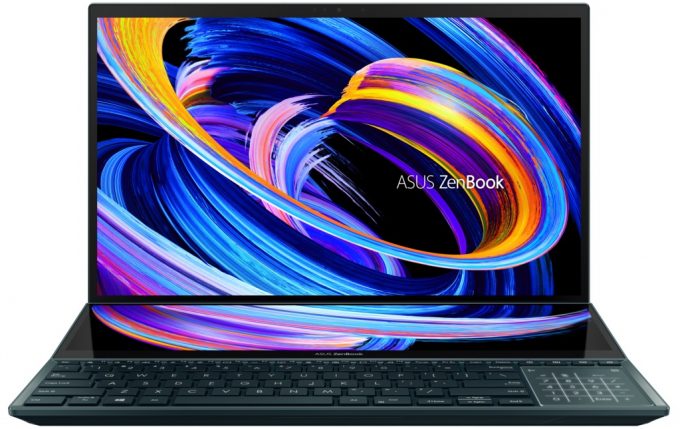 Specifications and features
The spec sheet is very impressive, with both CPUs and GPUs being among the most powerful in their class. For the CPU you get to choose between two Intel options, with the top one being the Core i9-10980HK, which might use older architecture, still gives many modern processors a run for their money. On the GPU side, you get the integrated GPU from the Intel processor that you choose, but who are we kidding, you're not using that. The main GPU is the brand new RTX 3070, which looks to become a great performer both for gaming and for rendering.
The laptop is packed with features, some of which include, a sound system by Harman-Kardon, which are industry leaders, the aforementioned dual displays, an array microphone, along with Wi-Fi 6 and Bluetooth 5 connectivity. The included  IR camera allows for face recognition, ensuring privacy and security for your work.
Dimensions
359 x 249 x 21.5 mm (14.13" x 9.80" x 0.85")
Price
Starting at $2799.99
All ASUS ZenBook Pro Duo 15 OLED: