[Specs and Info] AORUS 5 (Intel 12th Gen) – simple branding, lots of power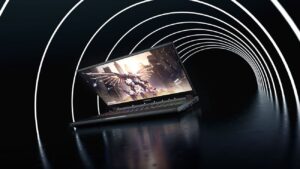 With a small laptop portfolio, comes simple and understandable branding. GIGABYTE and their AORUS sub-brand are the clear evidence of this with no additional numbers, letters, and whatnot.
Here we have their AORUS 5, which is a mid-range gaming notebook that very closely resembles the GIGABYTE AERO 5, when it comes to the design, however, lacks the 4K panel which isn't needed for gaming. What the AORUS 5 offers is the Core i7-12700H that can be paired with several Ampere GPUs, along with FHD displays with a high refresh rate and high color coverage.
Today we are giving you a quick overview of the AORUS 5 (Intel 12th Gen).
AORUS 5 (Intel 12th Gen): Full Specs
Design
The laptop comes with a plastic exterior that has a matte black color. It is very sleek and doesn't give off the vibes of a gaming device. The rear end is a tad more aggressive with large heat vents that mimic the taillights of a car. On the front, the laptop sports sharp edges and round corners, along with the AORUS Eagle logo on the lid and a wordmark on the bottom bezel. The base has a manual shutter for the Webcam, which can film HD content. In terms of weight and height, the laptop measures 2.30 kg and 23.6 mm, respectively.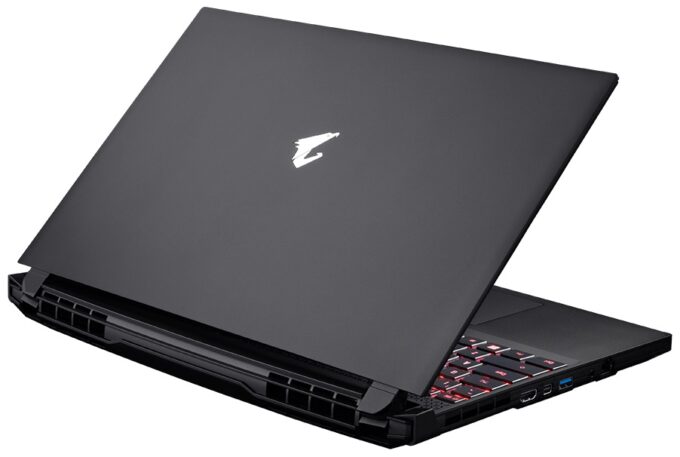 Display
The laptop has two IPS Full HD panels with either a 144Hz or 240Hz refresh rate. Both of them also supposedly cover 99% of the sRGB color gamut, which is neat if you plan to use the device for some professional work.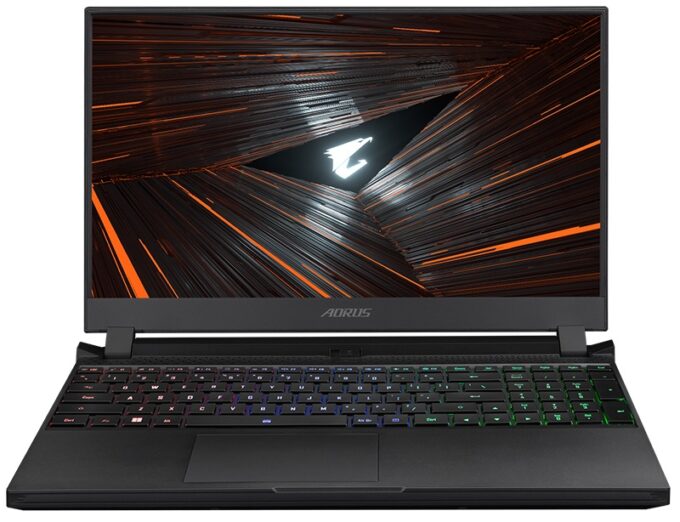 Specifications and features
The Core i7-12700H is a great choice because it can both handle gaming and productivity. With 6 Performance cores, 8 Emergency cores, and 20 threads total, you can breeze through video editing, 2D and 3D Rendering with ease. However, this is a gaming notebook first and foremost, so you're probably wondering about the GPUs that are available here.
While you don't get the highest performing RTX 3080 and RTX 3080 Ti, you get the next best thing, with the laptop offering up to a 130W RTX 3070 Ti, which at Full HD should demolish whatever you throw at it, while also having high enough FPS to take advantage of the high refresh rate displays.
Features-wise, you have a 3-zone RGB backlit keyboard, which AORUS advertises to be having short key travel, something that isn't exactly what you would want from a gaming device. On the base, you can also see the speaker setup, which has spatial audio support from DTS:X.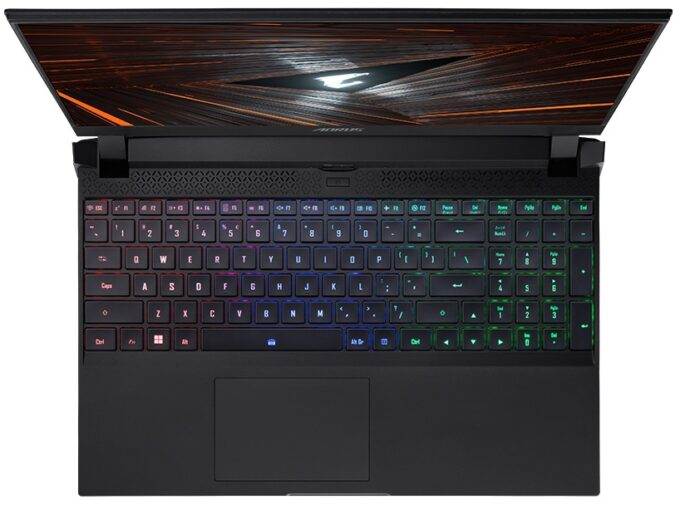 The cooling comes with 5 copper heat pipes and two fans, which AORUS calls Windforce Infinity. Each fan has 83 blades, with the blades having a thickness of only 0.25 mm, which will limit the noise that they make while maximizing airflow.

Dimensions
357 x 254 x 23.6 mm (14.06" x 10.00" x 0.93")
Price
Starting at $1384.00
All AORUS 5 (Intel 12th Gen) configurations: