[Specs and Info] Acer Chromebook Spin 511 and 512 – light and portable everyday devices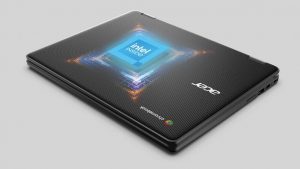 Chromebooks were and still are affordable alternatives to windows laptops that are perfect for many less-demanding consumers. These devices have come a long way, as Google has put a lot of effort, in order to make Chrome OS a suitable and feature-packed operating system that uses far fewer resources to function. Nowadays you can do everything on your browser, and Chromebooks take advantage of that.
Today we are going you a quick overview of the Acer Chromebook Spin 511 (R753T) and Spin 512 (R853TA).
Full Specs: Acer Chromebook Spin 511 (R753T) / Chromebook Spin 512 (R853TA)

Design
The laptops are mainly built from plastic, but they come with a rubber bumper and reinforced construction, which help protect them from drops as high as 122 cm and resist up to 60 kg of downward force. The laptops are made wider on purpose and have reinforced ports, which don't allow for rough play. The keyboard is spill-resistant and comes with a unique drainage system that protects the internals from getting wet. In terms of dimensions, both laptops weigh around 1.30 kg and are 21.08 mm tall.
Display
The displays might be nothing spectacular but they will do a fine job for the purpose of the devices. The Spin 511 comes with an 11.6-inch IPS display with a resolution of 1366 x 768. The Spin 512 has a 12.0-inch IPS display with a 3:2 aspect ratio, a resolution of 1366 x 912. No further information on the displays is given, but we hope that they are PWM-free, while also having adequate brightness and viewing angles.
Specifications and features
The devices are powered by two Intel chips. from the Jasper Lake family. They don't have a lot of power but come with just enough punch to offer smooth performance in web browsing and media consumption. The Spin 511 offers the Celeron N5100, while the Spin 512 also has the Pentium Silver N6000. In terms of graphics, you have the good old Intel UHD Graphics, which will do just fine in daily tasks.
In terms of features, you get Stereo speakers, Wi-Fi 6, and Bluetooth 5.0 support.
Dimensions
297.18 x 205.74 x 21.08 mm (11.70" x 8.10" x 0.83")
Dimensions
297.18 x 231.4 x 21.08 mm (11.70" x 9.11" x 0.83")
Price
Starting at $574.94
All Acer Chromebook Spin 511 (R753T) configurations:
All Acer Chromebook Spin 512 (R853TA) configurations: