Quick look at DEEQ A7 – $199 14-inch laptop with a quad-core CPU and 1TB HDD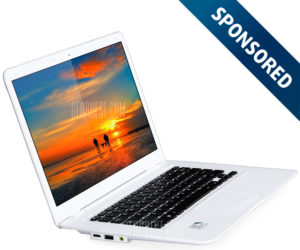 The GearBest online store is famous for its wide variety of affordable mobile devices. One such machine will be in the focus of the present article – DEEQ A7. It is а 14-inch compact laptop with fresh design, decent specs and very good price.
If you are interested in this tablet, you can check its detailed specs, price and availability HERE.
You can also have a look at these attractive Cube tablet promotional offers.
Among the most notable features of DEEQ A7 you will find a quad-core Intel processor, 1 TB HDD and 2 GB of RAM. Additionally, the notebook is a good solution for those of you who travel frequently because of its compactness and reasonable weight. It must be also noted that the website gives you options to choose between different configurations. For example, you can choose 4 GB of RAM and different storage configuration.

Design
The overall design of this laptop is plain and pleasant as white is the dominant color. When you open the notebook, you are presented with a 14-inch 1366×768 p display, which is good enough for your everyday tasks. Above it there is a 1.3MP camera for video calls.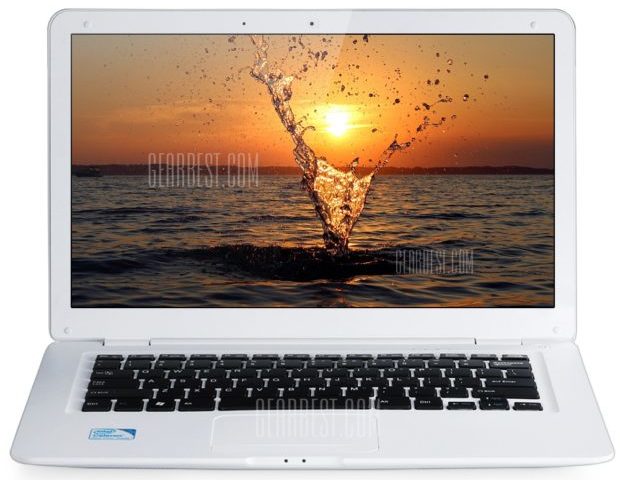 Another thing that will catch your attention is the black keyboard which stands out against the white keyboard tray. Also, if you take a look at the right side you will find a DC jack, USB 3.0 and SD card reader. On the other hand, the left side presents a 3.5 mm headphones jack, USB 2.0 port, Mini HDMI and RJ 45. Not the greatest variety of connectivity options, but still quite enough for the asking price and compactness of this device.
Hardware
There are a few noteworthy details on the hardware front. The first one is the quad-core Intel Celeron J1900 (2.0 GHz) processor, which may not be the latest and greatest CPU but is bound to provide the needed performance for your everyday tasks. Also, graphics performance is ensured by an Intel HD Graphics (1024 MB) GPU, and you can store your favorite lot of images, songs, videos, etc. thanks to the available 1 TB HDD (5400 rpm). Additionally, the RAM is 2 GB but you can choose a configuration with GB. This is actually one of the best parts – our partners allow you to customize your configuration by choosing the RAM capacity and storage option (SSD configurations are possible!) that best suits your needs.
We must also note that the laptop does not come with a pre-installed OS, so you will need to install one on your own. If you want to know more about the features of this device, as well as its price and availability, you can click HERE.

Specs Sheet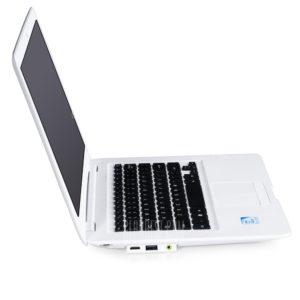 OS
DOS
CPU
Intel Celeron J1900 (4-core, 2.0 GHz, 2 MB cache)
RAM
2 GB (DDR3)
Internal storage
1 TB HDD (5400 rpm)
GPU
Intel HD Graphics (1024 MB)
Display
14-inch 1366×768 display
Connectivity
Wi-Fi 802.11b/g/n, WLAN, Bluetooth 3.0, LAN
Cameras
1.3 MP (front)
Features

SD card reader
1x USB 3.0
1x USB 2.0
mini HDMI
RJ 45
integrated loudspeakers
integrated microphone
3.5 mm headphones jack

Battery
4500 mAh
Dimensions
34.20 x 22.50 x 2.50 cm
Weight
1.361 kg
Gearbest is running a flash sale with great promotions – check it out here: GEARBEST Flash Sale