NVIDIA GeForce RTX 3060 (Laptop, 140W) in 40 gameplay videos with benchmarks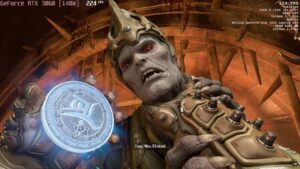 The NVIDIA GeForce RTX 3060 (Laptop, 140W) is probably the fastest mid-range mobile GPU that we have tested up to date. Its biggest advantage is the generous TGP which leads to higher frequencies during gaming, positively affecting the overall performance.
This graphics card is fast enough to battle with a lot of high-end GPUs that have sub 100W TGP. For a mid-range solution, the 140W variant of the GeForce RTX 3060 can be a real problem solver for people who want good performance but at the same time they don't want to spend a fortune on a new device. You can have a look at all the gameplay videos in the playlist below:
https://www.youtube.com/playlist?list=PL5tfZxOrEucHbqsTY2qCyLCX8V2SjOpPD
As always, if you like our videos, please subscribe, hit the notification bell, leave a comment, a thumb up, or share whatever you like.
More great videos are about to come so stay tuned:
LM Benchmarks YouTube channel
All laptops equipped with the NVIDIA GeForce RTX 3060 [140W]