NVIDIA GeForce RTX 3050 (Laptop, 75W) in 34 gameplay videos with benchmarks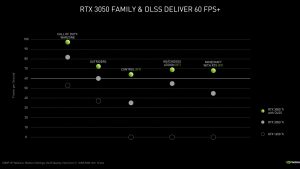 It seems that the mobile NVIDIA GeForce RTX 3050 offers a lot of bang for its price and today we have prepared a decent amount of videos and benchmarks for you guys. Our test laptop is equipped with the GeForce RTX 3050 (75W) – the TGP isn't too low for this kind of GPU and the video card performs decently, especially for a 4GB product.
The good news is that the new chip clearly outperforms some of the previous-gen 4GB video cards like the NVIDIA GeForce GTX 1650 (1024 CUDA / GDDR5 / 50W).
https://www.youtube.com/playlist?list=PL5tfZxOrEucF4FwBWyn8tTXfdE-yG3-5R
As always, if you like our videos, please subscribe, hit the notification bell, leave a comment, a thumb up, or share whatever you like.
More great videos are about to come so stay tuned:
LM Benchmarks YouTube channel
All laptops equipped with the NVIDIA GeForce RTX 3050 [75W]