NVIDIA GeForce MX150 – Benchmarks + Gameplay recordings (GTA V, Doom, Rise of the Tomb Raider)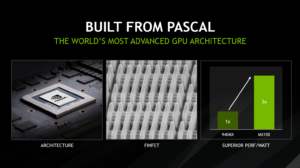 NVIDIA recently announced its new mobile graphics card – the GeForce MX150. It is a Pascal-based GPU aimed at low-end notebooks. It is the direct successor to the GTX 940MX and it should be about 33% more powerful yet three times as efficient.
Let's make a quick run through the specs. The GeForce MX150 features 2 GB of GDDR5 memory and it is based on the same chip (GP108) as on the GT 1030 desktop GPU which means that we could expect similar performance. It is based on the 14nm FinFET manufacturing process and has a base core clock of 1468 MHz. It also has support for NVIDIA G-Sync, Vulkan API and it is VR ready which makes a huge step forward compared to Intel's integrated GPUs that the MX150 will rival with.
We got our hands on a notebook equipped with the GeForce MX150 and we tested it with some games. Now we are going to present you with our benchmarks scores and actual gameplay footage. Before we draw any conclusions, we want to say that we are impressed with the performance of this little bad boy.
You can check all available notebooks equipped with the GeForce MX150 over here: http://amzn.to/2u4i5S8
Gameplay footage and benchmarks
We have tested our notebook with a few triple-a titles such as GTA V,  Rise of the Tomb Raider and Doom. First of all, here is the gameplay+benchmark footage of GTA V:
We played it on Full HD (1920 x 1080p) resolution on a mixture of Medium and High graphics settings and we got an average frame rate of 34 fps with as little as no drops below 30. This may not seem a lot but it's more than what consoles can achieve and if you bump down the graphics settings you could probably even get 60 fps. This is surely more than what the conventional iGPUs or GTX 940MX could provide you with and even though it's not something impressive it's more than enough to enjoy a quick game at the end of the day.
Let's move onto Rise of the Tomb Raider:
Rise of the Tomb Raider is a more demanding title than GTA V and we had to put all the graphics settings to their lowest level to get a playable frame rate at Full HD resolution. However, the average frame rate was 40 fps with little occasional drops below 30 and sometimes peaks of 50. It's not the best performance out there but it's still fully playable.
And last but not least, DOOM:
From all three games that we tested, the best performance is on DOOM. We got an average of 61 fps on Full HD resolution with the graphics settings set all the way up to High using OpenGL 4.5 API, no anti-aliasing though. There isn't much to say – hitting 60 fps on Full HD with cracked graphics is more than what you need to have a good time playing the game, of course, that is if you don't have very high standards but if you do you probably wouldn't buy a notebook with a budget GPU.
Verdict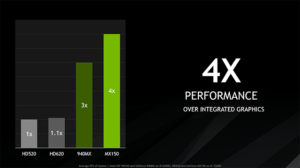 As we see from the gameplay footages, the GeForce MX150 is more than capable of running most every modern game at least to some extent. Less demanding titles like GTA V and DOOM could even be played with a higher frame rate and/or graphics settings. E-sports titles would run without any hiccups.
The GeForce MX150 surely is a big improvement over the integrated Intel Graphics and NVIDIA's GTX 940MX just as the company claims. You can check out a comparison between a few budget graphics cards including the 940MX that we did earlier this year and see for yourself just how capable is the new GeForce MX150. It could potentially replace the GTX 1050 as the most budget GPU capable of gaming you can get. Of course, it won't make the GTX 1050 obsolete but it will fill the gap between integrated GPUs and the low-end GTX 1050.
NVIDIA also claims it to be a lot more power efficient saying it has three times the performance per watt of the GTX 940MX which we believe to be true because of the new Pascal architecture. This could mean that ultrabooks and other low-powered devices could now have the horsepower of an external GPU without hurting the battery life as much. We are looking forward to doing such tests of our own.
Meanwhile, you can check all available notebooks equipped with the GeForce MX150 over here: http://amzn.to/2u4i5S8